WEDDING ADVICE PART 1: TAKE A BREAK
As you will no doubt hear in future blogs, I recently got married. Mark and I had a three day wedding in Tuscany for 150 guests. We covered all external catering and hired a self catering villa which slept 85. In order to pay for such luxurious wedding, I spent the year running up to the wedding taking on all the work and busting a gut to pay for it - we also had some perfectively ill-timed family dramas, which resulted in a year of pure stress. So one weekend in the run up, I politely demanded to my husband-to-be that we take a couple of days off to head to a spa, for our sanity.
As you will find with most people who have just got married, I now think I know everything and feel I should impart my wedding wisdom on everyone, despite them wanting it or not. So, I figured I would do a bunch of blogs offering my unasked for advice. And the first, has F all to do with the wedding itself.
ADVICE NO 1: If planning a wedding or any other huge life event, I implore you take some time off (from no doubt killing each other, crying on the phone to your MOH or generally being an angry swine to anyone who remotely looks in your direction) and head to somewhere relaxing to re-connect. Park House hotel and spa could not have been a more perfect place to rest up.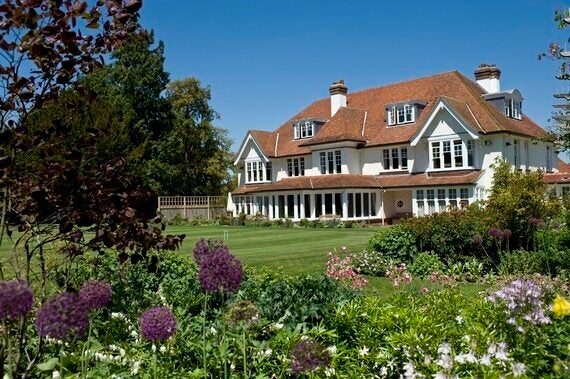 It's a cute country house hotel (with barn venue and spa) set amongst fields in West Sussex. We headed up on a Sunday, (TIP: they often have great mid week deals) and checked in early to our room. I visit spas whenever I can afford to, and am sometimes intimidated by them. You know the ones that are SO fancy you instantly get embarrassed driving your crappy Clio up to reception in? Well, for the normal couple, who want good food, good surroundings and unbelievable treatments - may I suggest this place. It's an hour out of London and delivers on all fronts.
We rocked up and were greeted by the lovely reception ladies, taken to a huge double bedroom with good TV channels, booked in some treatments and headed to the spa. It was quiet on this Sunday afternoon - and the lovely lady in the spa bought us over some Prosecco to sip in the pool. I had booked the Voyager Total Massage Journey massage for 4pm, mainly because I am greedy and this one lasted 85 mins. It's a stimulating massage which starts off with a scrub, so ideal for a pre wedding blitz. My partner had the Swedish massage for 55 minutes - and post treatments we walked out so unbelievably relaxed we forgot we were even planning a wedding.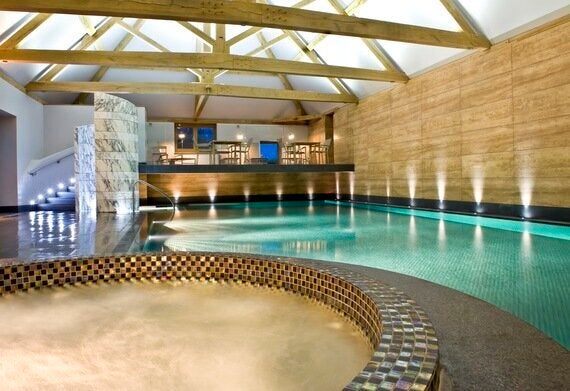 That evening, before wanting an early night in bed watching Sunday night TV, we headed to the restaurant for a slap up 3 course meal. There's a cute bar down there with a honesty box to pay (I MEAN, COME ON - STOP THE CUTENESS) and the restaurant looks out over their lovely lit gardens, with white table cloths and an exquisite menu.
The food was immense (Callum Kier, exec Chef is classically trained and has worked in Paris and with the British Michelin-starred chef Martin Blunos, so you are getting the good stuff.) They have great wines too, which calmly got us back onto the wedding planning chat as we took a bottle back to the room.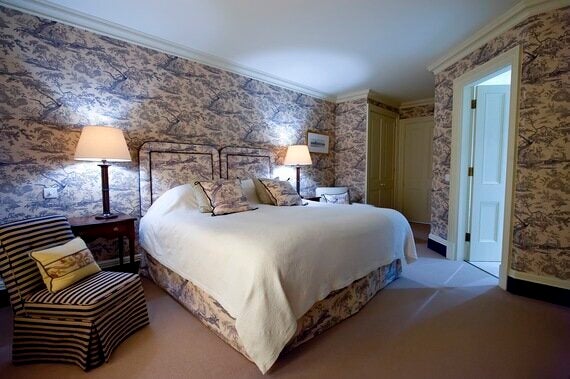 In the morning, after a slap up cooked breakfast, we packed our cases and headed back to the big smoke for work. We were smiling, we had relaxed and we had done some wedding-admin (wedmin), plus I had finally got that knot out of my back which had caused me a right pissy fit for the past two weeks.
In short, if you are in or around London and want a home from home stay at a gorgeous, relaxed, country like spa for the night, head here as it really does have it all.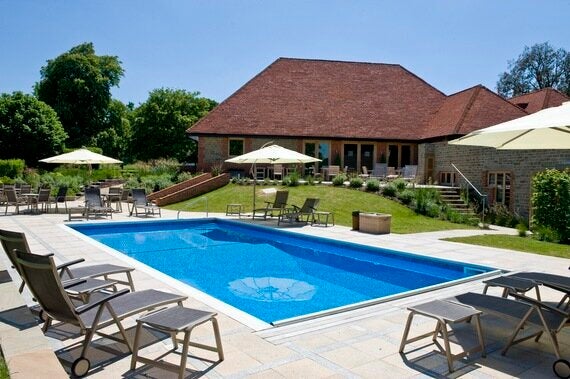 This post has been published on HuffPost's blogging platform. The views and opinions expressed in this blog are those of the author and should not be taken as those of HuffPost. HuffPost does not allow bloggers to acquire products, access or accommodation for review in the site's name.