Last night I went to Casey Batchelor's 30th birthday party. I met her whilst recording a show for BBC3 and she has become a good friend. She is very kind, sweet and funny.
The usual celeb suspects were there, and as a huge fan of Towie/ Geordie/ Any show featuring drunk people. I was having a lovely time.
Jim Davidson was there and I, along with half the comedy circuit, had read a lot of reviews for his recent show 'No Further Action'. Working in comedy myself, I was a Curious George as to what Jim would be like in person.
He'd had some positive reviews for the show and I wanted to see it for myself in Edinburgh, but was only there 3 nights and had casting to do, so 'sadly' I never got the chance. On telling Jim this his first comment was "what does a comedy producer do then?" Being a comedian himself, I would have thought someone along the line had bothered to explain this to him, but clearly not. He was quite rude, avoided eye contact, which seem to make the people around us extra nice to me. I made a joke about merely letting funny people be funny. His next question, without responding to me was "so why didn't you see me in Edinburgh then?" Again, before I could answer he had turned away to laugh at his lawyer friend putting on a pink hat from the photo booth. HILARIOUS.
I grew up watching Jim Davidson. I had even met him once when I was about 14 on a school trip when he told a girl in year 11 she had "big tits for her age." (In his defence, I don't think she looked 16.) I have seen his behaviour with Brian Dowling on Hell's Kitchen, and then I had watched the series of CBB that saw him crowned winner. And I disliked every ounce of what I had seen. But when I work with people from TV, I am often proved wrong, and so I had the best intentions to actually like him. Or at least, try to. After being ignored twice, I went off and chatted to friends.
Like the weapon I am, I couldn't get my head around his behaviour, how can someone instantly dislike anyone without getting to know about them, so I naively assumed that it was a mistake on my part, and went back for Round 2.
This time, the nail truly hit the coffin.
He was stood next to one of my best mates, comedian Russell Kane, so I went back to try to chat again. I guess I didn't want him to be exactly what I thought he was. I wanted to see the best in him, after all, Casey likes him a lot and she's a good egg.
I chatted about watching him whilst I was growing up, I was a bit nervous, as most people are talking to someone that clearly dislikes them and beautifully got the name of his show wrong. On a Saturday night we used to watch 'Big Break', but I got it wrong and said 'Bullseye'. He replied that he "knew there was a reason he didn't like me." I explained that that was a charming thing to say and that I was 11 years old when the show was on. I asked him "you surely can't dislike someone for getting your CV wrong?" But he could and he did. I left the party at that point, as I felt silly, I felt embarrassed. I was in a room full of friends but I couldn't get over a grown man instantly disliking me for what I could perceive to be no reason at all.
I got the tube home, upset. I spoke to my boyfriend about it, who had missed the night and was now annoyed he wasn't there to look after me. He looked on twitter to see that Jim had posted a tweet, clearly about me (as Linda Nolan wasn't there) Jim Davidson had called me gobby. A 29 year old girl who works in and loves comedy asked about his show and he was rude, and now to 142k followers, he declared that it was me that was gobby. The irony, that a man who has built a career on being a loud mouth, UKIP supporting, mouthy git was now using the very word to best describe him to insult me. A man who's "controversies" list on Wikipedia is lengthier than his 'career' list.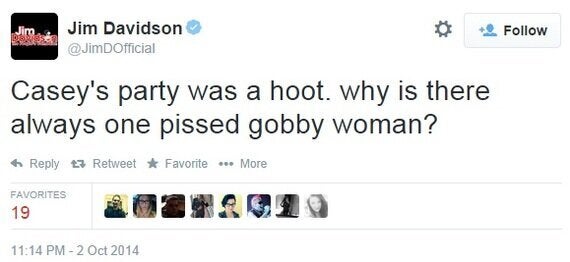 Yes, I was tipsy. I had drank wine on an empty stomach. Yes, I am loud. Yes, I am what miserable old men and often my own father would describe me as 'gobby.' (If 'gobby' means opinionated - then that's me.) Forward, confident and opinionated. I feel the annoyance came at me being a gobby woman more than me just being gobby though. History would remind me that it's not the first time Jim has been like this.
The next day at work I YouTubed that 'situation' between him and Brian Dowling in Hell's Kitchen, and reminded myself exactly the type of man I was so offended by and who didn't give me the time of day in front of my friends.
Then I googled a picture of Jim Bowen from Bulls Eye and kind of got his point.