Tess Riley finds out why almost 40% of UK farmers are investing in renewables.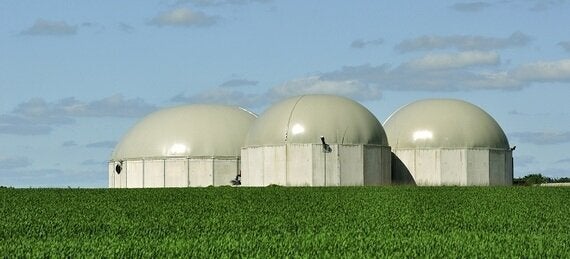 Our food system generates roughly a quarter of all global greenhouse gas emissions, in large part due to agriculture's heavy reliance on fossil fuels. But far from demonising farms, many see them as part of the solution. One reason is farm-generated renewable energy. In the UK, over 70% of the land area is in the agricultural sector. In China and the US, two of the world's largest food producing nations, this figure is 55.7% and 45% respectively. Large amounts of land combined with significant volumes of animal or plant waste make farms an obvious place to turn to, not just for food but also for biofuel, solar and wind energy. If we're going to move towards a decentralised, sustainable energy system, farms and rural communities will play a significant role.
Take Nigel Joice, the award-winning Norfolk poultry producer whose farm generates 8,500 tonnes of manure a year. Three years ago, Joice invested a £1.8 million bank loan in an on-farm biomass plant to help meet his goal of turning the farm's manure into an asset, and - with the addition of solar panels - to become energy-positive. An Environment Agency licence to use poultry litter rather than woodchip to heat the chicken sheds is now bringing Joice closer to realising that vision. Over the last year, Uphouse Farm has cut its gas consumption by 92% and solar panels are expected to reduce its (grid) electricity use by 80% during daylight hours. What's more, the anticipated eight-year return on investment has been cut in half, thanks to improved feed conversion from the poultry litter. Joice is now earning money through the Renewable Heat Incentive and Feed-in Tariffs.
With an increasingly unpredictable climate for crops and question marks over agricultural subsidies, such diversification will only become more important to farmers. For Tobi Kellner, Renewable Energy Consultant at the Centre for Alternative Technology, clean energy generation offers a tremendous opportunity: "In some cases, additional income from renewables may be the only way for the next generation to make a farm financially viable."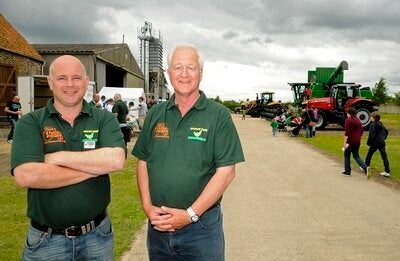 Individual farmers play a crucial role in developing farm-based energy schemes, but they can't do it alone - not yet, and not at scale. The National Farmers' Union has called on the UK Government to broaden its scope of community energy support criteria to include rural businesses that demonstrate a significant level of community benefit. Almost 40% of UK farmers are investing in renewable energy compared with just 5% in 2010 - but they are doing so in spite of the system rather than because of it, says Iain Watt, an energy specialist at Forum for the Future: "While pockets of government are quite supportive, the overall message seems to be that small-scale renewables will only ever play a role at the margins, while all the effort goes towards big centralised solutions. We need to change this mind-set by demonstrating that smaller, community-scale energy can play a substantial role in the energy system."
One organisation doing just this is the National Trust, one of Britain's largest landowners, which has committed to generating 50% of its energy from renewables by 2020, and has installed around 250 small and medium-scale renewables on its land. It is collaborating with Good Energy on a £3.5 million pilot renewables programme which, if successful, will see 10 times that amount invested. The Trust also works further afield to help communities develop renewables elsewhere, such as the Anafon Community Hydro Scheme in North Wales.
Tim Crisp, Director at Sustainable Charlbury CIC, is adamant that such programmes must direct as much financial and social benefit back to the local community as possible. Sustainable Charlbury CIC was established in 2007 to reduce the carbon emissions of this Cotswolds town. In partnership with Cornbury Estate, which (subject to planning permission) has provided 30 acres of land on a 20- year lease, and the Low Carbon Hub, which works across Oxfordshire on carbon reduction projects that benefit communities, it is developing Southill Solar, a 5MW solar farm which members hope will be complete by mid-2014. The Feed-in Tariff and the revenue from the power purchase agreement will provide approximately £85,000 annually for the community (that's £1.5 million over the life of the project). The projected IRR for investors is 5%, but this could be enhanced through the Enterprise Investment Scheme to 8.5%, and to 12.5% through the Seed Enterprise Investment Scheme.
"By making large-scale energy projects community-owned, and returning a financial benefit to the shareholders and to the community at large, Sustainable Charlbury CIC sets a framework for a sustainable local energy future", says Crisp.
It's clear that some farmers and rural communities already have the skills, land and access to subsidies to enable them to invest in on-farm renewables, thanks in part to support from organisations like the Low Carbon Hub and the National Trust. What they lack is the infrastructure to help them take on-farm energy production to scale, as farmer Peter Thompson points out: "I don't see much stopping farmers becoming energy neutral. The real challenge is enabling farmers to become major generators for their communities and beyond. Buying new plant and machinery is second nature to farmers, so the first step is pretty easy. Supplying others is far more challenging."
This is what we need to work towards.
Tess Riley is a freelance environmental journalist and communications consultant.
Photo credit: Loraks/iStockphoto/Thinkstock, Uphouse Farm/National Farmers Union