In cities across the world, people are coming together in informal networks to deliver services in waste collection, water supply and community welfare that officials fail to deliver. It's time to recognise their value, says Ben Goldfarb.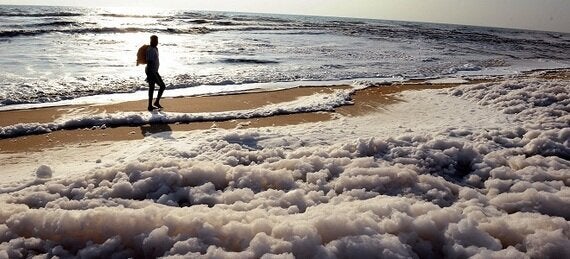 In October 2011, as rising floodwaters threatened to submerge Bangkok, the Thai Government stumbled. Officials issued conflicting reports and warnings. The city's governor assured citizens that everything was under control, even as water began to pour into Bangkok's northern suburbs. The flood's toll - 815 people dead and $45 billion in damages - was exacerbated by a government that proved unprepared in the face of a crisis. Yet even as the Thai Government was bungling the disaster, Bangkok's citizens began springing into action. In Sai Noi, a suburb, a local residents' committee came together to fight the flood with sand bags and water pumps, distribute food and water, and defend the area from looters. Thanks largely to the swift work of the residents' committee - which collected money from neighbours to buy a new pump, and initiated a system of barter and labour exchange to rebuild homes - not a single resident was killed or injured, and villages were restored in less than a week. Writing in Next City, a media organisation dedicated to connecting cities, the Cambodian journalist Dustin Moasa marvelled that, "With minimal help from the government, the neighbourhood had survived the worst disaster ever to hit Thailand."
The Sai Noi residents' committee isn't an isolated success story. All over the world, similarly informal systems and networks are delivering services typically provided by government or big private sector companies: potable water, waste collection, even ambulances. In the global south's municipalities, these underground economies, unregulated neighbourhoods, and undocumented businesses flourish beneath a regulated veneer. In Lima, Peru, 'shadow economies' - from orange juice vendors on bicycle carts to traditional healers peddling bat carcasses - account for 60-70% of total economic activity. In some Asian cities, informal jobs contribute to the production of global commodities like garments, textiles, and sport shoes - employing up to 85% of the workforce.
These informal structures don't just drive economies - they also administer crucial resources and enhance urban resilience. In Accra, Ghana, a patchwork of unregulated urban farms grows everything from cucumbers to papayas, strengthening food security. In Nairobi, Kenya, garbage pickers sort through waste, performing the recycling services that the city disregards. Slum-dwellers all over the world devise innovative ways to obtain potable water, including digging makeshift wells, installing rainwatercollecting cisterns and relying on vendors selling individual plastic bags of water. "These are cities where the government honestly doesn't do much", says Will Doig, Next City's editor for the Informal City Dialogues. "Informal systems are some of the best sustainability systems they have."
For all their nimbleness and ingenuity, informal systems confer hazards as well as benefits. Accra's urban farms are watered with untreated gutter water, perhaps contributing to cholera outbreaks; Nairobi's garbage pickers burn themselves with chemical waste; and illegal sewage channels in Chennai, India, pollute groundwater and coastlines. In other words, the informal institutions pioneered by the urban poor are boundlessly creative, but they can also create new public health and environmental problems.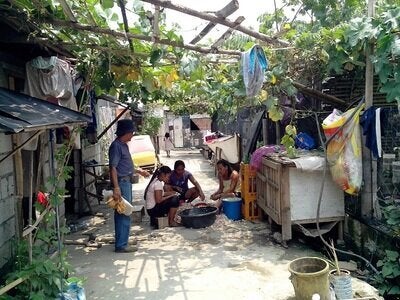 For this reason - and because governments can feel undermined by informal solutions - such systems are frequently targeted for harassment or eradication, often with ruinous consequences for the people who depend on them. In Johannesburg, South Africa, urban 'street cleansing' programs have swept away unlicensed food vendors whose stalls are critical sources of nutrition and income for impoverished families. "As cities develop, governments often try to push informal communities out to the edges, marginalising them geographically, socially and economically - or try to formalise them", says Jessica Rosen, sustainability advisor at Forum for the Future.
That's a problem, says Rosen, since many of the qualities intrinsic to informal communities - their mobility, their adaptability and their reliance on social networks - are the same ones that make them so valuable. In Bangkok, where state hospitals can't meet the needs of the city's eight million residents, a corps of over 4,000 volunteer ambulances acts as a vast first-responder system. Although Bangkok's 'body-snatchers' have been accused of thievery, taking bribes and even witchcraft, Doig warns that simply formalising the ambulances would likely make them less effective. "Ideally you would figure out a way to use the ambulance system's flexibility and nimbleness to work with the city and the hospitals", he says. "The goal is to integrate the formal and informal, to let them coexist."
Durban, South Africa, offers a vision for how municipalities might nourish informal systems without suffocating them. For years, Warwick Junction, a sprawling marketplace on the edge of Durban's inner city, thrived as a hotbed of informal trade - but it was also neglected and run-down. Instead of bulldozing the bazaar, in 1996 the city launched the Warwick Junction Project, an initiative headed by South African architect Richard Dobson that built pedestrian bridges, provided childcare and established buyback programs for cardboard salvagers. Keith Hart, the anthropologist who coined the term informal sector has called Warwick Junction a model for how poor people can "enliven a city centre, generate employment for themselves and expand services" in cooperation with urban planners.
Can the success of Warwick Junction be replicated? That's the question that the Informal City Dialogues, a collaboration funded by The Rockefeller Foundation, with Forum for the Future and Next City, set out to answer. Over two years, this global, multistakeholder project aimed to foster a conversation about the role of informality in creating inclusive and resilient future cities. Crucially, the Dialogues involved six local partners: the African Center for Economic Transformation (ACET) in Accra, Chulalongkorn University Department of Urban and Rural Planning in Bangkok, Transparent Chennai in Chennai, FORO Nacional Internacional in Lima, Ateneo de Manila University School of Government (ASoG) in Metro Manila, and the Institute of Economic Affairs (IEA) in Nairobi.
Between 2012 and 2013, the Dialogues brought together an eclectic group of stakeholders in each city, from government officials in London to slum leaders from South Africa. In early 2013, stakeholders in each city convened to develop 'futures scenarios': visions of what the six cities - Accra, Bangkok, Chennai, Lima, Manila, and Nairobi - will look like in 2030. Later, the same groups got together and used those future scenarios to come up with innovations that will help those cities remain resilient against the pressures like climate change and population growth and create a more inclusive city for the informal sector. The innovations range from an initiative that will provide legal knowledge and access to affordable legal support to informal groups in Bangkok to an economic forum for local traders to promote more secured livelihoods of the sector in Accra. The Rockefeller Foundation has awarded generous grants to organizations in each of the six cities as seedfunding for the innovations.
As the world's urban planners gain a better appreciation for the informal sector, some designers are also trying to apply its lessons in developed nations. Baltimore-based architects Kuo Pao Lian and Pavlina Ilieva argue for "self-generative communities": urban environments that mimic the mixed-use layouts, energy independence and versatility of informal systems. Lian and Ilieva have drawn inspiration from informality in cities like Tijuana, Rio de Janeiro and Caracas when designing urban environments in Baltimore, Dallas and New Orleans. "You're seeing massive populations [in informal communities] creating their own electricity, collecting their own water, building their own dwellings, educating their own children, against a backdrop of poverty and violence", says Lian. "We're not celebrating that situation, but we can learn from it."
Photo credits: Next City, B A Raju/Next City
Related