Where does all the wildlife go in the autumn? The sense of melancholy that has inspired great poets is likely due to the fact that it feels like it's about rejection. Most birds have stopped singing unless it's to screech at you to 'get away from my bit of hedge'. Ducks skulk in the undergrowth as they moult their flight feathers. Trees physically cast off their leaves, as if all that green was for nothing.
It's not really rejection, it's rejuvenation. Rejection of the old and the start of something new. The ruff is getting rid of that ostentatious bit of, well, ruff - the bit that makes them look like someone in a bit of bother during the French Revolution - for something a bit more low key and stylish. The bilberry is ridding itself of that dull green colour that was so last season, and replacing it with the red - the exact red - of your favourite lipstick. (Yes I did take the leaf to MAC and they did provide me with Lady Danger). Autumn, more than spring in fact, bursts with colour and life. It's the best time of year to see and feel nature and wildlife at its most spectacular, but it's also a time of change and reflection.
Walking during the autumn is like nothing else. In your local woodland (mine being 'my' National Trust Llanerchaeron woods in Ceredigion), wood smoke mixes with the leaves to create that beautiful, familiar scent that should be bottled. It's cooler than summer, but not cold. You could get a misty morning with those damp smells or a clear, crisp day when everything is brighter. The trees start to turn every shade of red and yellow imaginable at places like Clumber Park. Leaves can be caught as they fall (number 33 on 50 Things to do before you're 11 ¾!) and every leaf tells a story - the caterpillar munching it, the micro-moth burrowing in it, the lichen on the stalk or shrivelled gall from a solitary wasp. Fungi are everywhere: purples, pinks, reds, yellows and greens appear everywhere in fantastical cones, trumpets, plates and spikes.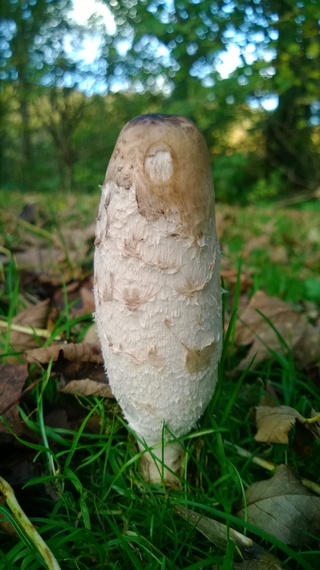 Shaggy inkcap Photo: Gwen Potter/National Trust
Wherever you go, it's different. In the hills and heaths, at places like Dark Peak, the heather is bright purple. The paths are full of blackberries, damsons and sloes for crumbles, poaching and gin (not necessarily in that order). On the coast, you might see a furry white seal pup which no-one can fail to instantly fall in love with. It's important here, though tempted, to not try and take the seal home in your pocket. The mum will bite you, and your dog.
In the fields groups of redwing and brambling will start to appear. Tits will gather in mixed flocks, making friends in time for Christmas perhaps. Starlings wheel in huge flocks near rooftops before roosting like they are doing it just for you, black grouse dance on our hills a million times better than anyone on Strictly. Lapwing and curlew flocks also come down off the hills and on the east coast at places like The Leas you may be lucky enough to spot punky-haired waxwing flocks chasing gluts of berries.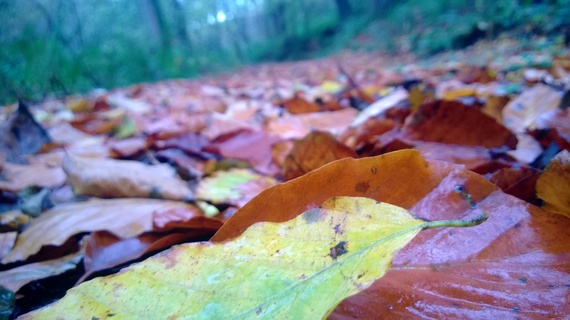 Autumn leaves Photo: Gwen Potter/National Trust
'You've nearly made me want to go out in it' you say. 'But what if the weather is bad?' All you need to do is get yourself a lovely stylish bright coloured mac - preferably with polka dots - and a nice jazzy pair of wellies. Then, a windy day shows off nature's awesome power, while a wet day means adding a comical umbrella and splashing in puddles with the dog. It's time to get out there!