I'm supposed to be an animal fan, animals and nothing else. Animals are simple. Wild animals in the UK don't hybridise easily with other things to make very odd combinations à la bluebells and oaks. They also don't have thousands of subspecies that would take a lifetime of study to understand, thus ruining the ordered appeal of taxonomy (here's looking at you, bramble and dandelion). But mostly animals do amazing things that plants can't do, like jumping and running and flying and swimming and talking and looking and responding. Plants in spring though - they're just showing off. We notice the days getting warmer but now is the time to start seeing plants as they really are - dynamic, wily, beautiful, powerful.
The spring, as the muffled cloak of winter moves away, has started to reveal sound and colour. The first signs are often the plants - we've had the snowdrops and early daffodils, and the sloe and hawthorn blossom that is whiter than the whitest white sheets. The bluebells have started to emerge in the woods, taking the baton from the equally beautiful wood anemone that coats woodland floors in this part of the world. Common dog violet is all over the valleys, ready to be supped by a variety of rarer early butterflies.
Now is the time to start looking for the first early purple orchids, and oaks are just starting to come into leaf. Oaks in mid spring are a sight to behold, looking like craggy sennitals while everything else starts showing off and producing leaves and flowers. The oak bides its time and just stays looking majestic, allowing us to see the birds busily nesting in its branches. In the north, there will still be some that aren't in leaf at all yet. One of my favourite places to see them, though, is in and around the woods at NT Dinefwr Park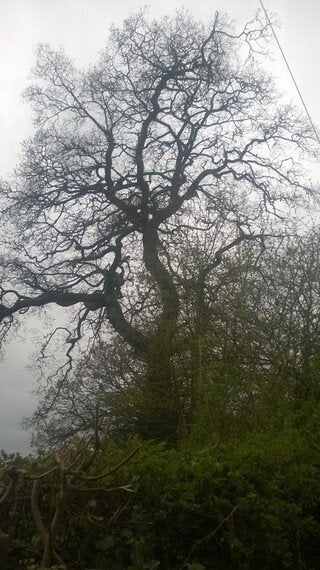 The sounds plants make are few - I have already mentioned the joys of listening to sap rising in young trees - but everything sounds 'springy'. The air feels and sounds different, everything - waves, joyful birds, bee flies hovering, a butterfly wing flapping - hits you with a clarity you haven't heard for the longest time. When all our trees are in leaf (almost the case in the south east), we will hear the wind moving through the leaves like the sound of time passing.
I would be remiss if I didn't properly mention birds when talking about spring signs - rooks will be well into their rookeries now after collecting their twigs since mid-winter; herons will have started building their nests in the tops of trees since February. A friend recently told me she was a bit confused about a long tailed tit hanging around her window, until she realised the bird was collecting cobwebs to build its nest. Birds in particular are a bit bolder at this time of year, they don't skulk like in the autumn and winter but as the leaves aren't quite on all the trees, you can still see them. It helps that they are deliberately showing off and shouting at one another, with bright new feathers, trilling, warbling, tweeting and singing. One of the noisiest places will be NT Wicken Fen National Nature Reserve, where you might hear a blast of Cetti's warbler, the shriek of a barn owl, a booming bittern or a hen harrier wailing among all that singing. Finally, our cuckoos arrived safely back last week - with news of Chris the Cuckoo heralding their return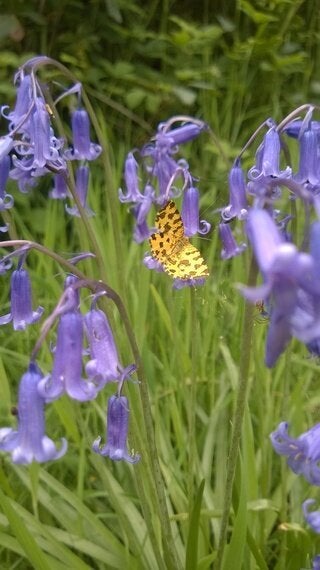 A speckled yellow moth on English bluebell
I am missing my black grouse the most in spring, but only those lucky enough to live in north Wales, the north Pennines or Scotland will get the chance to see them, such as at NT Cwm Idwal - more on that in a separate blog here.
What am I waiting for next? Male silver washed fritillary spinning and dancing in flight, skydancing red kites, powdery pink pillows of thrift and purple spikes of spring squill on the coast, meadows filling with colour, the coconut gorse and a turquoise sea - and that's just on the coast. Lots to come!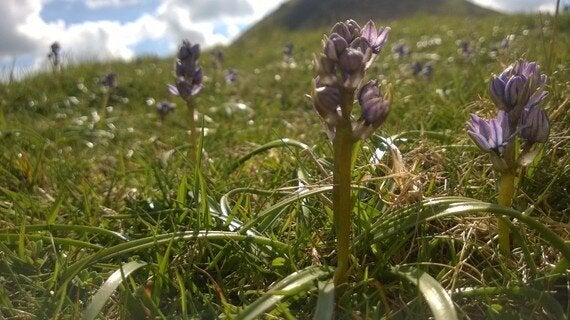 Coming soon to a coast near you - spring squill!
You could help gather records of changes in spring signs at www.naturescalendar.org.uk