It's time to show her the door...
March 8 is International Women's Day and we should mark the occasion by untying the knot with Barbie. This doll has been making an effort lately, morphing into rebranded body types and skin tones, but she's still a poor influence on our daughters' aspirations. Barbie sales have slumped in recent years. Do girls today know something we didn't? Let's take a closer look.
Back in the day, all my friends were enthralled with her. We begged and stole until we could call one of the dolls our own, feeding fantasies and aspirations for our adult life. Mansion or shoebox, Barbie was accessorised with whatever means we had. We played merrily with her, giving her sensible haircuts and marrying her off to Ken, oblivious to the shadow she cast into our bedrooms.
Having had children myself, I admit I threw all concerns over PC toys aside and flung the doors wide open to the Barbie world after we were gifted two Barbies. I discovered, however, it was me alone fussing over their hair and dressing them in matching robes. My daughters weren't interested in playing with them. I was perplexed. It wasn't the lack of accessories that stopped them. Yes, I did ask if they wanted the Barbie house; it would have been so easy talking me into getting one for their birthday. They simply found Barbie role-play and dressing up 'boring'.
It turns out that my daughters had the right idea and I was misguided in my fascination with her. Research points in this direction. In 2014 a study found that girls playing with Barbies had lower confidence in themselves to do 'traditionally male dominated jobs' than girls playing with Mrs. Potato Head. 'Playing with Barbie has an effect on girls' ideas about their place in the world,' says Aurora M. Sherman, associate professor in the School of Psychological Science at Oregon State University. 'It creates a limit on the sense of what's possible for their future. While it's not a massive effect, it is a measurable and statistically significant effect.' Barbie has been created to 'Be Anything' but the way she is physically formed and dressed sends out signals of objectification and sexualisation to girls.
I'm tempted to rush in to defend her. She's been working so hard in her career! She must have made a killing as a fashion model and rock star. She's held down a multitude of careers from medicine to motoring to computer engineering. She ran for president! Why can't we remember her for her professional achievements?
We are being misled to think Barbie is empowered because she's wearing shrubs, a suit, overall, uniform or geeky T-Shirt. But Barbie can't actively use her body to walk, jump, or, in fact, work. She was made to be an object we look at and kit out. What she wears when she's boarding a jet is more important than how fast she can fly it.
Barbie has an image problem so profound her makers recently introduced dolls with different body shapes and skin tones. A good start, but the focus remains on how Barbie looks once more. Shouldn't we teach our daughters to focus on what their bodies can do, not what their bodies look like?
I realise that Barbie and me never wanted the same thing. So I fished our dolls from the depth of the toy chest, untangled their hair one last time, put on their pink coats and prepared their tiny luggage set. I gave them a final kiss and sent them on their way to the other side of the world to live with some distant relatives. Mrs. Potato Head is moving into Barbie's house this March and she may just be the one...
This Blogger's Books and Other Items from the App Store: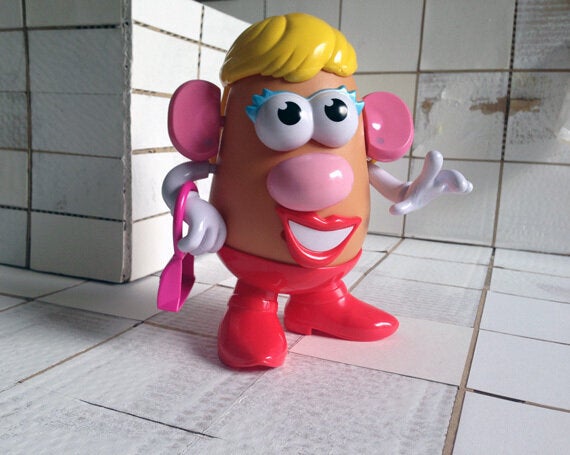 Mrs. Potato Head in her new cardboard bathroom | © Gwendi Klisa