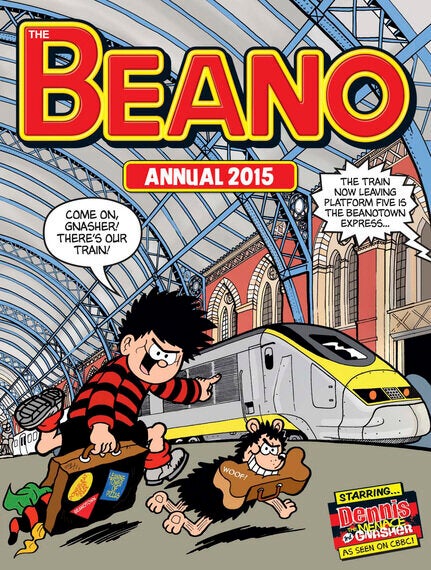 London's St Pancras station is being taken over by The Beano, with typical Dennis and friends' mischief and mayhem. For thirteen delightfully cheeky weeks, starting this half term break, the Beano characters as well as behind the scene creatives, will be putting a smile of people's faces, no doubt rekindling fond childhood memories for many.
The phenomenally successful publication has quite remarkably transcended fast changing times, to beat publishing industry decline and actually gain life long fans.
75 years on, the jokes are funnier then ever, the characters charmingly engaging and the story lines full of childhood innocence, wonder and sheer fun spirit.
Marking the 2015 annual release, the 13 week celebration will let visitors to the busy London station discover the story of The Beano annual since its 1939 origin in a specially curated exhibition. The station concourse will have new graphics with seasonal decorations and there will be a one of a kind Dennis the Menace inspired black and red table tennis table. As Christmas approaches, the Christmas tree will have some of The Beano magic with the tree switching on event taking place on Wednesday the 12th of November.
The celebrated annual has always been a part of the Beano adventure with publisher DC Thomson's commitment to the anticipated publication duly increasing year on year. To mark the occasion I speak with The Beano editor Mike Stirling about the publication's unfading success and what the future holds.
Q What is your view as to the secret of The Beano's success?
A Every issue of The Beano is intended to be the funniest thing that any kid could hope to read each week, packed with jokes , pranks and laughs. What's not to like?! The great thing is that this spans across generations as a shared fun experience. There are few things more charming than witnessing the pride in a young menace executing a carefully prepared practical joke - particularly when you can recall a similar experience from your own youth. That's why The Beano Annual is so popular. It's the perfect secret Santa gift because everyone will love it. I know someone who actually keeps several copies gift-wrapped with blank gift tags, just in case someone pops around with an unexpected gift. Even very young children can follow the story through the images, while 'mature' - although a true fan of The Beano stays young forever! - recipients remark it brings back fantastic memories. Rodger the Dodger would be proud!
Q Why do these characters still fascinate and entertain children so much?
A I think - in fact I know, because we're constantly out meeting readers - that it's because our characters are so accessible. They are normal kids with extraordinary imaginations and no real sense of consequence, so able to perpetrate some astonishing acts of menacing. Readers think of them as friends or even as versions of themselves. The cool thing is that readers can test out their own mischievous fantasies vicariously through our characters. It's great fun when we meet readers and ask them what they'd do if they were Dennis in a certain situation. They spin tales of the most extravagant mischief imaginable; before reassuring us that they'd never dream about doing such a thing in real life. So, I guess you could say make menacing dreams