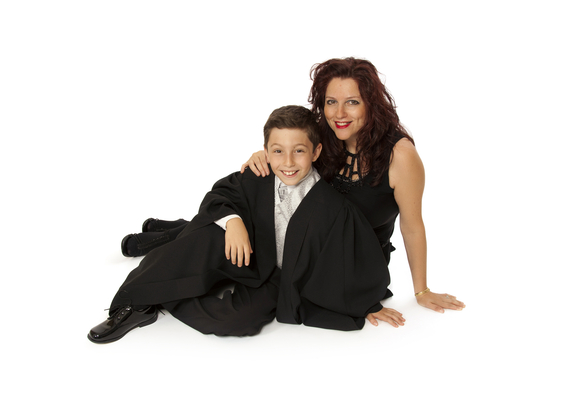 Another exciting season of Britain's Got Talent has just came to a close. Thousands of aspiring hopefuls stood before the judges with dreams of a new career or just taking part in the live show. "Its about the exposure" tells me one young singer who didn't go through to the main competition, now back at his supermarket checkout job, "I knew I didn't have what it takes to win, I just wanted to play to millions on TV".
One talent to go through to the live show experience is child pianist Curtis Elton whose masterful, virtuoso playing has wowed the audience and impressed the judges; he may have not gone through to the final but guided by his pianist mother, this charming boy has used the BGT spring board effect to the full, going on to appear on leading daytime TV shows, tour UK schools and even set up a record label.
I speak with Curtis's mother and mentor Hayley about he talented son, why current music teaching needs a major rethink and Britain's Got Talent. I start by asking Hayley if she is troubled by being called a pushy mum.
A The important thing is to get the balance right and Curtis is a happy child, he is not home schooled and is not on the piano twelve hours a day. During the holiday he plays the piano for just two hours or so, just playing for hours and hours is not constructive anyway.Curtis is a normal boy. When you have a child not allowed to do other things, it is dangerous, we let him do ice skating which he loves and even competes in. He is happy child who has achieved a great deal in a short space of time because he plays constructively and loves what he is doing.
Q He was surrounded by your music from day one
He used to see me play the piano as I practice most days. I would play music to him as he fell asleep. One day I showed him a few notes and he loved it. I didn't push him to do it, he wanted to do it and enjoyed it. it was never me pushing him. You can't really push a child, because he showed such an interest and took it up so well we carried on.
Q At what age did he start?
A At three, three and a half I started showing him notes, he would sit down and play which made it easy. He is just a very bright child who could read and write from when he was two and a half, thats the way he is. He always wanted to learn more about everything, not just the piano. Q You have developed your own method of teaching?
A At the moment, piano teaching tends to be boring, repetitive and slow, I speeded up the process allowing children to learn pieces quicker which is more exciting for them. This is the method I used for Curtis.
Q Does Curtis tour UK schools?
A He loves sharing classical music with others and he inspires children to perform. We take a keyboard with us and actually teach the children to play a tune on the piano, we teach them how fun music is.
Q The benefits of playing a musical instruments have long been proved through research A Definitely. The coordination improves for a start, when you learn an instrument specially the piano you practice your coordination, both sides of the brain. Learning a different instrument is learning a different language. I got letters from parents to say concentration has improved as well as other aspects of the child's lives.
Q You have been criticized for exposing Curtis to the media and I believed told your story as well?
A I am his teacher but I am also his mother. I sold the story to a newspaper as I wanted to tell the truth. All curtis wants is to perform to the wide public. He wants to inspire children who wouldn't go to concerts, play to everyone around the world.
The response to him is incredible, everybody says he is talented and has a brilliant touch.
He loves the interaction with audiences and talking to them. When I see him perform, I see a talented boy with a brilliant touch for performing, people come for an autograph which is incredible. He loves the applause and when he plays audience's iPads went up iPhones are up, he has this effect on people. He is popular with people but he is a normal child who loves entertaining.
Q Is there life after Britain's Got Talent?
A Curtis just has now decided to launch his own record label in conjunction with Musicraiser a  brand new crowd funding website aiming to make Elton the youngest record label boss in history! Curtis is one of their first UK projects on their agenda and will see 'Mini Mozart', Curtis's pledge to promote talented child
musicians.