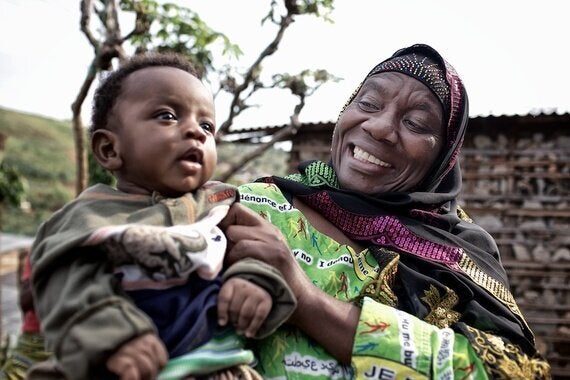 It finally happened: I got the 16 year itch. After so many years of deep involvement with Fairtrade, I was ready to move on. And then I fell in love again - wham, bam, just like that. I saw that peacebuilding organisation International Alert were looking for a new CEO and immediately knew that this was the one for me.
For years I have twittered on to anyone who will listen that tackling conflict, poverty and climate change are the three big issues of our time - and that they are all interconnected. Of course, in Fairtrade our primary focus is on tackling poverty. But I always saw that as connected to tackling conflict. Because as you build economic opportunities, you give people a stake in society, and so help build the economic underpinnings of peace. BBC journalist George Alagiah, a big supporter of Fairtrade, said that having reported on so many wars, it brought home to him that when people have no stake in society, they more easily fall victim to the warlords.
I always remember a cold February morning slogging up to a rather dingy north London Co-operative Supermarket one Fairtrade Fortnight, the annual celebration of Fairtrade in the UK. We were launching the first Fairtrade Palestinian olive oil. Nasser Abufarha is a tough leader of the olive farmers' cooperative, Zaytoun, who constantly face difficulties with the Israelis cutting down ancient olive trees. Zaytoun's farmlands are completely contained within a network of walls, fences and checkpoints, so Palestinian farmers face severe difficulties in marketing their products abroad. So when he saw that first ever Palestinian olive oil on the shop shelf, tears filled his eyes: "This is the first time that I have seen anything positive and normal about Palestine in the UK."
It was a similar story in Colombia, where leaders explained that the coffee trees are the line holding peace - coffee gives the farmers a stake in society, a stake in building and maintaining peace, because they don't need to turn to drugs or crime to feed their families. In the Democratic Republic of Congo (DRC), Twin Trading have done amazing work with women coffee farmers. Previously, families would risk their lives taking their coffee across the border to get better prices. Now they are selling their coffee more directly for a fair price.
Again and again, these are the stories that inspired me at Fairtrade. So when I saw the work of International Alert, I knew that this was where I wanted to focus more directly: on building peace. And what a first few weeks I have had. My inbox has been full of emails from our colleagues round the world: "Bombs went off in Bamako just now. The staff are all ok." "Bombs went off in Beirut." "Suicide bombers in a Nigerian marketplace..."
In fact, since 1990, the zone of peace has grown. There are fewer wars today than at any time since before the First World War, and some would argue fewer than ever. But it certainly doesn't always feel like that - neither here in the UK, deep in debate about whether to bomb ISIS in Syria following the Paris attacks, nor abroad. In the past week, the UK government has brought out a National Security Strategy that included the importance of development and stability overseas, and an aid review that put the focus on building stability in fragile states.
I was recently talking to International Alert's country coordinator for Burundi and Rwanda, Betty Mutesi. She was describing the deteriorating situation in Burundi, where violence broke out in April following the president's announcement that he would remain in office for a third term. In the past eight months, 70,000 Burundian refugees have arrived in Rwanda, Betty told me, and 100,000 people in Tanzania.
"Now is the time that everyone needs to be working in Burundi - if only we had more funds."
A former International Criminal Court lawyer, Betty has been inspired by her work on the ground:
"When you see with your own eyes the difference that a simple reconciliation project can make ... We seek to involve the people from the start, putting them in the driving seat, giving them the space to speak to each other."
With borders a constant flashpoint, International Alert undertook research on the needs of women cross-border traders in Rwanda and the Democratic Republic of Congo (DRC). The women identified the lack of storage for their fresh produce as a major problem. As a result, the World Bank is now building a cold storage there. Likewise, in DRC International Alert trained 300 women traders to better protect their rights and hold customs officials to account. This has resulted in 60% fewer cases of harassment like physical or verbal abuse and extortion.
Traders are beginning to hope that things can change. Maman Chantal from Rwanda explains:
"In the past, it could be difficult for a Rwandan trader to cross to Congo. If you had a problem, no one would help you. Some of us were even afraid to cross. But the other day, a Rwandan trader had an accident in Goma, and the Congolese women took her to the hospital. This never happened before." Maman Bahati from DRC (pictured above) adds: "There is real reciprocity between us. The Rwandan traders need us like we need them. When you have been clients for a long time, you become sisters. Over there in Rwanda, they say 'Turikumwe' - we are one." (Read more about this in International Alert's photo essay, Crossings: The journey to peace.)
In fact, International Alert has long argued on the crucial role of prosperity for building peace - a connection recognised in the UK's new National Security Strategy - and on the need to integrate peacebuilding thinking into economic development. So as well as working at the grassroots, they have also been ready to engage with big corporates, including the notorious extractives industry. Their work from over a decade ago on conflict-sensitive business practices was one of the first of its kind and remains the one of the most widely referenced documents on responsible business operations in conflict areas.
Debating how to influence company behaviour, I am on home ground. But otherwise, the learning curve is frighteningly steep. I blushed as I revealed that I didn't realise people from across the numerous conflict lines in the Caucasus never get to talk to each other - which is why they were sitting down together in our office. One partner with whom International Alert has worked for over 20 years, explained:
"We are so isolated. But we need to have a dialogue to work on conflict-related issues. If we are going to make peace sustainable, we have to expand the circle of people looking for non-violent solutions."
As we start a programme to work with young people in the South Caucasus, she added:
"Democratisation is a very difficult process. No one discusses the values and principles. So we need to develop a political culture, so we can deal with conflict without killing each other."
Another partner, nodding, adapted Churchill as he added:
"Dialogue doesn't always have positive or immediate results. But nothing better than talking has been invented yet."
Again and again in my first few days, I have been so impressed. Next year, 2016, International Alert will mark its 30th anniversary. And our staff, and our partners round the world, have a quiet wealth of this deep, long-term understanding of how to build people's diplomacy; how to build peace. It is never easy. In fact, it is always difficult. Which is why it is so very much needed.
Of course, as time goes by, I am sure to start to see more and more of International Alert's quirks. Certainly over time, my first love may get a little frayed. But just now I am hoping for that wedding ring - made with Fairtrade gold of course.
Photo: © Carol Allen-Storey for International Alert