Stretching across the river Ibar is one of the most politicised spaces in Europe, a little known city named Mitrovica in northern Kosovo. You might be mistaken for thinking that this antithetically tranquil river marks the border between two countries; the signs are deceptive. On the northern bank, the red, blue and white flags, Cyrillic road signs and SRB number plates signal Serbian territory. Other cars have no licence plates, a profound dismissal of the Kosovar automobile law. To the south of the river, Albanian flags fly proudly (although admittedly less aggressively than their northern neighbours), and the people speak a different tongue.
But this unofficial 'border' has a distinctive frontline feel. Three armoured Carabinieri vehicles with a dozen soldiers - machine guns at the ready - stand waiting for the next episode of violence. On the Serbian side, just one soldier waits, but snipers are said to lurk on the rooftops. Most striking, however, is the 10ft high pile of rubble that stops vehicles from passing between two parts of one country. Attempts to remove it just bring further violence.
Since the end of the Kosovo war, Northern Mitrovica has been a 'safe haven' for Kosovar-Serbs who fled their hometowns to live under the rule of Serbia in a country that was no longer part of Yugoslavia. In the four northern municipalities of Kosovo, an illegal parallel system of courts, hospitals and schools was established for Kosovar-Serbs, funded by Belgrade. Wages in these institutions were often far higher than in those governed by Kosovo, whose economy was crippled by years of war. This enticed Serbian professionals to work in the parallel institutions and fuel the national ethnic divide. A tiered system emerged, where Kosovar-Albanians who lived in the northern municipalities comparatively suffered as Kosovar-Serbs enjoyed well-funded facilities. Ethnically Albanian Kosovars were alienated from Serbian institutions due to the language barrier and post-war tensions.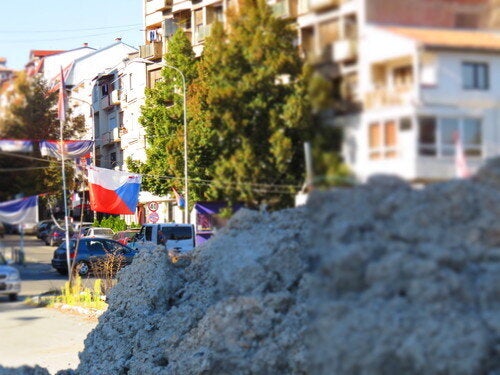 Ethnically motivated violence is unsurprisingly commonplace - just last week an attack on two EULEX (European Union Rule of Law Mission in Kosovo) vehicles at Gate 1of the Serbia/Kosovo border left a customs officer dead. It's an event that threatens the fragile stability of a region where the idea of a 'Kosovo nation' is violently contested. But five years after Kosovo celebrated gaining independence, why do the problems persist?
The north of Kosovo has historically had a Serbian majority, but many argue that the United Nation's approach to solving the trouble in the country was to allow this divide to proliferate, rather than address the ethnic tensions and calm the post-war antipathy. As a result, the problem has worsened making day-to-day life a struggle for minority communities, many of whom must travel for over an hour just to receive care in a hospital which speaks the national language. Furthermore, a Kosovar-Albanian policeman could arrest a Kosovar-Serbian, but the lack of Kosovar courts meant, until recently, he could not be tried because the court system was illegally controlled by Serbia.
Dividing a country by ethnicity seems like the most logical solution to end violent clashes, but in Kosovo the effects of a simplistic divide have undoubtedly left many dead due to inadequate healthcare, ruined dreams by separating education and undermined the rule of law. Dozens of plans to split Iraq three-ways have been drawn up, separating the Sunni, Shiite and Kurds, but borders don't solve problems. Mitrovica is a bold example of a city where a political divide has resulted in exponential impacts, just fourteen years since the end of the war. Relocating one ethnic group to one bank of the river hasn't solved the problems in Kosovo, it has simply concentrated them. Violence won't stop until the country learns to live happily alongside its neighbours, something difficult in a country which feels like two. The divided city is the epitome of Western political intervention: a short term fix with lifelong implications.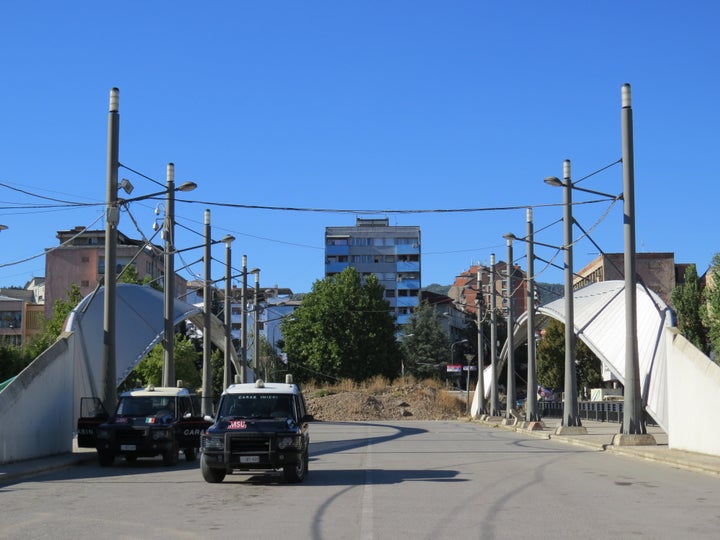 Photographs: Harriet Line