Jade Nordahl from Norway gained a cult following on Instagram with her hilarious illustrations about being a first-time mother, and captured the nation's hearts so much that she scooped a book deal.
I love feel-good stories like this, and it all started 16 months ago when Jade started drawing these cartoons as a way of finding the funny side of the trials and tribulations of raising her son, Abel.
When I asked her about it, she said, "I realised how therapeutic it was for me to draw humorous versions of those frustrating situations. I thought maybe I can help some other tired mommies and daddies out there, So I started posting my drawings on Instagram, the audience grew, and I got a book deal, yay!"
It's not hard to see why, because these scenes are all scarily recognisable, and her Instagram gallery has almost 150 pictures now. Consider this a warning, you will probably spend a great deal of time browsing it, and it's a chuckle-fest.
Every morning. Note the steaming cups of coffee on the table.
That feeling of absolute carnage when you're getting used to a new baby.
The toddler that climbs into your bed at stupid-o'clock in the morning.
Kids are always happiest when it's 5am.
Situations like this become totally normal.
To say it puts a strain on your relationship is an understatement.
We all remember that first killer nappy change.
Toddlers never miss a trick. Especially when there's chocolate involved.
Here's a picture of Jade, with Abbey the dog, and Abel. They live in Oslo, where Jade works in communications for NRK, Norway's equivalent to the BBC.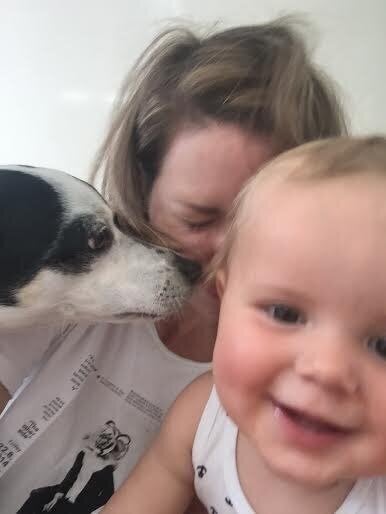 Despite this not being her full time job, her popularity as a cartoonist on Instagram led to an unexpected book deal! 'Et år i ammetåka' is only available in Norway so far, but head here to find out how you can win a signed copy and be one of the first people in the rest of the world to own it!