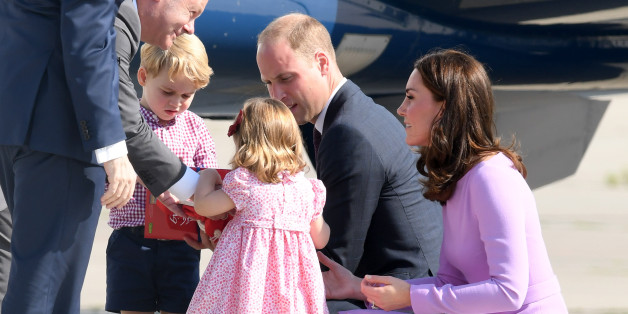 Karwai Tang via Getty Images
Dear Duchess of Cambridge/Princess Kate/Ma'am/George and Charlotte's mum/any other title you may go by,
(FYI I go by muuUUMMEEYYYEEH, note the increase in volume, it's important)
You don't know me, but I know you. And I don't mean that in a creepy way. I mean, obviously everyone in the world knows who you are. But you were also unknowingly a part of my online antenatal group. When I was pregnant I felt an affinity with anyone else also pregnant at the same time. We were a crew, a group, an imaginary NCT class (it still sounds creepy right? Sorry). When I was pregnant with my son you were pregnant with George, and later, when I was pregnant with my daughter, you were pregnant with Charlotte. We're basically best antenatal friends. Small beef though bud, I mean, I'm really sorry about your hyperemesis gravidarum but you know the early announcement thing? Talk about stealing a pretend online antenatal group member's thunder, not cool Kate, not cool at all.
So I hear you are expecting your third child. Welcome to the club. It's a pretty crappy club, there's no membership badge or assigned leader (Interested? You'd be a strong contender) but it is a club nonetheless. The club's not-so-secret password that you'll hear every time you leave the house from now until eternity is 'well, you've got your hands full haven't you?'. The curse of the mum of three - the stranger spouting cliches. Remember what it's like when you're pregnant with baby number one and you become public property (you, more than most admittedly)? Well now you are the victim of ALL the public opinions and cliches (add to aforementioned club password 'three's a crowd', 'three is the magic number' etc etc).
So, as your former fictional antenatal pal, I feel like the onus is on me to dish out some completely unsolicited advice because that's what overfamiliar strangers do when you have a baby and I feel it's only fair to prepare you for things to come.
First advice is lower your parenting standards. Over the years of raising humans I've exhausted every excuse to leave the house and talk to another human over the age of eight. And as a result, I'm not going to lie, I've let my standards slip somewhat (see feral third child self-weaning on worms from the garden). You know that phrase 'pick your battles'?. Well, I don't go into battle unless my three are literally charging towards me, jousts drawn, shields raised. And even then, as I pop on my helmet, I'll stop for another slurp of coffee before throwing down the metaphorical gauntlet of 'time out'. Life's too short to discipline them for every flick of their sister, pinch of their brother or prod of a corgi. Let the standards slip, it's surprisingly liberating to be liberal. Enjoy.
Secondly, don't stand to ceremony. Granted, harder for you than for me but all those things that you 'should' do after you've had a baby (me: update Facebook friends of baby's arrival, send thank you cards for baby gifts etc... You: update the world of baby's arrival via town crier, pose for paps a ludicrously short time after labour outside the hospital etc...). Sack it off. It can wait. Make the media buy a sarnie from the shop round the corner whilst you enjoy your baby for an extra secret hour. My mum waited that whole extra hour in the hospital's Costa (same, same but different) so I could be alone with my new baby for that time before her brother, sister and grandparents descended. That one hour of calm can be the only one you get third time round, it's pretty special.
Thirdly, and most hypocritically, don't take advice. Especially not from some loose cannon mum on the net who thinks she knows you just because we both had unprotected sex at roughly the same time of year (twice though, to be fair). Congratulations Your Royal Highness, and thank you for repping for larger families nationwide (fist pump? Too much? Sorry. Curtsey).
Your Sincerely,
The creepy antenatal friend you didn't know you had,
Hattie
I'm not sure about royal protocol and social media, but one can find me over on Instagram (@thatmumblog) and Facebook (https://www.facebook.com/Thatmumblog/)