You can still sponsor Helen via this link
Boxing For Buhinga: The Fight Club Diaries. Week 17
Boxing For Buhinga: The Fight Club Diaries. Week 17
Oh yay it's back to absolutely starving all of the time.com - I thought I was past that stage. Tuesday night is final training session - and everyone is feeling it I think. The thought that this is it - that nothing more can be done now, fitness levels, skills, game-plans are all as good as they're going to be. All we can do now is rest up, eat properly and not let the nerves get to us.
Keeping our energy up and maintaining it for the rest of the week is the challenge - this means carbs (did I mention ...yay!) so on Wednesday it's time to start thinking energy instead of calorie counting. Though I'll be honest by Friday I'm pining for the egg white omelettes again - I'm just not used to all this food!
Katie calls me on Friday from Hong Kong to give me a final pep talk which slightly puts the fear of god into me but her advice seems sound - don't forget to breathe, and take a moment to enjoy it.
I'm not too bad on Saturday - I get the odd heart-wrenching moment of panic about what we're doing, and Christina texts me multiple scenarios I hadn't even thought of happening - like falling over on the way to the ring, or treading on the ref. Eeek! We drive over to the venue with Warren from our gym - who's going to be in Christina's corner. My main moment of panic is when we get to the venue and all I can see is people in evening wear, and I have no idea where to go. Minor freak out ensues.
Up in the dressing room there is an atmosphere of nervous anticipation. The vests we'll wear are laid out with everyone's names; the room is littered with food, water and kit. Chris and Imran are starting the night and they're already warming up when we arrive. A few people look a bit grey with nerves - which makes me a bit worse. I think I babble through an interview with a guy with a camera......couldn't tell you what I said.
Christina and I get checked out by the doctor and then go and watch the first fight through the curtain - the ring looks incredible, so professional and frankly scary! I feel for the boys being first on - I'm not sure I could do that, I like the fact we can watch what happens a couple of times before our fight.
We change with an hour to go until our fight - my plan to eat a few hours before is going out of the window as everything I eat tastes of dust. I managed a protein bar and keep drinking water. Changed we have to have a laugh at each other - shorts are not a flattering look at all - even if mine didn't have a chronic case of static.....We consider hiding in the women's changing room......safe in the knowledge no boys could come looking for us
Warm up is good - it feels good to be moving around and getting some of the nervous energy out. I practice my right cross/left hook combo that is my game plan and try to get my heart rate up in preparation. Jacek is in my corner - and I'm incredibly grateful that he is, the simple fact of having someone you trust there shouting instructions and supporting you is so comforting.
Waiting at the doors to go out into the ring is the most nerve-wracking moment of my life. I hear Christina's music kick in and the cheers as she runs out, and then Jacek and I are ready...Hells Bells by AC/DC comes on and I hear my name shouted over the PA system. It feels like everyone is screaming as I walk gingerly through the crowd - I'm so confused as I was only expecting my one table to be supporting me but it feels like everyone is shouting for me.
I don't win the fight- as expected (and to be honest never even considered by me until the final week when people mention it) - Christina is absolutely fantastic, and I just try and keep myself in the game so to speak - it feels in the ring like it is so one sided and she is completely battering me, but all I can hear is people shouting for me and I know I get one or two decent shots in (only the one or two mind!). I wish I could say more about being in the ring but it's a blur - the sound of the crowd, Jacek shouting instructions I'm trying so hard to follow and just trying to keep breathing. Everything you know goes out of your head and you just focus on what you have to do. I clap madly when Christina's win is announced, and Jacek tells me I ought to be proud to have got this far - especially as she is so much more experienced than me. I manage a little air punch as I leave the ring - and keep my emotions in check until I run into Ian in the corridor, I think I say 'it's over! We did it!' but I honestly can't remember!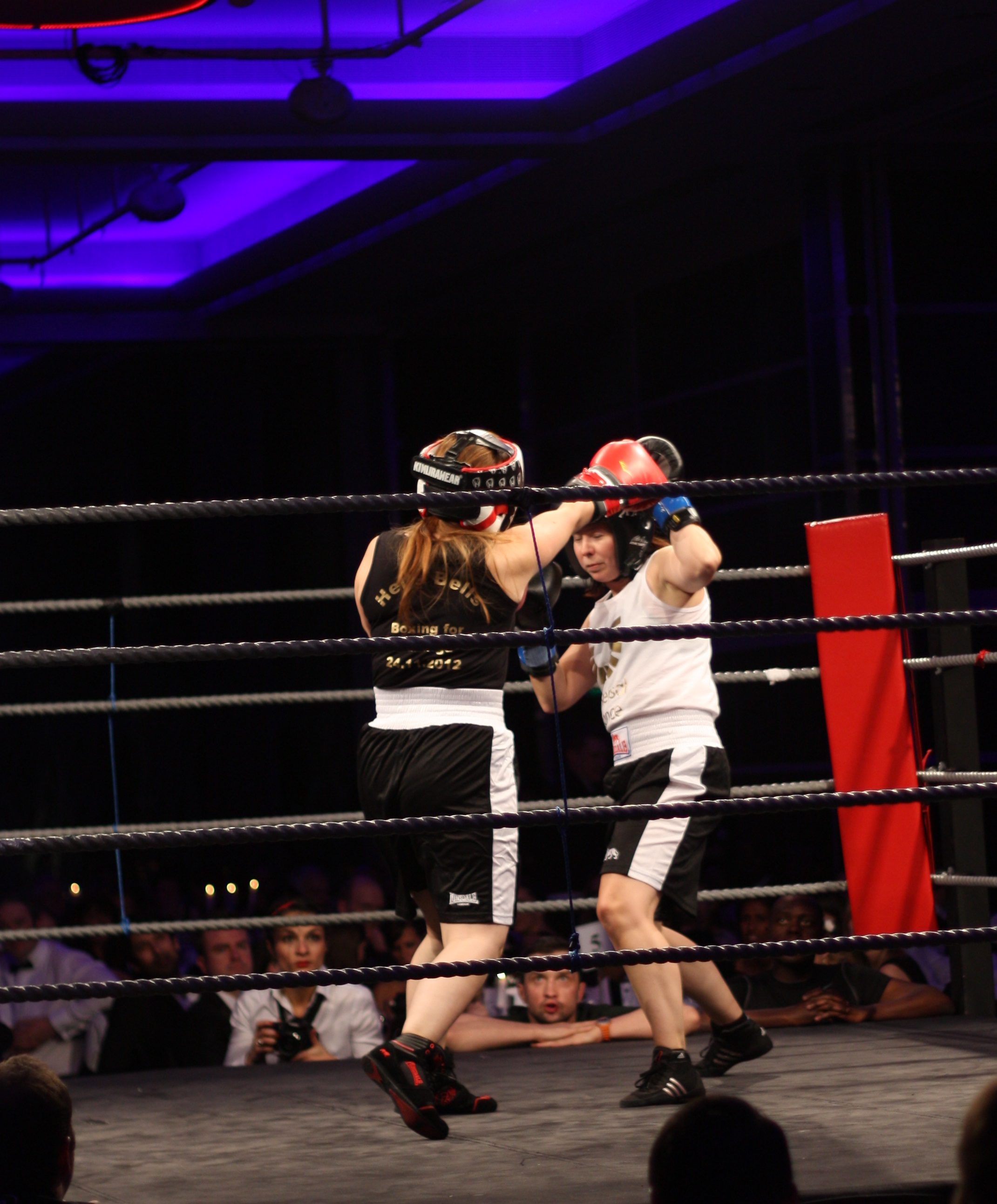 Covered in water sprayed on our faces through the fight, sweaty and exhausted Christina and I watch Ben and Matt's fights before heading to change into our glad rags, I have mascara all over my face...which is a lesson on makeup and sport people...learn it. Being back in my heels and a dress feels amazing - I feel normal again! Everyone congratulates everyone else as the fights finish- I don't think I've ever genuinely hugged so many people in one night.
Words can't adequately describe what an amazing night the team pull off - Ben's speech at the end gets everyone on their feet clapping, and there are rumours that over £20,000 have been raised. My mum says she's had the best night out for ages, and the after party looks to be going to be a big one (though that glass of wine with me name on it? Straight to my head and couldn't finish it....).
A bizarre mix of relief it's over, sadness it's come to an end, pride at what everyone has achieved and weird buzzing adrenaline lasts for days.
My brother sums it all up for me 'You were awesome sis'.... but just don't do it again alright?'
A million thankyou's.....
..to everyone who has supported me through this process, first and foremost Ms Katie Lowe who has inspired me, supported me and given me invaluable advice (including that about teabags in your gloves) since day 1 - other people may find sports people, or celebrities to inspire them but I am incredibly lucky to have people who I actually know achieve amazing things and make me want to do them too!
Simon Bateman from Your Gym in Richmond - without whom I literally could not have done this challenge; for all the motivation, fitness plans and allowing me to christen him a number of mean nicknames along the way. Our trainer Jacek and all of the Universal Chance/Boxing for Buhinga team - who have also allowed me artistic licence each week in this blog, encouraged me to find the inner tiger and tried to avoid hitting me because I'm a girl.
My boyfriend Lloyd and my mother for not immediately thinking I was insane for signing up to do this- and my nana for understanding girls box too. Dad for reminding me 'hit first and hit hard'. Everyone at notonthehighstreet.com for putting up with my boring chat, not drinking and my massive stinky gym bag cluttering up the floor for the past 17 weeks. And of course to Lora for getting me into this and Christina who stepped in half way through and has provided me a worthy opponent, motivator for my terrible sit-ups and boxing buddy for life. Legends gym for matching us up together and everyone who has wished us luck.
And of course not to forget Rich who allowed me to join in with this, uttered the immortal words 'you'd better be committed' - which have forced me to keep me going each week and whom I have incorrectly accused of stealing my monkey mug multiple times- I found it in a box last week :-)
About Boxing for Buhinga & Universal Chance
Universal Chance is a charitable trust set up by a group of friends who share a common desire to use the skills that we have developed through our careers to do what we can to help communities that have not been granted the same chances that we have whilst inspiring others to do the same.
We are dedicated to implementing tangible projects that will help less privileged communities and individuals reach their potential . This could be anything from improving education facilities to providing medical facilities or giving access to clean water. To find out more check out our site http://universalchance.org/ or follow us on twitter at @universalchance.