Time. It's the most important part of my role as a caregiver for older people. I couldn't love my job as much as I do without having enough time to care.
If I held a mirror up to what outstanding care for older people should look like, it's having the time to share in the light and shade of seniors' days. It's sharing in the joys that golden years and the pleasure that grandchildren bring, and by exchange, sharing in the inevitable frustrations ageing can bring.
When I'm not with my clients I miss them. I often find people think being a carer is all about crossing tasks off lists. Dignified care, outstanding care is about so much more than that. It's about giving people practical help where necessary but also about providing companionship that brightens their days, adding support when it's needed and helping to stave off loneliness.
When I get home at the end of the day, I know I've done a little bit of all of these things. And to me that's meaningful, not menial, work.
Sometimes I'm doing a client's ironing, picking up some shopping for them or cooking them their favourite dinner with vegetables I've picked from my own allotment, so I know they are enjoying a healthy, nutritious meal. Maybe I'm swapping over the bedding or assisting someone to take a shower. 
Other times I may be playing scrabble with my client, doing some gardening together or taking someone to the GP. I might be encouraging a client to do some exercises, going for a drive with a client's favourite CD on in the car so we can laugh and sing our heads off. Or I might just be sat beside them in an armchair talking about something on the TV, perhaps we're shouting at a TV programme together, we might be listening to music or sharing in the frustrations of a tricky crossword puzzle.
Time underpins it all. We don't do rushed care visits. That's not dignified and it's no basis for building a relationship with your client. That's no foundation for trust to be built or for bonds to be made between clients and caregivers.
I had been supporting Christine and Ken, a lovely couple in their 90s, for about 4 years before Ken sadly passed away. I used to take them both on holiday and we became genuinely fond of each other. Here we are photographed together....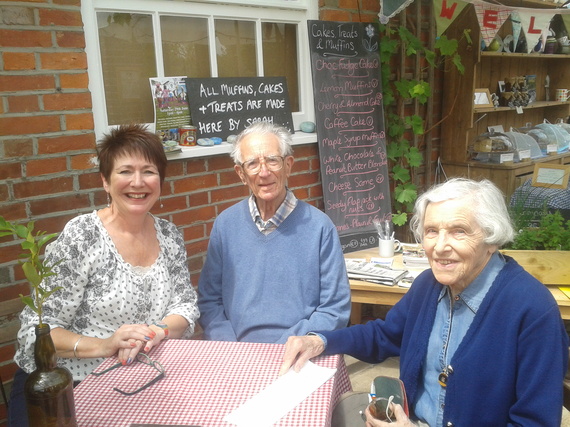 I was with Christine, at her request, at Ken's bedside during his last moments.  We were holding hands as he gently slipped away. ...such a special thing to share and it brought us even closer.
I continue to see Christine twice a week and she often says that I'm like an extension of her family. She talks to me about all sorts of things and says this is just as important to her as asking me to do the shopping. 
Recently she asked me to do a few jobs while she lay down. When she woke she said how content she felt just knowing I was in the house. How brilliant is that?
I've started visiting another couple. The gentleman has dementia and the wife is his full-time carer. They adore each other but she needed a little time for respite care for herself. Her husband and I share a passion for nature and classical music and he plays the piano. The first time I visited we went for a walk around their beautiful gardens. We came in and I made him a coffee then he played some Schumann on the piano before we settled down to listen to some Mozart violin concertos while he read the paper.
When it was time to go his wife said how wonderful it was to have had some time for herself. Even though she didn't go out she felt as if she'd had a proper break. Now trust has been built up, she goes out regularly and for me it's a privilege to be entrusted with her husband's care. 
I received the sweetest card from one of my client's families this Christmas thanking me for 'All the fun company and amazing help you give our mother. It's so lovely to see her enjoying life because of you'.
So my job doesn't feel like a job really.  It's an extension of me. It fits me. I can make a difference and I can be myself. That's rare and precious. I have never, ever felt so fulfilled and valued.