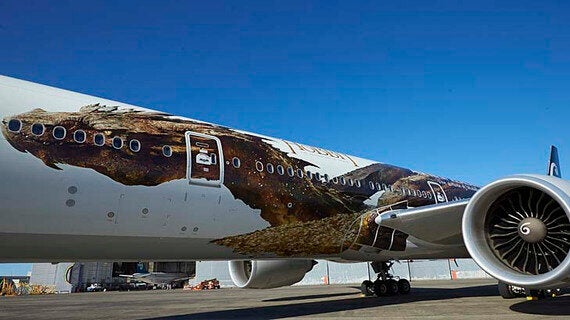 Co-branding might sound like the kind of phrase that's thrown around by humourless, suited marketing types in jargon-filled meetings (usually accompanied by at least three references to 'blue sky thinking') but in reality co-branding is all around us and has been for some time. What's more, it's getting ever more ambitious, technological and complicated.
In its simplest form, co-branding involves two companies joining forces in order to better penetrate the market. One of the earliest examples occurred in 1956 when Renault joined forces with famous jewellery chain Van Cleef and Arpels to decorate the dashboard of one of their newly introduced Renault Dauphines.
More recently, Air New Zealand decided to partner with New Line Cinema (producers of the Lord of the Rings and Hobbit adaptations) and rebrand themselves the 'Airline of Middle Earth': an allusion to the fact that the films were shot on location in New Zealand.
This decision led to the airline repainting one of their flagship aircraft to look like the scheming dragon Smaug, as well as creating (very funny) viral videos like this one featuring a group of passengers at a very unusual airport filled with Elvish airline staff. It also featured departure gate destinations that included fictional Middle Earth locations Mordor, Mirkwood and Hobbiton. Goodness knows what Lord of the Rings Trilogy author J.R.R. Tolkien would have made of it!
They also created a brand new, Middle Earth inspired safety briefing video to show on their planes (featuring a cameo by none other than Hobbit director Peter Jackson). As co-branding exercises go, it was a huge success. Both videos went viral and both the airline and New Line Cinema benefited from increased media visibility and online traffic as a result.
This high profile, successful joint venture has given co-branding a huge boost. More companies are experimenting with partnership working than ever. What's more, tech pioneers and big brands are working together to explore ways that they can harness IT and software developments and incorporate them into their products to boost their effectiveness.
Take Nike, for example, who joined forces with Apple to develop a co-branded Sports Kit. For years, people had been working out while listening to iPods, so the two companies decided to formalise that relationship- and capitalise on it at the same time. The kit is made up of a pair of 'Nike+' running shoes with a built in sensor that communicates with the owner's iPod or iPhone. Once it's calibrated, the shoes 'talk' to you via the iPod, giving you information about your time, distance, pace and calories burned. It's pretty nifty stuff.
In fact, experimental tech co-branding has become so popular that even the charitable sector is getting in on the action. Cancer Research UK recently joined forces with app experts the Rational Group (owners of Full Tilt Poker) to create an exciting new iPhone app called Genes in Space. What's so exciting about it? Instead of releasing a game that simply promoted the charity, Rational and Cancer Research UK followed the scientific lead of SETI and created an app that uses the collective force of players to mine and analyse real genetic data in an attempt to beat cancer sooner.
Players travel through a fictional universe looking for 'Element Alpha', a substance that mirrors real clumps of genetic data. By playing Genes In Space, players are analysing and tracking significant amounts of genetic data that would have taken scientists hours to comb through. It's incredibly creative.
Unfortunately, co-branding doesn't always go as smoothly as this.
Over the years, there have been some fairly spectacular fails, including Doritos attempt to partner with US fast food chain Taco Bell. On paper, this looked like a great idea. Tacos are a corn shell made from the same ingredients (to an extent) as Doritos. Why not combine the two to create Nacho Cheese, Cool Ranch and Firey Chilli flavoured tacos? Well, it turns out that it wasn't such a good idea. Customers were put off by the strong flavours and fake 'cheese' dust that fell off the neon orange taco shells, with many branding the concoction 'disgusting'. Never mind guys: we can't all be Air Middle Earth or Genes In Space.