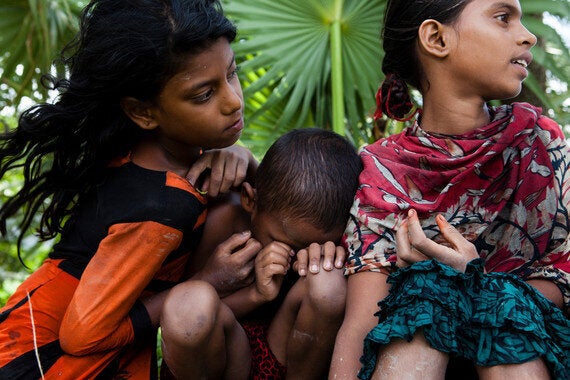 This is the tale of four girls whose lives are being torn apart by climate change and the impacts of El Niño.
Two of them live in a world of water.
The other two are desperate for the rains to come.
Flooding is causing Amina, 12, and Aasia, 10, in Bangladesh to go hungry.
Despite living thousands of miles apart they are grappling with the same devastating impacts of extreme weather.
But young women living on the margins face risks that go beyond hunger.
A dozen steps from Aasia's hut lies a murky green-grey river that stretches as far as the eye can see.
It formed when salty water from the Bay of Bengal came flooding into her village, ruining crops and farm land.
Now the 10-year-old goes into that river every day, dragging a heavy net to catch fish.
It's tiring work and Aasia's young body feels the strain.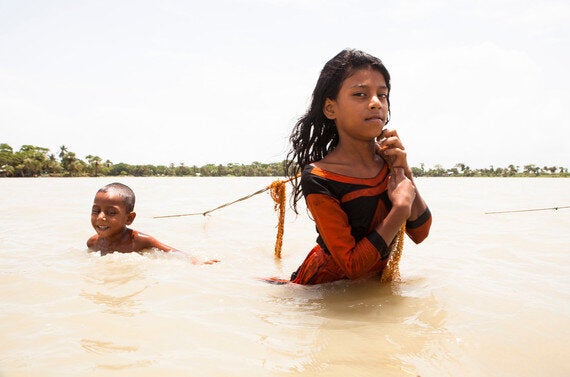 "Sometimes my arms get sore," she said. "When that happens I tie the rope around my waist and then I pull the net. When my waist starts to hurt I swap back to pulling with my arms. Sometimes I wake up and I don't want to do this work."
Like thousands of Bangladeshis, Aasia's parents have lost their land and livelihoods to floods. As sea levels rise, exacerbated by climate change, the problem is set to worsen.
"When the water rises the trees and plants go rotten and die," said Aasia. "We can't plant any trees. There are no trees or plants around our home."
Amina's hut has been destroyed four times by storms and floods.
Her brother died during a cyclone in 2007.
Now extreme weather could claim her childhood as well.
Amina, who also goes fishing to feed her family, has overheard her parents talking about arranging marriages for their daughters.
"My parents are worried," said the 12-year-old. "Sometimes they say if they could marry me or one of my sisters off it would be a relief for them."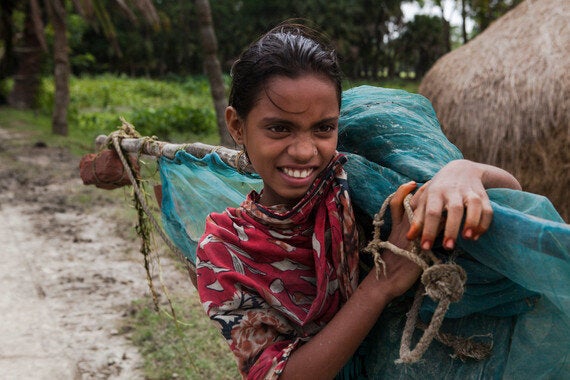 But the prospect of marriage is deeply troubling for Amina, who has two sisters. She told me of her ambition: it's to finish school and get a job in Bangladesh's new industries.
"I don't want to marry young," she said. "I want to study, grow big and then I want to marry."
Bangladesh has one of the world's highest rates of child marriage, according to the United Nations.
Laily Begum, 39, an elected councillor in southern Bangladesh campaigns against child marriage. The mother-of-three is also part of an ActionAid funded women's group. She said climate change is placing a huge financial strain on already poor families.
"We can't grow anything. Children can't go to class. When this happens parents start to see their children as burdens," said Laily. "They think, 'If I can marry one of the daughters off it will be good.'"
A severe drought is sweeping across the Horn of Africa and affecting states such as Somaliland.
More than two years of failed rains have caused harvests to fail and livestock to die.
It has also forced Hibak, 18, to drop out of school.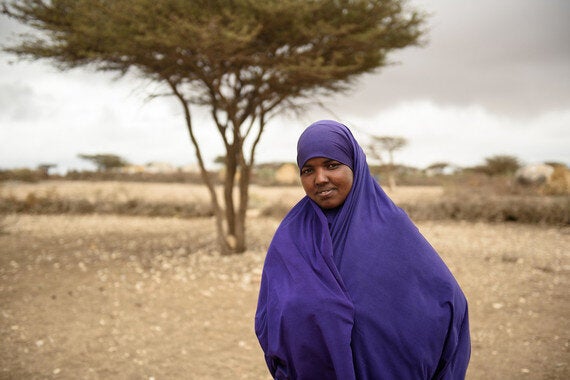 As conditions intensified the teenager stopped going to school because her family needs her to walk further and further afield to find water for their cattle.
"I used to go to school, but not now," Hibak told me. "Because of the drought, I have to take the livestock to a far place. So I haven't got time to go to school."
Although Hibak knows that education is important, survival right now is dependent on keeping the family's livestock alive.
Fighting over food and land
Nimah walks for two hours to fetch water for her family because the wells near her home have dried up.
On those long journeys she has noticed neighbours arguing over grazing land.
This is something new to her because villagers are usually happy to share what they have.
"There is not enough grass here and I've seen neighbours arguing if someone else's livestock tries to eat their grass," said the 15-year-old.
"If the drought continues there may be fights over grass and animals."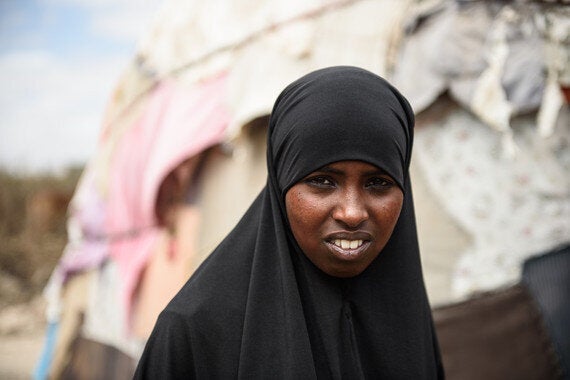 Nimah's family has lost 25 of their 35 sheep to the drought. If the remaining sheep are lost it could tip the family into destitution. Without livestock they will have nothing to eat or trade with.
This prospect makes Nimah fear for her younger siblings.
"I worry about my brothers and sisters if we run out of food," said Nimah, who has five siblings, the youngest of whom is aged eight. "The young children may die too, if there is nothing to eat."
The teenager has heard of children dying from malnutrition in the Guban plateau, which is several miles east of her village.