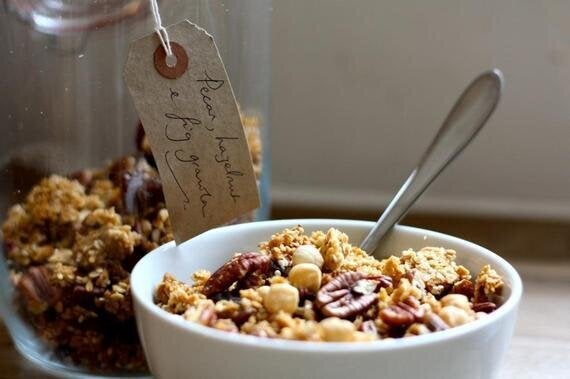 I want my husband to eat more nuts. I am slightly obsessed with his diet, though sssh, he's not aware of this. I haven't verbalised this concern about what he eats. And it's not as if he eats badly. He doesn't at all! It's just that he's older than me and I have this irrational, pregnant fear that he will pop his clogs before me and leave me alone and lonely, wishing I'd fed him more nuts, seeds and vegetables.
So like a woman possessed I find myself making weekly industrial sized vats of nutty granola, buying tart natural yoghurt instead of anything remotely sweet and flavoured and 'forgetting' his beer and wine in the weekly shop.
When we first met he used to lament that we'd not gotten together earlier, when we were younger and I scoffed. 'Oh no!' I squawked, 'We were busy sowing our wild oats - it's better this way, less chance of affairs or any of that nonsense later on. We've done our experimenting.' But as I am now the age he was when we met, I understand. I've come of age and I mourn for those lost years spent dating dreadful men who broke my heart. I wish I'd met him earlier. Less time spent sowing youthful wild oats might mean less time making them into granola now.
Makes a large kilner jar that holds three litres of liquid
Preheat the oven to 160C/gas mark three and spread two baking sheets with non stick baking paper. Melt the brown sugar, honey and butter in a large saucepan until just molten. Remove from the heat and leave to cool for five minutes. Stir in the oats, seeds and nuts, then spread carefully over the baking sheets in one thin layer.
Bake for 15 minutes then turn the granola mixture over using a slice/spoon and bake again for another 20 minutes, checking for any burning periodically. You are looking for a golden brown colour to develop. Take the trays from the oven and press the granola down with a potato masher then return to the oven for five - 10 minutes until a lovely brown slab of granola has developed.
Remove and leave to cool. When cold break the granola up into bite size pieces and mix with the raisins. Pour into jars and enjoy with yoghurt/milk/fresh fruit or whatever you fancy.