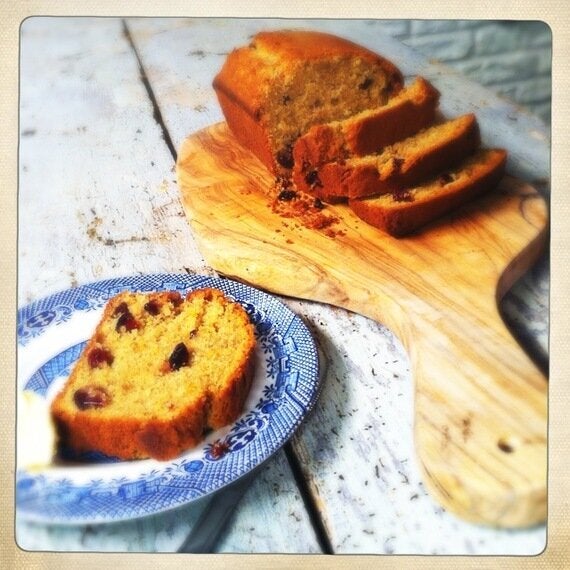 This is almost too quick to knock up. Like one of those cake in a cup jobs that leads to 10pm cravings and tighter jeans. This freezes well and is delicious toasted for breakfast with a little butter spread on it.
I made a lovely video with the Scoff folks to show off how to make this loaf. You can see the vid on my YouTube channel and also the Scoff one. You can watch it below too.
260g plain flour
1½ tsp baking powder
½ tsp bicarbonate of soda
1 tsp ground cinnamon
Pinch of salt
75g butter
130g caster sugar
Zest of 1 orange
125mls orange juice (this is equal to the juice of 2 large oranges)
2 large eggs, at room temperature
120g dried cranberries
Preheat the oven to 180C/gas mark four and grease and line a loaf tin. Mix together all the ingredients apart from the cranberries and beat for about three minutes with an electric mixer or five minutes by hand until light and creamy looking. Add the cranberries, stir lightly. Pour into the tin and bake for 30-40 minutes (depends on how large your tin is, the larger it is the quicker it should bake) until a toothpick comes out of the centre of the loaf clean. Cool in the tin for 15 minutes on a wire rack before removing the tin.