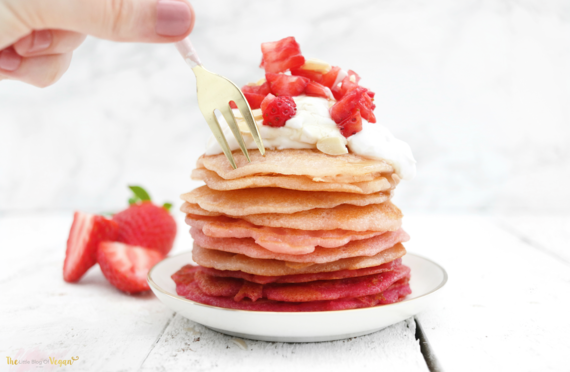 Strawberries and cream are a match made in heaven and I wanted to make some pancakes incorporating strawberry and cream.
I came up with this beautiful tower of light and fluffy pink ombre pancakes that don't only look stunning, but taste delicious. They are so yummy!
They are 100% vegan and made using natural sugars and juicy strawberries.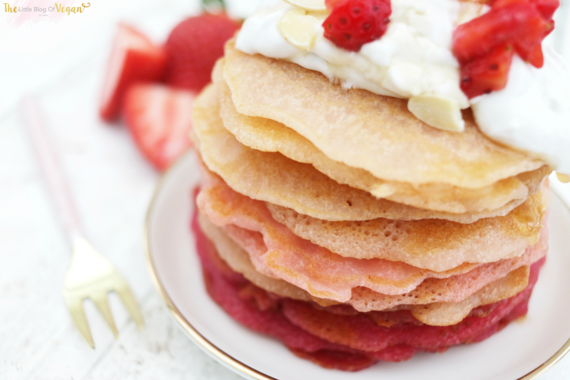 They're fun to make and would be perfect for Pancake Day. You could even serve them with dairy-free ice cream or melted chocolate...heaven!
Makes- Approximately 10-12 pancakes
Ingredients for the pancakes
-1 cup of plain white flour (I used Doves Farm gluten-free)
-2 teaspoons of baking powder
-1 tablespoon of apple cider vinegar
-2 tablespoons of coconut oil
-1 teaspoon of strawberry flavouring
-Pink food colouring (make sure its vegan)
-1 tablespoon of maple syrup
-A handful of fresh strawberries
-Handful of fresh strawberries
Step 1- In a large mixing bowl, combine the flour and baking powder.
Step 2- In a separate mixing bowl combine the almond milk and vinegar.
Allow this to stand for 5 minutes.
Step 3- Pour the almond milk & vinegar mixture, maple syrup, strawberry flavouring and melted coconut oil into the flour & baking powder mixture and combine.
Step 4- Separate the pancake mixture into 3 separate bowls.
In the first bowl add a drop of pink colouring and mix.
In the second bowl, add a drop plus a little more to make a darker colour.
Leave the last bowl as it is.
You can add strawberries to the pancakes and mix (optional)
Step 5- Place a large frying on the hob over a low light and lightly grease with oil.
Step 6- With a large spoon or ladle, carefully pour a small amount of the mixture into the centre of the hot pan.
Leave it for a minute or so then flip. Only flip when the edges of the pancake look firm enough to flip.
Step 7- Repeat this process until you have used up all of your batter and have a tower of delightful pancakes!
This will take around 10-15 minutes.
Top off with some coconut cream, fresh strawberries, flaked almonds(for added protein) and a drizzling of maple syrup!
Best enjoyed fresh and warm, yummy!