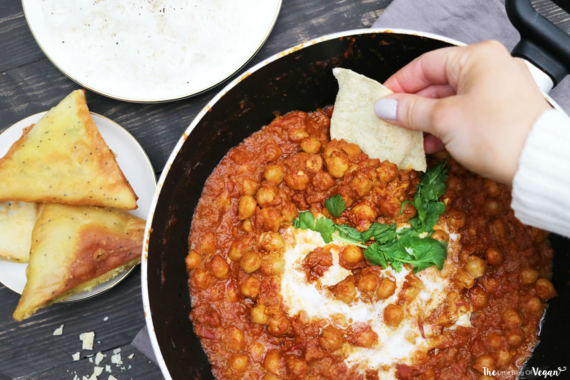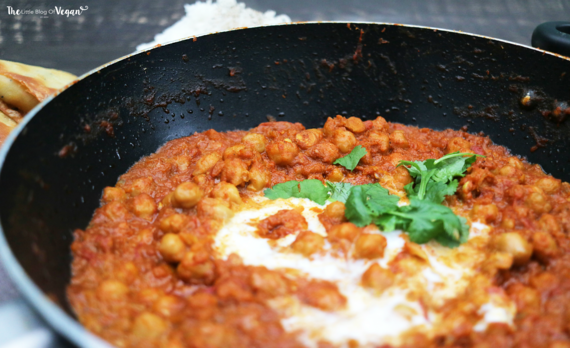 Preparation- 15 minutes
Cooking time- 30 minutes
Level- Medium
...
Ingredients
-40ml of oil (I used light olive)
-2 small white onions (chopped finely)
-10g of fresh ginger (minced)
-1 tablespoon of garlic paste
-2 teaspoons of ground cumin
-1 & 1/4 teaspoons of chilli powder
-2 teaspoons of ground coriander
-1 & 1/4 teaspoon of ground turmeric
-1 & 1/4 teaspoon of garam masala
-1/4 teaspoon of ground black pepper
-1/4 teaspoon of salt
-1 teaspoon of coconut sugar
-1 can of tomatoes
-2 cans chickpeas
-1/4 cup water
-150g coconut cream
...
Step 1- Pop a large wok/pan onto the hob on medium heat, then add in the oil.
Step 2- Once the oil is hot, add in the onions and ginger and shallow fry for around 2-4 minutes.
Step 3- Add the onion & ginger mixture into a food processor/blender and blend until smooth and pop back into the wok/pan.
Step 4- Add in the garlic paste, cumin, chilli powder, ground coriander, turmeric, garam masala, pepper, salt and coconut sugar (optional)
Stir until combined. Add 1 tablespoon of oil if too dry/needed.
Step 5- Add in the tomatoes and chickpeas, stir to coat.
If the mixture is too thick, you can add in 1/4 cup of water.
Step 6- Add in the coconut cream and cook for around 20-25 minutes on low/medium heat covered with a lid, stirring frequently.
The chana masala will thicken while it's cooking.
Once cooked, serve warm with rice, naan bread, popadom, samosas... anything you fancy to make an Indian feast!