Jawaharial Nehru once said "We live in a wonderful world that is full of beauty, charm and adventure. There is no end to the adventures we can have if only we seek them with our eyes open". It's no wonder the words "travel" and "photography" fit so well together. The world is full of spectacular destinations that have been captured through the lense by those lucky enough to travel to these incredible places, from the Taj Mahal and Eiffel Tower to the ruins of Machu Picchu and the Colosseum. Travel photographs are not only a celebration of spectacular landscapes and unique cultures, but they also capture precious memories. So if you're a photographer who is passionate about travel, here are ten destinations you should visit.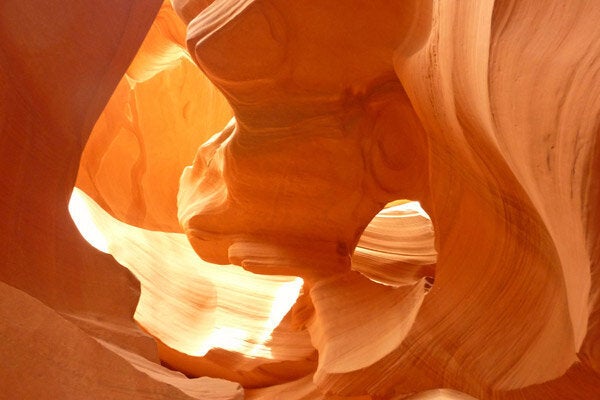 Incredible geological formations in Lower Antelope Canyon © Alaskan Dude
One of the world's most fascinating landscapes that displays the power of nature is Antelope Canyon, located on the Navajo Native American reservation near Page, Arizona. Flash flooding has created corridors in the upper and lower canyons, known as The Crack and The Corkscrew. Shafts of light radiate down from openings above, creating a picture that seems quite surreal. Antelope Canyon is only accessible through guided tours with permits due to the danger of flash flooding.
Tucked away in the Himalayas is the tiny Kingdom of Bhutan, where traditional villages have been untouched by time. The sacred temples, serene monasteries, majestic natural surroundings and colourful people make the kingdom in the clouds a dream destination for photographers.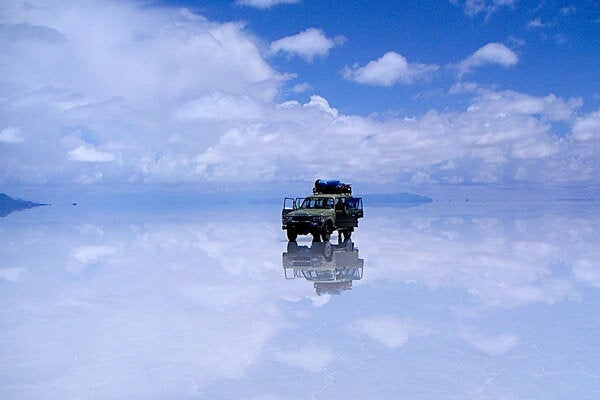 Mirror-like reflections on Salar de Uyuni © Nouhailler
Photographers flock to Salar de Uyuni to capture the fascinating landscape of the world's largest salt plane. In the dry months the 10,582 square kilometre salt flats create a hallucinogenic white landscape that produces dream-like photographs.
Iceland has a unique and fascinating landscape of volcanoes and hot springs that make for some truly beautiful photos. One of these natural gems is Landmannalaugar, located in the highlands of Iceland. When you're not taking photos of the breathtaking scenery you go for swim in the thermal pools.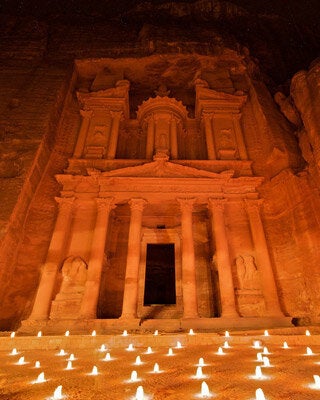 Dating back to 1200 B.C., the ancient city of Petra is known as the "Rose-red City" because of the pink-hued sandstone facade. The spectacular palaces and tombs are testament to the culture, wealth and technological skills that have stood the test of time. Petra is Jordan's most popular tourist attraction and the perfect place to take some impressive photographs. It's perhaps its best at dusk, when thousands of candles light the ancient city.
Photo: Petra after dark © paalia
Rio de Janeiro is possibly one of the most fascinating cities for photographers to visit. Here, where land and sea meet, extravagance and poverty collide under the watchful eye of Christ the Redeemer. You should head up Corcovado Mountain for the most breathtaking views of Rio.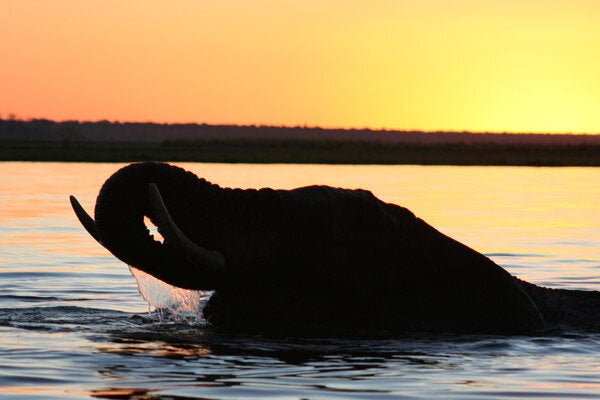 The Okavango Delta is the world's largest inland delta, located in the Kalahari Desert in Botswana. The lush environment has attracted a wide range of birds and animals, including elephants, zebras, buffaloes, giraffes and hippos. Explore one of Africa's most popular safari destinations by dug-out canoe (makoros) or on the back of an elephant. Either way, you're sure to get some amazing shots on your African adventure. You can read about other fantastic African safari destinations on HomeAway.co.uk.
Angkor Wat is one of those places that is so visually, architecturally and artistically breathtaking that it's impossible to take a bad photo here. This UNESCO World Heritage site is the largest religious monument in the world and is the heart of soul of Cambodia, no wonder it's so popular with photographers looking for an iconic shot.
Fiordlands National Park, New Zealand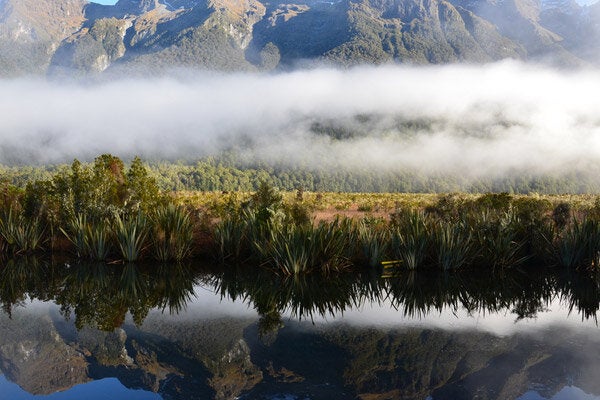 Fiordland National Park's peaceful Mirror Lake © Rabun Warna
Located on New Zealand's South Island, Fiordland National Park is one of the country's most popular tourist destinations. While you're snapping away you can enjoy outdoor adventures like sailing, canoeing and hiking. It's one of New Zealand's most beautiful and dramatic landscapes where mountains, valleys and lakes create some truly awe-inspiring scenery waiting to be captured by photographers. For those looking for something adventurous for their next break have a look at our holiday ideas for sports fans.
Off the beaten path you'll find the remarkable Chinese province of Guizhou. This region may be poor and undeveloped, but it's rich in natural beauty. Here you'll find spectacular lakes, dramatic mountainous terrain, interesting caves, and quaint little villages where you'll be welcomed by locals dressed in colourful traditional clothes. It may not be the first place that comes to mind when you think of great travel photos, but any photographer who has been there will tell you it's a dream destination for photographers.