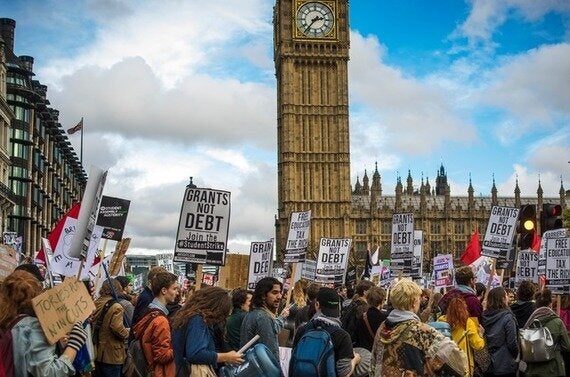 Last Thursday, it took a group of 18 MPs just 90 minutes to vote to implement the government's proposals to scrap maintenance grants for the million poorest students in the UK and replace it with a loan. This decision was made, without a debate in Parliament, by a backroom committee without the knowledge of the vast majority of people these cuts are affecting. And the ministers designing this policy? They mostly benefited from free education and maintenance grants themselves. With this decision, the government's attitude towards both education and democracy has been made very clear.
The scrapping of maintenance grants will force the most disadvantaged students into thousands of pounds worth of extra debt in comparison to their peers, as a result placing a disproportionately high financial burden on those who can least afford it. Of course, this ideology is reflected in the Tories' wider programme of brutal austerity which is inflicting so much suffering on the poor, the disabled, women and migrants; punishing marginalised groups is nothing new with this government. But what so many students have found shocking about the cutting of grants, is the fact that it is such an unashamed and direct attack on working class students. This decision sends young people the clear message: if you're from a low-income family, you will be singled out and made to pay for it. Jo Johnson, universities minister, might have gone from Eton to Oxford for free, but for young working class people in Tory Britain, debt is the only option.
What's more, the cuts have revealed the shameful dishonesty of this government. When the tripling of tuition fees was met with fierce opposition in the streets from tens of thousands of students, the rhetoric that we heard from the Tories was that it didn't matter that the average graduate would be in around £40,000 worth of debt, because every student was 'in the same boat' and that we were 'all in this together'. The replacement of maintenance grants with loans completely contradicts that idea and instead introduces what is effectively an extra tax for being working class, thus paving the way for even more of a tiered debt system in the future and an increased polarisation between rich and poor.
Added to all of this, students have also been witness to this government's flagrant disregard for the most basic democratic processes. The fact that this hugely significant decision was made without a full debate in Parliament is an appalling display of the government's willingness to suppress the voices of the people they supposedly represent. It is quite clear that the government doesn't want to listen to us, they don't want to justify themselves, and they certainly don't want to engage with the endless testimonies of students explaining how maintenance grants gave them a life-changing opportunity. These decisions are being made largely by people who have never had to worry about paying rent, working multiple jobs alongside a degree, or having enough money to buy food. This is the daily reality of so many working class students.
One thing's for sure - the fact that these devastating cuts have been made behind closed doors sends a clear message that the government is attempting to shelter their policies from public scrutiny and anger. They are hoping that the response will be as muted as possible, and they know that this is essential in order to smoothly implement the grant cuts, as well as further attacks and reforms to our education system. But unfortunately for the Tories, students aren't going down without a fight.
On Tuesday, the Labour Party has called an opposition day debate on the scrapping of maintenance grants. Students will be joining an emergency protest outside Parliament at 12:30pm to demand a reversal of this disgraceful attack on working class students, and to show that we will not let them get away with their corrupt, illegitimate tactics. And as the Tories continue to deny a free and accessible education system, students will continue to take the streets to make our voices heard. We will campaign, we will march, we will occupy and we will resist, not only for our own futures - but for the future of education itself.
Popular in the Community