UN Secretary-General Ban Ki-moon has two and a half years left at the helm of the organization.
When asked in a recent interview what he wished for his legacy, he said, "that by 2030 we will have eradicated extreme poverty". He also hoped that by the end of 2015 the world would "agree on a global legal climate change agreement."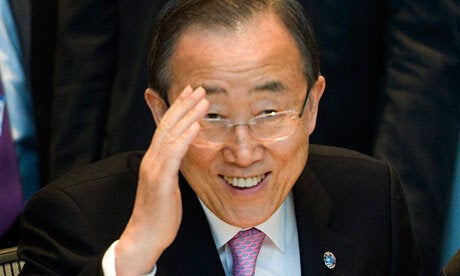 These are ambitious goals. And that's not counting the political and humanitarian crises in Syria, Iraq, Afghanistan, Somalia and Ukraine that he has to work on.
The question I would like to ask the secretary-general is whether in 2030 the UN will still be up to the task. Ending extreme poverty or getting an agreement to reduce climate change means creating complex trade-offs between the interests of countries, companies and citizens and civil society. It involves detailed forecasts, legal texts and new ideas that will galvanize negotiators to agreement.
It means putting the UN back in a position of international leadership.
I believe that for this to happen, Ban Ki-moon and whoever takes over from him in 2017, will need a committed and dedicated staff who can help them meet these goals, who can combine diplomatic, practical and analytical skills with experience - people as comfortable at the global negotiating table as managing an operation in the middle of a dangerous conflict.
They'll therefore need people that have demonstrated success in their studies and in their careers.
So how will this work in practice?
When the UN was set up almost 60 years ago, it decided that its pay system should attract applicants from all countries, developed and developing, including the highest paying. This means that total pay, which includes allowances for differences in cost of living and rents around the world would need to compare to the US federal government, with adjustments made for the different work environments. Monitoring this would be a body called the International Civil Service Commission.
Yet today, according to the Commission's own data, total pay including allowances and benefits, has slipped dramatically behind the US, by 32% in both Nairobi and Geneva, for example. And in this case I am comparing salaries after taxes have been paid - because UN pay is reduced to take into account tax being paid.
The result is that the UN struggles to recruit personnel from big donor countries such as Japan, and only after a determined outreach campaign was able to fill its recruitment targets for the US, Germany and the UK. In recruiting the staff it needs, it faces stiff competition from the World Bank and IMF. And as the global economy picks up, the UN will have to compete with a resurgent private sector.

Of course there are still plenty of applicants for every job advertised. And UN staff are primarily motivated by the desire to enrich the work of the organizations they serve, not their own pockets.
However, if the UN cannot continue to attract the brightest, the best and the most committed, and if these same people, smart and idealistic, increasingly prefer to work for their own governments or elsewhere, it will struggle to assume the sort of international leadership role that Ban Ki-moon has in mind.
Last year, the General Assembly asked the International Civil Service Commission to look at whether total UN pay was right and whether was it motivating enough outsiders to apply.
As a representative of UN staff I am watching this process with interest. Not only because I believe that the organization needs to make itself more attractive to the top talent out there, but also because it desperately needs to adjust its pay to capture the difficult and dangerous assignments that it now expects of us.
Earlier this year, a new rule was approved requiring UN staff to spend more time away from headquarter offices in New York and Geneva.
However, with or without this policy, many of my colleagues have already made the choice to work in the world's toughest places, from Kabul to Mogadishu, Bangui to Bamako.
In doing so, they have become the targets of Al Qaeda, Al Shabbab, Boko Haram and the Taliban, with deadly results. According to Humanitarian Outcomes's aid worker security database, 216 colleagues were killed in action between 2004 and 2013. And that's only humanitarian workers. For those killed in peacekeeping, we sadly don't have the statistics; and then there are the 116 who tragically lost their lives in the Haiti earthquake four and a half years ago.
Our job has therefore changed profoundly and I hope that the members of the International Civil Service Commission meeting in Rome this week to review our pay will spend some time to consider the risks we now face.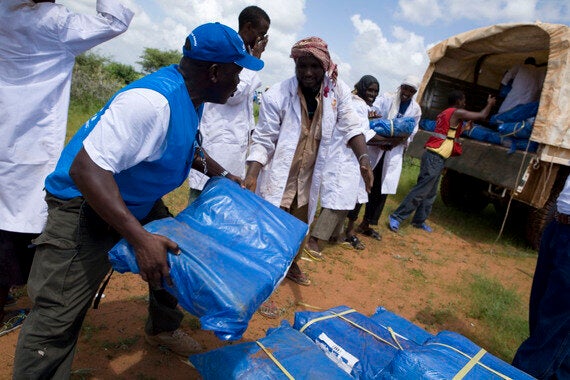 My colleagues and I are not the only ones closely following the pay review. UN chiefs are too, and like us they are also concerned about our total pay falling behind.
They include Antonio Guterres, the High Commissioner for Refugees. His organization, fronted by special envoy Angelina Jolie, requires its staff to operate in some of the world's most difficult conflict zones; 42% operate in places where they cannot bring their families.
In May he called on those conducting the review to "ensure that the compensation package provides incentives for high performing and committed staff members and enhance the conditions of service in hardship locations to ensure that qualified people from diverse backgrounds are willing to serve in such locations." He added that "UNHCR's strength lies in its staff. They deserve to be duly compensated for their service."
Guy Ryder, who runs the International Labour Organization, warned the Commissioners that "designing a new package only on cost-saving considerations would undermine our ability to deliver our mandate. I firmly believe that there is no acceptable alternative to providing our staff with a level of salary and benefits sufficient to attract those from countries where the salaries are the highest, and to ensure that highly qualified and committed people from diverse backgrounds are also willing to serve in difficult locations."
So when both the bosses and the unions believe that pay needs to be addressed, I hope that the Commissioners will take these requests into consideration.
We are not asking them to match the packages that corporations in the private sector are able to offer policy analysts, team leaders and logistics planners with equivalent qualifications and experience. UN workers are motivated by the ideals of public service and the ambition to prevent, contain and repair the human cost of conflict and disaster. But there must a limit to how far their compensation can fall behind that of other dedicated government and public service workers in the developed world, and it is fast-approaching.
I also hope the Commissioners will take the time to examine once again the aspiring goals that Ban Ki-moon has set the UN, and on which the hopes of many around the world now rest. I urge them to carefully consider how they can design a pay package that will help the UN attract the next generation of the brightest and the best.
Related