For the international community the Ebola crisis in Sierra Leone ended on March 17 2016, the day the country was declared free of the virus.
But for survivors, its fallout is still very much an everyday reality.
The effects of Ebola are many and varied: physical, mental and social. Survivors face a stigma that leaves them unable to earn a living; Ebola orphans fend for themselves on the streets; parents live with the trauma of burying their children. That's not to mention the long-lasting and debilitating physical symptoms.
For most of us in the UK Ebola was a distant threat, but Scottish nurse Pauline Cafferkey experienced its horrors first hand - contracting the virus as she cared for its victims in December 2014.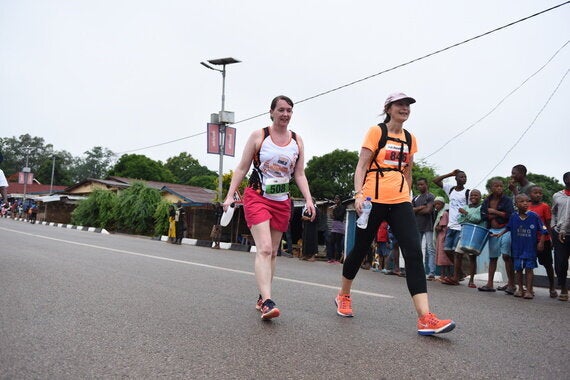 For the first time, last month Pauline returned to the country and to the Kerry Town Treatment Centre where she worked and contracted the disease.
She met with Ebola orphans and survivors like 17-year-old Mbalu, who Pauline herself had cared for when she was struck down by the disease. Mbalu hasn't been to school since her father died of Ebola two years ago.
Mbalu described how she contracted the virus from her five-year-old niece, who she was left caring for after her older sister also died during the epidemic.
'The child died too. The body remained for two days at home even though I'd called the ambulance. A week later, I had joint pains, was vomiting up. I started feeling pain and I called the ambulance to come and fetch me but they didn't come. I had to walk from here down to the hospital.'
After several weeks in Kerry Town, Mbalu was finally well enough to return home.
'When I came back the house was in quarantine,' she continued. 'When I came inside everyone was sad and I asked why and they said that my dad was dead. He used to love me and help me go to school. He would always go all out to get what I wanted.'
Now, after the deaths of so many family members - including the breadwinner - Mbalu and her surviving relatives face a constant struggle to support themselves.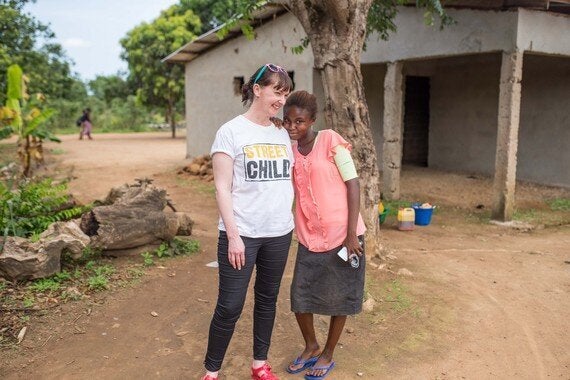 Mbalu sells rice by the cup, and her remaining family live off the profits.
'There's not enough income for me to go to school, so I'm selling and saving to help buy things so that I can go back to school. I want to be a nurse like Pauline.'
Pauline said: 'Children who lost parents told us that this was the first time that they had spoken of their grief to anyone. One top of this, the loss of breadwinners means that many Ebola-impacted families now face a hand-to-mouth existence.
'When we were working in a treatment centre we didn't see the impact Ebola had on the everyday lives of communities and families. This trip gave me a whole new perspective on what communities went through - and how life is still not back to normal for many of them.'
As well as shining a light on the ongoing fallout of Ebola for its victims, Pauline ran 10km to fundraise as part of Street Child's Sierra Leone Marathon.
In spite of suffering from serious joint pain as a result of Ebola and meningitis, Pauline completed the race, even managing to run some of it.
Thanks to Pauline's support and to the money raised as part of the Sierra Leone Marathon, Street Child will be able to help Mbalu and other children like her to go back to school in September, giving them the chance to fulfil their dreams and defeat the aftermath of Ebola once and for all.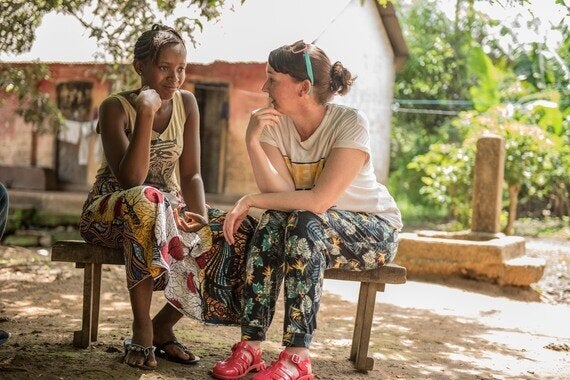 But there is still a great deal of work to be done, and it is vital that the international community doesn't turn away from these people whose lives have been torn apart by the devastating Ebola crisis.
Street Child has identified 1,400 seriously-at-risk Ebola orphans who desperately need to be reunited with family members who can care for them, and can help support them in getting back into schools.
These children - who are still so young - are living on the streets and fending for themselves, defending themselves from attack and thieves, curling up to sleep alone at night under whatever shelter they can find. For them, life is still a daily struggle.
For many thousands of people, Ebola isn't over. It was a trigger that has sparked so many other issues - homelessness, unemployment, poverty - that will be felt in Sierra Leone for years to come unless its people receive ongoing support to get back on their feet.
Without help to rebuild their businesses and get their children back into schools, many more people to come will fall victim to the Ebola crisis.
It still isn't too late to support Pauline's efforts. If you would like to sponsor her, visit her Everyday Hero page.
If you are interested in supporting Street Child's work in Sierra Leone, Liberia, Nigeria and Nepal, click here for more information, or come along to the Summer Street Food Festival fundraiser on July 8 in London, more information here.
All images credit to Olivia Acland for Street Child