Five years into the conflict in Syria, the conferences taking place in Geneva and London this week could not have been more critical. The Syrian crisis has become overwhelming; with the killings continuing within the country and an acute lack of funding in the neighbouring countries struggling to cope with 4.6 million refugees.
It's with a heavy heart, but no surprise, that I received the news that the peace conference in Geneva had been suspended and that face to face talks between the warring parties remain a distant prospect.
I think of the refugees who I recently met in Lebanon who are losing all hope; living in sub-zero temperatures with inadequate clothing and shelter.
These are poor families from rural Syria who used all the money they had to get to Lebanon. They are not making their way to Europe; all they want to do is to return home. But when will this ever be possible?
Only a political solution can bring an end to this conflict and spare the Syrian civilians further violence, trauma and misery.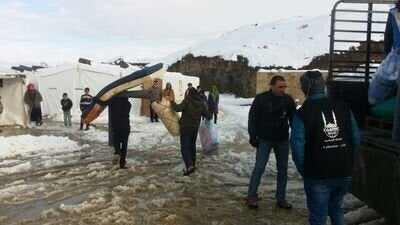 The $10 billion pledged at the Supporting Syria conference in London yesterday is welcome and will go a long way towards addressing humanitarian needs within Syria and neighbouring countries. But for real and lasting change, the warring parties need to show they are serious about the peace process by immediately putting an end to the indiscriminate targeting of civilians and their homes, schools and hospitals.
Islamic Relief welcomed the fact that participants at the Supporting Syria conference pledged to use their influence with all parties of the conflict to halt abuses of international humanitarian law and allow humanitarian agencies, such as Islamic Relief, rapid, safe and unimpeded access to besieged areas.
The tragedy of almost 50 people dying of starvation in Madaya has hit the headlines across the world, and Islamic Relief, among many other agencies, is providing emergency food aid. But not without huge difficulties.
The situation is crucial, with hundreds of people suffering from severe malnutrition and all aid agencies and the UN need to be given unimpeded and extended humanitarian access. Madaya is only part of the story.
There are 400,000 Syrians living under siege in 15 locations in the country and Islamic Relief is beginning to provide food aid in six of them - East Ghouta, West Ghouta, Southern Damascus Suburb, Northern Homs Suburb, Darayya and Moadamiyeh. Food, medicine and other essential supplies are urgently required.
Unfortunately as the needs increased, donor funding started to drop. In 2015, the UN's Syria Appeal was just 43% funded, down from 48% in 2014 and 68% in 2013.
So this conference in London, hosted by UK Prime Minister David Cameron, could not have come at a more critical time. Aid agencies like Islamic Relief have committed a huge amount of resources within Syria and the neighbouring countries, but it's a drop in the ocean compared to what's needed.
I saw the effects of the lack of funding recently in Lebanon. I met a widow struggling to survive on $13/month with four children. Things were so desperate that her 13 year old son was doing manual work in a garage to help make ends meet. She said that the support she received from the UN and aid agencies had significantly decreased over time.
I saw how so many children had lost hope as they were forced to give up their education. The conflict in Syria is creating a lost generation. 1 in 4 schools in Syria have been damaged or destroyed and more than half of Syrian refugee children are not in school.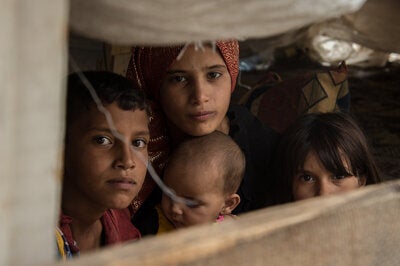 The participants' commitment to ensure that 1.7 million children - all refugee children and vulnerable children in host communities - will be in quality education by the end of 2016/17 gave me hope that a better future awaits children in Lebanon and Jordan. But little progress was made to provide education inside Syria where 2.1 million children are currently out of school.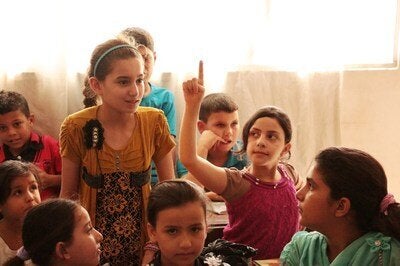 Many of the children are traumatised by their experiences and Islamic Relief is supporting them with psychosocial assistance but this support needs to be drastically scaled up. I was very moved by the resilience of the children I met in the refugee camps, but they need and deserve more.
The health facilities in the camps I visited were also inadequate. I particularly remember one mother struggling to cope with her epileptic child, who wasn't receiving the treatment he needed and was regularly fitting. Islamic Relief is running hospitals and clinics but they are overwhelmed by the needs and the lack of facilities.
Hopefully the funding pledged at the conference will make a significant impact in improving health care available for displaced people within Syria and refugees in neighbouring countries.
As the conflict moves into its sixth year it is evident that more long-term solutions are needed. As such, the commitment of refugee hosting countries to provide more job opportunities was a welcome move, as was the support from the conference participants to help them to achieve this.
Most Syrian people were well educated, had good jobs and lived full lives. They were forced to leave all of this amid the horror of the conflict. Hopefully the support pledged at the conference will provide more lasting benefits; help refugees to provide for their families, contribute to the host countries' economy and build a better future.
Pledging the money is easy. These funds need to be transferred as soon as possible. The Syrian people have suffered too much for too long.
They deserve a better future wherever they are in exile and more importantly, prospects for a more peaceful future in their homeland. The international community must keep up the momentum after this conference and do everything they can to pursue a lasting political solution.