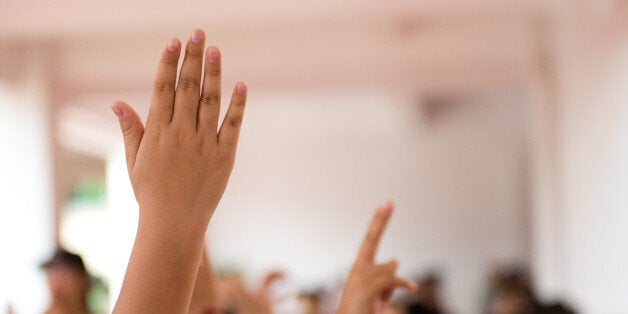 I'm meeting with senior executives of the Willesden school where I am a governor and thanking my lucky stars I like football, as it's the only subject going. No wonder, the Football Association has just granted Capital City Academy a brand new, all weather, football pitch.
We are planning a ceremonial opening with local footie team, QPR, taking on our best 11, as Rachel Yankee (Arsenal Ladies) and Andros Townsend (Tottenham) do a Q&A. It helps that Garth Crooks -- formerly Stoke, Spurs, Man U and now BBC pundit -- is a fellow trustee.
I'm trying to unpack a great football cliché with headmaster Alex Thomas, usually uttered at the end of a game by the manager of the losing team: "We had a great game, but we didn't take any of our chances." Is it just a banal statement, meaning we were unfocussed -- or lazy, maybe -- when it counted? Or does it hide a multitude of incapacities -- wrong position, lack of awareness, poor teamwork -- that in the end, make all the difference between relegation and a top four finish?
It's a useful way into a longer discussion I want to have about UK City Academies, Capital (or CCA) being the first, which was opened by Tony Blair almost exactly ten years ago. At the time, the strategy was that by taking a failing school out of local government control and giving it the special attention of a highly successful business sponsor -- in this case, advertising supremo Sir Frank Lowe -- it would begin to flourish.
Blair's vision, shaped largely by Minister of State for education, Andrew Adonis, offered a counter narrative to the previous -- and some would say, current -- government's view that some sections of society were destined to fail academically because they were not prepared to "take their chances," i.e., work hard enough.
Back to the football metaphors. "My Dad used to say you get three chances for every goal," begins Alex, "If you don't score any of them, you were never going to. Each time it looks as if all the factors are there, the team has set it up beautifully, but there is something crucial missing. The manager should be able to see what that is."
When Lowe first took on what was then Willesden High School, it's fair to say, goals were not being scored. The school was in special measures, seen as a "dumping ground" for a local community that had -- and still has -- the highest intake of refugees in the country. There were -- and still are -- 84 different languages spoken at the school, and children would often arrive with no English at all. Five pupils leaving 6th form to go to University was a triumph.
In the face of much local opposition and media cynicism, Lowe asked Norman Foster to create a new environment for the pupils to work in and, over time, rebuilt the staff and leadership structure, culminating with the appointment of Alex Thomas in 2009. By 2010, CCA was sending tens of 6th formers to Uni, then began entrance into Russell Group colleges, a first pupil to Oxford in 2011, and just this year, a first to do medicine at the University of London. Today CCA regularly sends 96 percent of its GCSE pupils into further education, with 70 pupils going to Universities including Oxbridge.
To the layman that sounds spectacular. For Ofsted that merely denotes "good." With GCSE results still a couple of points below national average, it cannot qualify as outstanding despite its well-below-average starting point. And to the DfE it means "not good enough" to open a Primary School, even in an area that has demonstrated a clear need for more places.
It's a mixed message for Academies and prompts a question: Why has the government invested so much political capital into their proliferation? If a school like CCA can significantly transform the prospects of young people in an area which badly needs uplifting, why not support them in their bid to expand? Why do some Academies (schools once under local government and now converted) and Free Schools (brand new schools that have never been under local control) get built in saturated areas? While others get rejected, despite the need?
I put this question to Alex Thomas: "City Academies, of which we were the first, were supposed to be 'transformational and re-generational': They were community projects not simply vehicles for individual achievement -- although that was always an intended outcome."
The term Academy means nothing special today -- the criteria has completely changed. Now any school, even the most successful ones can convert just to opt out of local government control, and that makes it very difficult to measure Academies' success over any other kind of school. Contrary to media opinion, good schools in the past were always able to control their own destiny, well or badly.

Having said that, I wish the government would listen to its own prescription for more self reliance in schools, and stop moving the goal posts in assessing achievement. What look like small changes -- not allowing retakes or changing the pass levels mid year -- can end up being the difference between going into further education or not, for some. That has a knock on effect on all of us and on society.
Going back to the football metaphors, isn't that a bit like saying we could have scored more if we had more chances, if the net was bigger? Or is this a plea to take the emphasis off the final score-card, and pay more attention to the style and culture of the game? As a Man City fan, Alex is not likely to appreciate me saying his educational approach sounds more like Arsenal's, who play arguably the most beautiful football but have not won a trophy for six years.
Maybe, on this 10th Anniversary, the government should re-visit the original Founder's commitments so pithily summed up by Lowe in what is now a school motto: "We measure our success by the obstacles we overcome."
The challenge is all about the short term versus the long term. Education must embrace at least four things -- the physical and academic are easy to grasp. But the cultural, what makes us human, and the spiritual, what's my place in the world -- we have to talk about that too. Some pupils may not get to University (although not for want of trying). But can they can still become leaders, particularly in the changing landscape of society?
At CCA, team and leadership culture is as prevalent as in any thriving business and earned them an "outstanding" in the Ofsted category. From an early age, older pupils are coaching younger ones and taking responsibility for the smooth running of the school. 6th formers work the tills at lunchtime and supervise breaks -- sometimes earning cash too -- as well as doing copious voluntary work outside the school, which they can bookmark to earn points for University entrance. And to bridge the gap between school and work, CCA is part of an apprenticeship network run by North Hertfordshire College in Stevenage that offer placements with the Youth Sports Trust, young Olympians as well as ICT businesses in the area.
"We continue to feel responsible even after pupils leave us", admits Alex. "It's remarkable how much young people mature in that first year out of school, working in the community."
As a player, we might say Alex was good on the ball, but -- like Mezut Ozil (one for the aficionados) -- he's even better off the ball. This headmaster scores goals, but works just as hard at creating space for others to pass and strike. Is this something a government obsessed with league tables and, increasingly, running schools as profitable businesses, finds hard to acknowledge? Should there not be additional means of rating -- and rewarding -- schools for the value they are creating to society at large, as well as the grades they can muster?
The most important thing a school like CCA can do is to create a model, or more than that, an actual working microcosm of a good society. Capital City is a bewildering diversity of ethnicity, religion and income, but the pupils don't group or segregate -- they know they have a responsibility to get on with each other -- it's part of what they are doing here.
"I don't only lecture them about working hard at assembly -- that's a given", says Alex. "What they will remember from me, are our core values: integrity, determination, curiosity and empathy. I have plenty of stories about those."
As we close, I can't help but be reminded of Bill Shankley's quote (paraphrased) "Football isn't a matter of life and death. It's more than that." We laugh, but that deeply felt conviction that there is more to all our efforts than the measurable, finite game we find ourselves in, couldn't be more appropriate than for this uneven educational playing field.