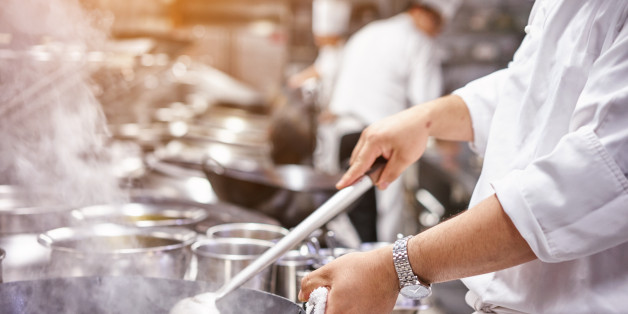 Easyturn via Getty Images

In business, I've often stumbled across truths rather than act upon my belief in them.
Some 12 years ago, when I first set up shop with the British restaurant Roast in London's Borough Market I was troubled by the fact that this most celebrated of Britain's food havens was selling tomatoes for £1, up to £5 for a loaf of (admittedly excellent) bread and chickens for £15. In 2005. Less than half a mile away the nearest residential communities could barely afford £1.50 for a chicken, but at least it would be halal. The market then sold no yams, no okra, no goat and had next to no African, Caribbean or Asian customers.
It bothered me and my investor to the point where we decided to donate from day one all the profits from one of our tables to support The Prince's Trust work in Southwark. I wanted to make it more than a conventional donations model and instead build it as an active relationship, where I hosted breakfasts and trips around the market for kids from troubled upbringings which had brought them into early confrontation with the law.
Whilst we ate together I told them I too had been a troublesome south London teenager with my own gang and managed to work my way up a pole they had grown accustomed to thinking was for other people but not them. That got them listening, which in turn got me thinking more about the role a business can (and increasingly must) play in its community. Many of those kids continued to engage with us and as I extended the notion of an inclusive business to prisoners and ex-offenders, our chefs and managers got involved and started successfully recruiting from Brixton's Clink restaurant.
Those early activities and experiences have now been packaged in my head a lot more clearly for when I do my next restaurant, which will wrapped in the enlightened business mantra of our day - purpose.
Published this week, June Sarpong's brilliantly provocative and extensively researched book "Diversify - Six Degrees of Integration" provides businesses and leaders across the social spectrum with compelling cases of how what unites us is not just greater than what divides us, but how we must learn and share from what others do in order to gain a competitive advantage. I found this last point on my own journey when customers told me they have been telling others about the work we do and it's getting them to use Roast as a result. In other words, it's proven to be good for business.
When recently judging the Social Mobility Awards, it struck me that whilst some businesses and charities were undertaking great initiatives to empower young people to take control of their lives for once, the fact that the labour market still significantly discriminates on grounds of race, religion and gender suggests that for every award winner or applicant there must be hundreds if not thousands of organisations failing to step up.
As June observes, the pressure to change and be part of this new movement of profit with purpose can often be driven from the most unlikely of sources - shareholders. No business can or will ignore them and the growing band of impact investors, who wish to drive the triple bottom line of people, profit, planet, and who are becoming significant agents for change. I'd love to see this message from her book become the refrain of the ethical shareholder: "If you want that social return in addition to the financial return you must hold your directors and board members to account. Engage fellow stakeholders and investors and consider the longer term and wider societal implications of a particular strategic decision."
The messages from Diversify are indeed themselves diverse. When we glumly read that Trump is heading for a safe bet second term, when we despair of the ever unravelling havoc that Brexit will wreak over us, we desperately need a new vision and way of conducting our affairs and so the timing for a refreshed advocacy of the benefits of integration could not be more timely: "Far from making a nation weaker, cultural diversity makes it stronger. That different cultures working together, united and with a shared identity, but at the same time valuing each of their separate contributions equally and allowing them freedom and individuality, can result in a truly cohesive society."
From presidents to shopkeepers, we should all read this book and then ask ourselves: "What's our role in this going to be?"
HuffPost UK has teamed up with television presenter, broadcaster and author June Sarpong, ahead of the launch of her book Diversify: Six degrees of integration, to highlight and champion the economic, social and moral benefits of diversity.
Throughout this week we will be hosting personal stories and opinions from June, as well as the inspirational and influential people who helped inform the book and project. To find out more visit Diversify.org.