London's population is 8.6million and growing. Every three days the equivalent of a Tube train crammed full of people arrive here, without a return ticket. London is thriving. It's not just about where these 1.5million people end up living (the population of Birmingham), which has already been a central part of my campaign, its about keeping us all moving as we grow.
Possibly the most exciting thing I've been asked to do in the three months since I started by bid to become Mayor of London was drive a tube. Well, sit in the cab. But it was exhilarating. My day began by meeting James Tringham and David Waboso from Transport for London who guided me through the control and situation rooms at their new offices opposite Southwark station.
I'd already had my morning transport status text from TfL chief exec Sir Peter Hendy "Good Morning! De-icing & Gritting over night tube, overground, DLR, Trams, river, Victoria coach stn, cable car, cycle hire, dial a ride: all good." Today, I was getting my first opportunity to inspect the new ticket hall excavations at Victoria.
As I was guided through this huge control centre I was reminded of the task TfL manage, seemingly effortlessly. The tube carries 4.2million people a day on trains that drive 76.2million km each year along its 402km of tracks. Over 47million litres water are pumped from the Tube each day, enough to fill a leisure centre swimming pool every quarter of an hour. Nearly everything TfL have to handle, they handle on an epic scale - often with machinery and enigma style technology that looks better suited to a museum.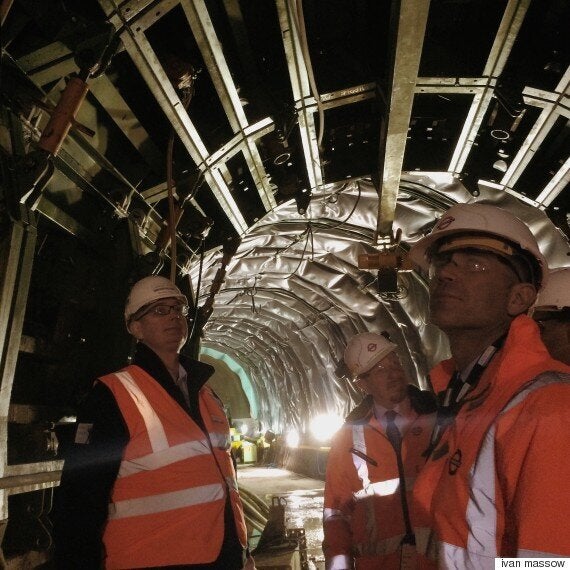 I was visiting the Victoria Line because it's probably the tube's biggest success story. Constructed in 1962, it carries over 200million people each year, so in terms of average number of journeys per mile its the most intensively used line. It is also one of the most efficient lines and cuts through three of the top four busiest stations (Oxford Circus, Kings Cross and Victoria). It's received most of its modernisation which you'd be forgiven for believing is cosmetic - but it's not. The effect of the improvement is to increase the number of trains from around 20 an hour to nearly 35. That's like building another line along side. The term 'modernisation program' simply doesn't begin to do it justice.
As I descended in my hardhat and protective clothing into the bowels of London, the complications involved became increasingly apparent. Excavating in central London to enlarge an existing Tube station without closing the area or the Tube, is a logistical nightmare. The sound sensors installed around the plant ensured that they never exceed 80 decibels during performances at the adjacent Victoria Palace Theatre. And the ground moves constantly at great risk to the buildings above and around, so sensors placed everywhere report to injectors which, we hope, will prevent any irreversible damage by effectively injecting resin into the gravel to stop it moving.
You have to wonder why enlarging the ticket hall is so important - this particular project is costing half a billion pounds. Quite simply, those huge queues regular commuters have come to expect at rush hour outside the station are due to the fact that despite almost double the number of trains, people simply cant get on them. Victoria has become thwarted by its own success. They cant get us onto the platforms and the new South hall will solve this by allowing another entrance that serves the other end of the platform, a larger ticket hall and more importantly, another exit for those gumming up the works by trying to leave. The new station will have dedicated fire access which will come as a huge relief to my mum as she's always going on about it.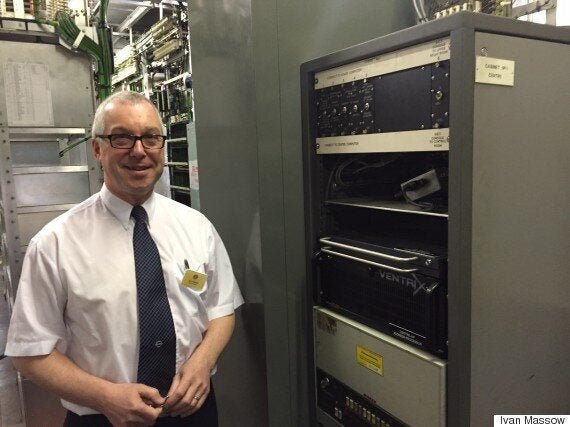 Next stop, Piccadilly - and it's 1950s control room in Earls Court, and the story is quite different. This line hasn't been modified at all. It's largely controlled by a computer that was purchased second hand from the Americans who'd use it in Vietnam in the 60s. Its 64k of memory is smaller than many digital watches - but it connects to a vast signalling system which is operated by engineers who push exactly the same knobs in the same sequences, that they would have done some 60 years ago.
The Piccadilly line is next to be upgraded - providing London vote for the right mayor. Of those in the running, one Labour member has said she'd freeze tube fairs - which would halt this work. Another, one of the Conservative candidates standing against me, says he'd reduce tube fairs by 3% each year compound. They announced the policy with a huge banner outside St James' Tube station which they hoped would make the Standard - I heard about it simply because a member of my team happened to be walking past. This simple policy, however innocuous sounding, marks an interesting dividing line and illustrates why London needs to focus so heavily on whom its next mayor is. This isn't X Factor - it's really serious stuff.
Three per cent a year sounds inconsequential - so inconsequential in fact that some would ask why bother? But the facts are that reductions in fares at this level would reduce TfL's income by £1.9billion to 2020/21 then £770million in 2021/22, and £825 million in 2022/23 and so on. It would mean that the planned refurbishment to the Piccadilly Line couldn't be funded, neither would TfL be able to improve the rail lines or signals on the Circle, District, Metropolitan and Hammersmith & City lines.
What some of the candidates don't seem to appreciate is where you get decent Tubes, developers race to build properties. Many put the huge increase in buildings of new offices and homes in Walthamstow, Victoria Dalston, North Greenwich, Canning Town and Tottenham Hale have gone up almost entirely because of these improved transport links.
Without the transport improvements, the Olympic Park would not be viable nor would the new huge residential developments that are still being constructed (transport improvements include: Jubilee upgrade, expansion of Stratford station, including new north ticket hall, DLR extension to Stratford International, upgrade of London Overground, including new longer trains and a more frequent service). Canary Wharf although being more about commercial than residential development would have been impossible without DLR in the 80s, Jubilee line in the 90s, DLR upgrade in the 00s and Jubilee upgrade in 2011. Crossrail will enable the next stage of growth in this area. In the future the Northern line extension to Battersea via Nine Elms (opening 2020) will enable tens of thousands of new homes in those areas.
London is the fastest growing most exciting and dynamic, financially buoyant city in the world, home of the elite - king of financial services - slave to no one. London therefore needs a mayor who will embraces this - not stop it. The magic key to everything is transport. Our transport system is infrastructure, without it our city would not have developed to be what it is. Without it we can't build and make property affordable for its citizens, we can't get them to work. We can't get them to play.