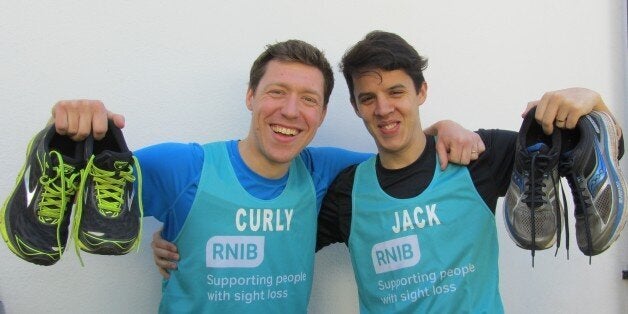 Running has never been a passion of ours - the furthest either of us had run before signing up for this 26.2 mile challenge was five miles. But when our best friend, Joe, asked us to join him in running this year's London Marathon for the Royal National Institute of Blind People (RNIB) we both jumped at the chance.
Why? Because Joe has seen first-hand the amazing support the RNIB offers to people who are blind, partially sighted or beginning to lose their sight. Remarkably around 100 people in the UK begin to lose their sight every day, and this recently became a reality for Joe's wife, Kat.
A few years ago, Kat went for a routine optician appointment and a week later she was diagnosed with Stargardt disease - an inherited eye condition that affects a tiny part of the retina and can lead to almost complete blindness. No-one in Kat's family has ever had an eye condition, so as you can imagine, it was a massive shock.
It later became clear that Kat had a relatively late onset of Stargardt's, meaning she was able to go to university, get her doctorate and see her loved ones on her wedding day. Unfortunately, others aren't so lucky and it's for these people that the RNIB is particularly amazing. Imagine losing your sight - normal life can suddenly become a very scary place without the same opportunities as others. It is great to know that charities like RNIB are there for people affected by sight loss.
The RNIB has been a real guiding light to Kat and Joe, as well as to many of the people across the UK living with sight loss. Their support enables people with sight loss to face the future with confidence, providing practical support as well as advice on all sorts of issues.
People often ask what inspired us to take on such a huge challenge. The answer is simple. We've been best friends with Joe since we were thirteen, and we've always been there to support each other, celebrate the good times and face the challenges of life together.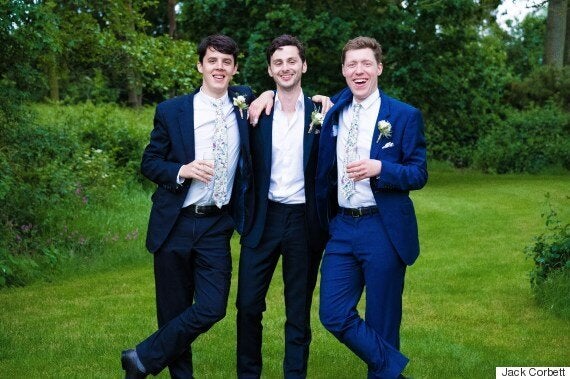 With all of us married, having been best men at each other's weddings, it was time to face a new challenge together and the iconic London Marathon seemed like the obvious choice. Training has been tough, but we've stuck to the schedule, fitting in sessions several times a week around the demands of work and family life. And the two of us have met up each Sunday for our weekly long run, getting some miles under our belts ahead of the big day.
Sadly Joe is injured so will be watching on Sunday from the side-lines, but we're going to do our absolute best to do him, our supporters and RNIB proud. We can't wait to be on the start line to experience this amazing event and give something back to the charity that has been there for Kat and Joe.
Finally, the experience that Kat and Joe have been through really could happen to any one of us at any time, and it's so important that the support from RNIB is there for anyone affected by sight loss.
We would really appreciate it if you could visit our fundraising page and donate whatever you can to support this fantastic charity.