I sit here writing this the day after the 2014 London Marathon and I ache from top to toe. Personally, it was the hardest race I've ever done. My injuries and lack of fitness caught up with me at mile 18. All plans went out the window when I hit the wall and the wall then fell on me.
I very nearly gave it all up when I felt I had nothing more to give. I just had to keep going though, I knew I couldn't face my family, friends, work colleagues and everyone who donated without having finished. If it wasn't for them and the amazing support I would have packed it all in. All in all, it was a tad more 'eventful' than I wanted it to be.
What a relief finishing was. The people handing out medals and the Macmillan Cancer Support recovery centre were a sight for sore eyes. Without being over dramatic it was like a little bit of heaven after taking a run through hell.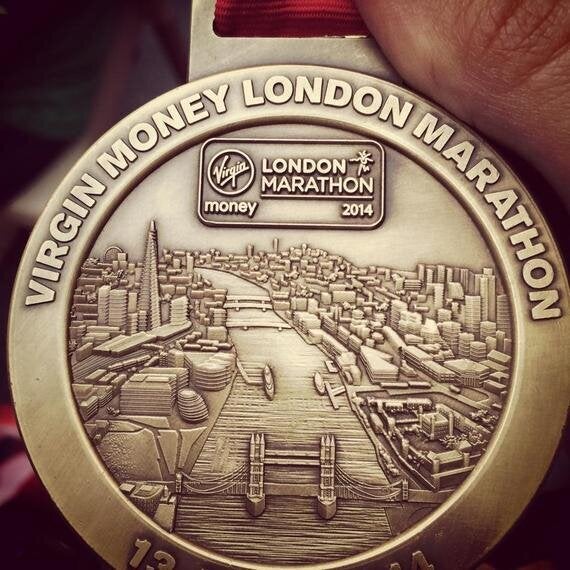 This may ruin my hard man image but when I crossed the finish line I could have broken down into uncontrollable tears (runner's high for you). The feeling of achievement and absolute relief is second to none. All the hard work was finally over. No matter how much pain you are in, it's all worth it in the end.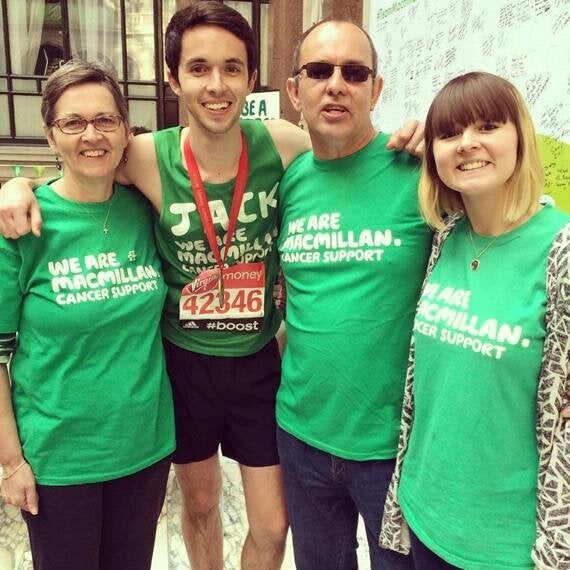 On behalf of my fellow cream crackered runners I wanted to give out some thank yous (in no particular order)
Thank you to all the friends and family who willingly gave up their Sunday morning lie-ins to stand there for hours & cheer us all on.
Thank you to all the volunteers and marshals who worked tirelessly for hours on end to ensure everything ran as smoothly as possible. Your hard work meant that the runners only had to worry about running (which is enough to worry about!)
Thank you every runner who patted me and others on the back and said 'c'mon' when we were struggling.
Thank you to everyone handing out jelly babies and lovely sweets you don't know how much that meant to every runner. The best sugar kick I've ever had.
Thank you to every little kid who held their hand out for a high five - you helped to take the mind off the pain.
Thank you to every supporter who shouted out a name when you saw one. You gave us all a second wind and the strength to continue.
Thank you to all you mad people who run in fancy dress, you put my pain in perspective and made fellow runners smile (a big achievement when you've just ran 20 miles - tough crowd)
Thank you to whoever set up those water mist things. It felt like my birthday and Christmas all in one when going through those.
Thank you to Mo Farah for taking on the rest of the world and making all us mere mortals very proud to be British.
Thank you to every runner who put the reason they were running on their tops you inspired so many people. Whoever you ran for they will be very proud of you.
Thank you to Team Macmillan. You were with us every step of the way. You are the loudest bunch of people I've ever heard - it was almost deafening at times. When I saw those Macmillan Cancer Support banners up ahead I just had to keep going to soak it all in again. You thought of everything us runners needed and the support was incredible - I'll never forget it.
Thank you to the amazing volunteers and cheer leaders in the Macmillan recovery centre who gave every runner a heroes welcome. You made us hunched over runners feel about 10ft tall. Big thank you to masseurs who gave out massages to the Team Macmillan runners there too - you've made a friend for life.
No matter what your age or fitness, anyone who can run, walk or crawl over that finish line after 26.2 miles has my ultimate respect.
You may be walking around like a member of the ministry of silly walks for the next few days but you can hold your head up high.
Now put your feet up and enjoy your rest you've earnt it!