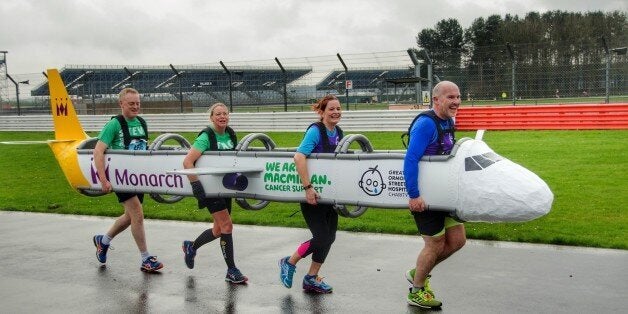 There have definitely been times over the past few months when I've put my kids to bed and the last thing I want to do is strap on a 5kg back pack and brave the elements for a three-hour training run. But then I remember why I'm running the London Marathon and all the good things the money I'm raising can do, and I know I have to keep going.
This Sunday three of my colleagues and I will be attempting to break the Guinness World Record for the Fastest Marathon time in a Four Person Costume - we all work as captains and cabin crew for Monarch Airlines so unsurprisingly our costume is an aeroplane!
It's been custom made by a team of apprentices from our Aircraft Engineering team and has been modified numerous times after practise runs. You wouldn't believe how hard it is to run in a straight line holding the costume - it's been a real team effort and a bit of a slog but I'm confident it'll be worth it on the day.
I think holding a World Record would be pretty cool and I hope my kids would be impressed telling their friends at school, but there is a serious reason behind our madness. Simon and Caroline are running for Great Ormond Street Hospital, while Steve and I will be running for Macmillan Cancer Support.
In August 2011, my brother Paul was diagnosed with Leukaemia, when he was just 35 years old. The consultant that diagnosed him told us that if left untreated, he might only have weeks to live and our family was absolutely devastated.
At this point, Paul was living alone in the South of England, many miles from me and our family, and when he was given this dreadful news none of us were able to be with him. Luckily, a Macmillan counsellor was there when he was diagnosed to help him process and explain what was going to happen, and they stayed with him every step of the way.
I don't think it would be an exaggeration to say they were the glue that held our family together. They helped Paul get financial help when he got behind on his bills because he wasn't able to work, and were there for all of us if we needed to talk about our feelings. Paul had to spend six months in hospital and without Macmillan's help I don't know how he or the rest of us would have coped.
My sister in law to be has been a Macmillan nurse for seven years, working out of Arrowe Park Hospital on the Wirral and she is one of the most caring, compassionate people I know. From her experiences, I know that the charity rely on funds from people like me. There has unfortunately been a lot of cancer in my family, and Macmillan have helped us so much. I just want to give something back.
This is actually my second marathon as I took part in the Berlin Marathon in 2015 but I'm not sure how much that experience will help! With three other people, and a five-meter plane that weighs an extra 21 kilos, I think Sunday will be a challenge in a league of its own. My friends and family think I'm crazy, but I'm ready and I can't wait for take-off.