The extent to which Suarez is lauded without qualification is as symptomatic of our society's tolerant stance on xenophobia as UKIP's surge into relevance.
As a player, Suarez was mesmeric this season. His 31 goals - many of them spectacular individual conjurations - nearly led Liverpool to their first title in 24 years but the production of magical football should not be the sole arbiter for public acclaim. A stark willingness to ignore his controversial antics, epitomised by, but not limited to, his claiming both PFA and Football Writers' Player of the Year, sets a terrifying precedent and an appalling example.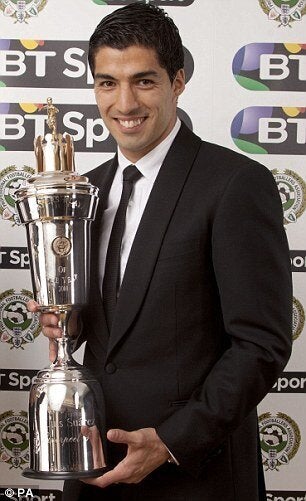 Suarez's incivility extends far beyond his racial abuse of Patrice Evra (whose vote in his favour has for some evidenced a need to let bygones be bygones). He has viciously gnawed on Branislav Ivanovic and Otman Bakkal, made a decisive and cynical goal-line save with his hands in the World Cup quarter-final against Ghana, shamelessly play-acted countless times and committed a slew of other affronts to fair play and sporting decency that have slithered so deep under the sands of time that they are rarely recollected (his venomous kick on Scott Parker, in particular, comes to mind).
Unlike LA Clippers owner Donald Sterling's vile tirade about black people, which was secretly recorded by his girlfriend, Jeremy Clarkson's 'n word' slip, which was never aired, or UKIP counsellor Dave Small's comments on facebook calling African immigrants "scroungers", Suarez's reprehensible behaviour takes place on the football pitch in broad daylight, under the camera lens and in our living rooms, making it all the more repugnant how willing the media and public are to forgive his persistent disregard for not only our sensibilities and moralities but also the beautiful game.
While I disagree with Yaya Touré's assertion that he is not considered the world's best player because he is African (I seem to remember Didier Drogba getting a plaudit or two not long ago), his 24-goal haul this season was remarkable and, crucially, marshalled Manchester City to a Premier League title and Carling Cup double.
Of course, a failure to vote for Touré is clearly not in and of itself racist. The debate over which player performed better this campaign is perfectly valid. Nevertheless, the fact that footballers and journalists chose to shower Suarez in awards because he was, on balance, arguably the better footballer this year is symptomatic of how prevalent a deep and corrosive paradigm has become: No matter how insidious someone's behaviour or beliefs, if they play football well enough, or offer us something we cannot find anywhere else, we will forgive them, we will forget and we will vote for them.
The analogy between UKIP and Suarez has its limits but only time will tell which bandwagon is more dangerous. The former could, and hopefully will, fade away come next year's general election - their empty promises and hollow fear-based politics ebbed away by scandal and the inevitability of logic - but the sins of Suarez could echo through the annals of football long enough to shake off any disclaimers, especially if Uruguay can achieve success in Rio this summer.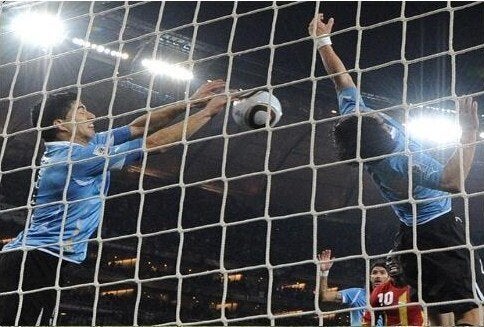 Following this, Suarez proudly claimed: "The hand of God now belongs to me."
The arguments that he has "strived to tame his demons" and "done his time" are decent. There should be a limit to punishment and there is obvious value in rehabilitation but should we really be praising someone for maintaining a temporary absence of malfeasance? Is managing not to bite someone for 32 consecutive matches really something to be that proud of? Parallels have been drawn with Eric Cantona's redemption following his kung-fu kick on a fan in 1995 but writers like Henry Winter, who favour the redemptive approach, focus largely on skill and ability rather than the polemic of whether it is societally beneficial to so swiftly absolve the kinds of misdeeds Suarez has committed. Selective amnesia is as inimical to progression as restriction of free speech. The desire to recognise sporting talent, however impressive, should not neutralise integrity.
Oscar Wilde once said: "Always forgive your enemies; nothing annoys them so much." I prefer George Bernard Shaw's approach: "We are made wise not by the recollection of our past, but by the responsibility for our future."