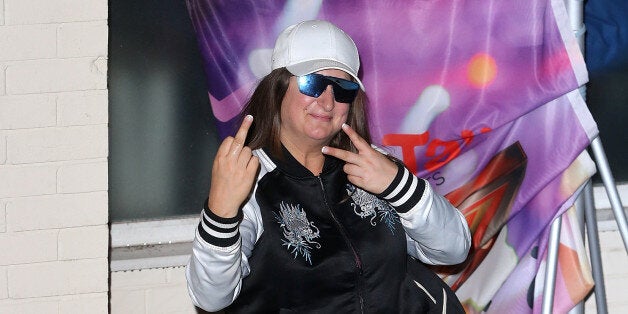 Temperatures are rising in the living rooms of the nation. No, it's not the simultaneous switching on of central heating as winter pokes its frosty fingers in our direction but the fact that Honey G has taken another step towards the X Factor final.
There is pretty much nothing that the middle-aged rapper can do that doesn't provoke ire and have viewers choking on their TV dinners.
From declaring herself the best rapper in the UK, conveniently forgetting the likes of Mercury Prize winning Skepta, to basically rehashing the same schtick each week on the ITV singing competition, Honey G is becoming a figure of public hate.
Every time she jumps with joy during the results show at being voted through to the next week, social media groans under the weight of those annoyed that she's still there.
The argument then revolves around the 'fact' that more 'talented' singers are being given the boot at Honey's expense.
Tweet after tweet on Twitter asks the question, "Who's voting for her?"
The answer may not be too far away though. Could it be that outlets to vent frustration like Twitter coupled with the apathy of not being bothered to actually vote, are the reason why Honey is hanging on in there?
There is a feeling that voting for an act on The X Factor is 'not for me' and that's for the 'kids to do'.
Of course, X Factor itself is doing its upmost to ensure that Honey is the talk of the town. How many of their other finalists have a weekly hashtag set up, encouraging viewers to send in their pics of them dressed as their favourite act?
None of them of course, as Honey is the only one with a modicum of personality and a notion of how to keep the publicity machine rolling.
When you couple this with a nation that seems to have forgotten the art of voting, then we are heading for 'Honeygeddon'.
The UK is not having the greatest year when it comes to making decisions. There was the debacle of Brexit to start with, when too many people seemed to believe the hype about what lay over the other side of the channel.
Then Celebrity Big Brother viewers voted in their droves for Stephen Bear to win the Channel 5 show, despite him showing on a daily basis that he was a despicable human being.
The slippery slope from Brexit has now taken those who want to make their choices on talent shows to the point where former Shadow Chancellor Ed Balls is being asked to keep dancing on Strictly, the same way that Honey G is being given the green light to continue with her journey.
It eventually becomes a nightmare circle of feverish celebration of what they are bringing to their shows, that's even affecting the judges on these programmes.
Recent weeks have seen Bruno Tonioli stand in triumph with an eight paddle in his hand to express his joy at Ed's shuffling around the Strictly dance floor, and Simon Cowell is now musing that Honey G could be the peak of what X Factor can offer.
Monsters are being created on our TV talent shows and, no matter how hard the hurricane of hatred hits home on social media, there will be a continuation of their march unless we actively vote against them.
It's up to you now, or are you really not 'bovvered' after all?