The most anticipated World Cup in memory is now well underway and it's perhaps the hardest finals to call in terms of predicting the winner. With as many as half of the 32 nations believing they have a genuine chance of glory, any opening to gain even a slight advantage is something to be explored. One such opportunity has come in the form of mobile technology, with England among the nations to readily adopt; highlighted by the FA's recent partnership agreement with Samsung.
The role of mobile tech for consumers during the World Cup has been well documented with the endless in-play betting apps available and mobile social media usage at an all-time high. In a survey by Weve, 79% of football fans said that their mobile is the number one way they will keep up to speed throughout the competition. 79% may sound high, but when you consider that London 2012 digital chief Alex Balfour revealed 60% of the Olympic Games content was accessed via mobile devices, it begins to sound very reasonable.
So, how does mobile technology actually help in the context of teams at the World Cup? You may be surprised at the extent to which mobile devices are used in training, scouting and team preparation this summer. An example of England's attempt to get ahead is through their use of tablets. Every single squad member has been issued with one by the FA containing an exclusive app which is personally tailored to their needs. For example, an England defender would open the app and it will immediately "bring up a host of statistics and videos, designed to suit their specific needs", so they can view important clips and stats of opposing forwards on demand. It's an approach our national team has used throughout qualification, however "the app has been further enhanced, with the data and clips on offer now more extensive" for the World Cup finals.
Australia has arguably taken mobile data a step further in their creation of an app for the squad. For more than six months the players have used the app to assess and record their physical condition; it requires them to log subjective measures ranging from quality of sleep to muscle soreness and fatigue levels. Additionally they record training times and rate the difficulty of sessions, thus allowing the coaching staff to fine tune individual training. Australia's national football analyst described the data collected as "so useful, it is a weapon, and it's up to us how to use it". I think many businesses could certainly relate to this quote. It's also worth mentioning that despite losing both games, Australia put in exceptional performances against two tournament favourites in Holland and Chile- outperforming many people's expectations.
With wearable technology coming to the fore, products like Google Glass could increasingly find a place among sport's side-lines. In April this year Getafe (Spanish La Liga team) assistant coach German Burgos wore Glass during a game, prompting speculation over what he was seeing. A world of data ranging from player stats to instant replays could be streamed in real time to the coach's view, allowing for unprecedented insight- this would contribute to more informed decision-making on substitutions for a start. With visibility of stats on opposing teams, the tech could also help with tactic selections during the game.
Rivals Valencia subsequently used Glass in the same manner and are reportedly in talks over a partnership with Google which would see all content being streamed to the internet so that fans can see games through the eyes of their manager. It's a fascinating prospect which would benefit both teams and fans alike. I certainly expect to see this trend continue and grow.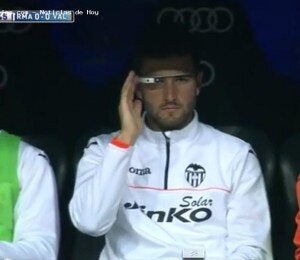 At a recent Yahoo event in London, Jose Mourinho spoke of his extensive, obsessive even, use of iPads on the training ground to analyse and improve his team's chances of winning penalty shootouts. Let's hope England have taken the same approach with their tablet devices ahead of the summer.