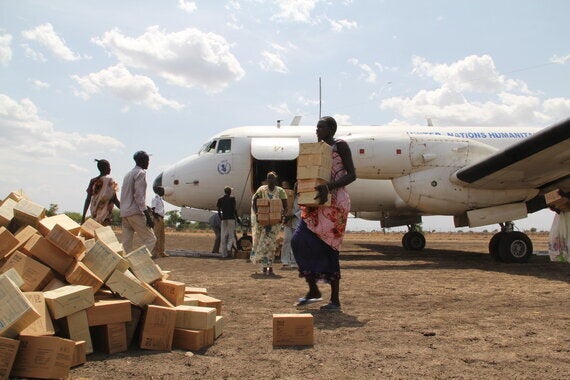 Nyatut fled her village in South Sudan two months ago. Armed men burnt her home and killed her mother.
From Syria to Central Africa Republic to South Sudan, those reporting on atrocities have communicated them so often that their vileness risks being diluted. And so it is worth repeating: Nyatut*, 13 years old, with a penchant for maths, saw her mother murdered. (*name changed)
"We heard the shooting and my mother screamed for us to go," Nyatut tells me. "I went under my bed for my bag that has a book and pens in it. Then I ran outside to my mother. A man was standing in front of her, with his gun pointed at her ..."
Nyatut's voice trails off. There is no point in going further.
Psychologists have written books about how such an event traumatizes a young mind; aid workers will tell you how in circumstances like this, that young mind doesn't have a moment to mourn her mother's death. If Nyatut had paused, she too would have been shot. So she ran. And she ran. Along with hundreds of others, they escaped into the bush. Their days were dominated by hunger and hopelessness.
The United Nations estimates there are hundreds of thousands of children like Nyatut who are in urgent need of assistance in South Sudan, since fighting broke out in the world's newest nation, in December.
Horrendous violence has turned the lives of millions upside down as their livelihoods have been broken, livestock scattered, households looted and markets destroyed. As a result, the youngest citizens of the world's newest nation are on the verge of a nutrition crisis - 740,000 children under the age of five are at high risk of food insecurity. Many are already resorting to eating so-called "famine foods", wild foods such as bulbs and grasses.
Despite the signing of an agreement to cease hostilities at the end of January, there have been heavy clashes and reports of people being killed in churches and hospitals in the northern town of Malakal in February. Schools have been used by both sides. Children are being recruited.
The people of South Sudan strived and struggled for many years to control their own destiny; and yet now they suffer again. Peace remains elusive, yet essential for the children of this nascent republic.
It is within this context that the UN says almost one million people have been uprooted. The grisly numbers go on and on. Until one statistic makes even the hardest heart pause: 430,000 boys and girls have fled their homes, seeking to escape the violence in South Sudan. Nyatut and a staggering 429,999 other children.
Now, in a race against time, the United Nation's Children's Fund (UNICEF) and the World Food Program (WFP) have set up emergency distribution points in previously inaccessible parts of the country.
The new strategy is a complex one. It's difficult to deliver aid in times of conflict; all the more so in a country that in peacetime was critically short of infrastructure. A few UNICEF and WFP staff were flown to remote areas across South Sudan, myself included, carrying their own water, food and tents. They contend with insecurity, malaria and guinea worm (a parasite found in the water, which grows up to a metre in the body, before burrowing out of the skin, one year later).
Helicopters and cargo planes lead with air drops, in 50degree temperatures. The food drop zones require four football fields of land to be cleared with matches and machetes; hundreds of tons of supplies that can't be dropped from the air have had to be unloaded and distributed with no fuel for vehicles on the ground. But it is happening.
"Children and families in South Sudan are facing unprecedented suffering - with grave signs of worsening malnutrition and disease outbreaks," said UNICEF's Representative in South Sudan, Jonathan Veitch. "With the rainy season looming we have to seize every opportunity to rapidly deploy teams and life-saving supplies to the hardest to reach. This is how we will avert a humanitarian catastrophe."
Twenty-two such missions are planned over the next month, covering swathes of the country and seeking to support as many as a quarter of a million people. WFP drops food, whilst UNICEF distributes water and sanitation kits to families; delivers ready to use therapeutic foods and medicines, sets up temporary classrooms, and registers and supports separated children. That is how I met Nyatut.
"This is the only t-shirt I have left," she tells me. "My mother gave it to me for my twelfth birthday. It is all I have to wear ... and all I have to remember her."
The t-shirt reads 'I Love South Sudan'.
Related