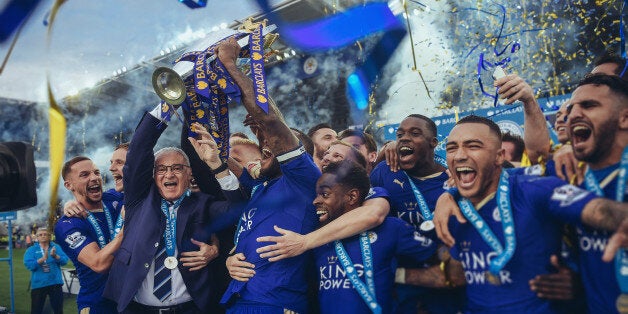 As we draw closer to yet another Premier League season, the big question on everyone's lips here is: are we in for another shock season? Are we going to see another Leicester City rise up and take the crown? Or will the fabled old guard step up this season and reassert their dominance upon the league.
I know that my opinion is one that is shared by the majority of football fans in that no-one expected Leicester to even make the top ten last season, let alone win the whole thing. This was a side which in the previous season finished 14th. Yet, thanks to a few key signings and a togetherness which lasted all through the season, they pulled through to cause the biggest shock in the Premier Leagues history.
Bookmakers and pundits alike were stunned by this, in-fact the odds were so long on them winning that there was a whole roster of crazy things which were considered more likely to happen. So if you had happened to be one of the lucky few who did bet on Leicester winning the league, I am in awe of your foresight,
Can Leicester do it again? It is most certainly not outside the realm of possibility, and they have more or less kept the team intact and added a few signings. Though, in my opinion, the loss of N'golo Kante to Chelsea was a big blow. But it would be foolish to write them off at this stage as many did at the start of last season. And, whilst they have been given better odds by bookmakers, they are still considered a long shot to retain their title.
But, who knows, anything is impossible. There is a reason the Premier League is considered to be the most entertaining in the world. There is always drama, whether it be at the top or bottom of the league. We love to watch English football because it's a spectacle and anyone can beat anyone. Compare this to leagues like Germany or France, where a couple teams totally dominate their respective divisions.
So maybe we could see a team like Watford come and shock us and take the crown. They may be given incredibly long odds to win it - like many other teams who are expected to fight a relegation battle - but after watching Leicester, they will have taken heart and believe that it is their turn to shock the world.
But, of course, this could just end up being another season where the so-called big clubs show us that they are ready to reassert their authority upon the league. And clubs like Manchester City and United haven't been stingy when it comes to making new signings, with City making big money moves for the likes of Leroy Sane and Gabriel Jesus. And of course United have splashed out on a world record fee for Paul Pogba.
Obviously, it takes more than money to make a title winning side, a side takes time to gel. Or you could just fail to find consistent form altogether, as teams like Chelsea and Liverpool did last season. Nothing is ever guaranteed, but we are seeing more than just new signings come in-to the league. We are seeing some of the most charismatic and tactically minded coaches in the world coming in-to manage our top clubs. Managers like Pep Guardiola and Jose Mourinho; these are two men who hate losing more than most others. So while we're all lovers of the unexpected, I can't see coaches like Mourinho let this happen. But, either way, I strongly believe that this is going to be the best Premier League season yet - and I can't wait for it to start.