As the Rio Olympics draw to a close, tomorrow's World Mosquito Day provides a timely reminder of the deadly threat posed to humans by mosquitoes. From the Zika virus risks faced by those in attendance in Rio, to yellow fever, West Nile virus, chikungunya and encephalitis - mosquitoes spread all manner of debilitating and deadly diseases. Mosquitoes cause around 536,000 deaths every year - far more than lions, sharks, snakes or even human beings.
At Malaria No More UK, our fight is against the biggest mosquito-borne killer of them all - malaria. The World Health Organization estimates malaria killed almost half a million people in 2015. Seventy percent of those were children under five years old. Just this week we've learned the sad news that British TV presenter, Charlie Webster - who is covering the Olympic Games in Rio - is fighting for her life after contracting malaria.
The statistics are shocking and there's still a long, hard road to end malaria, but progress has been made in the fight against this killer disease. An extraordinary 60% reduction in deaths from malaria since 2000 has saved 5.9 million children's lives. But history has shown that if we don't keep up the intensity of the fight, malaria will come back with a vengeance. We just cannot let that happen - particularly when there are such simple and effective tools available to fight back against this tiny but deadly foe - life-saving treatment costing less than £1, bed nets protecting families costing £5 to buy, deliver and hang.
At Malaria No More UK we're fortunate to have some inspiring partners in our fight against malaria. Soul star and Malaria No More UK Special Ambassador, Aloe Blacc, has just recorded a powerful new song which will be available on iTunes and will help to spread the word about this killer disease. Filmed on a recent trip to Kenya where he saw first-hand the impact of malaria, the video tells a story of heartbreak and hope, and how simple it is to save a life from malaria with the right tools and education.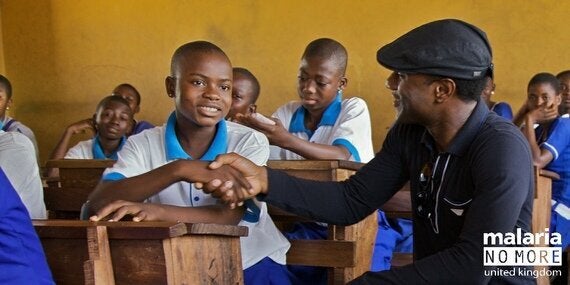 We're also thrilled to be marking one year working with one of our corporate partners, 1897 Quinine Gin. The gin was launched last World Mosquito Day, and commemorates British Doctor Sir Ronald Ross's discovery in 1897 that mosquitoes transmit malaria between humans. This laid the foundations for scientists across the world to better understand the deadly role of mosquitoes in transmitting the disease. Five pounds from every bottle of 1897 Quinine Gin sold is being donated towards our lifesaving work.
The next great bend in the river of the malaria fight in now upon us. On 16 September the Canadian Government will host the Fifth Replenishment Conference of the Global Fund to Fight AIDS, Tuberculosis and Malaria. This will bring global leaders together, joining forces to commit sufficient funding to meet the Sustainable Development Goals' objective of ending the epidemics of three of the world's most devastating diseases by 2030. The new UK Government, yet to confirm its contribution, has an opportunity to demonstrate the UK's proud global leadership of this fight. A fully funded Global Fund has the potential to save eight million lives over the next three years, and will show the world's commitment to ending malaria for good.