Bill and George have been to the future. On Monday they came back to tell us that they have seen a world where parents no longer live in fear. Something that has killed up to half of humanity has been terminated.
Malaria once covered almost the entire Planet Earth; great names in history have suffered from the disease including Alexander the Great, Cleopatra, many presidents and popes, Tutankhamun and also, more recently, well-known names including George Clooney, Cheryl Fernandez-Versini and Michael Caine. Dickens and Shakespeare refer to the 'ague', an old term for malaria, throughout their works. Only in 1897 did a British scientist, Sir Ronald Ross, discover that it was mosquitoes that transmitted malaria. He won the Nobel Prize for Medicine and so began a proud British tradition of being at the forefront of the campaign to defeat malaria.
On Monday at the Liverpool School of Tropical Medicine, the oldest such school in the world, and one of the places where Ross worked, two new global leaders came together committed to terminating this disease in their lifetimes.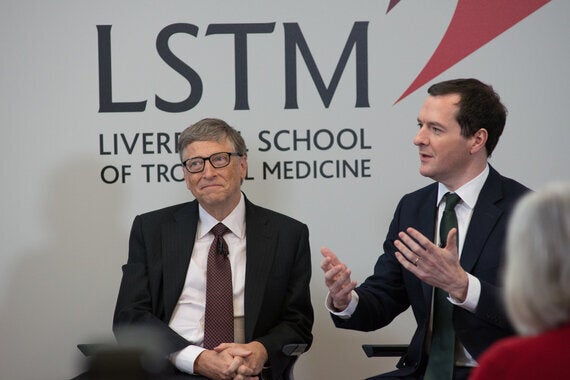 With some trepidation and excitement I attended the special event where Bill Gates and Chancellor George Osborne, alongside International Development Secretary, Justine Greening, announced a £3 billion pledge over the next five years to help wipe out malaria once and for all. The Chancellor said: "Over a billion people are infected with malaria every year and 500,000 lives are taken away from us far too early. That terrible truth is why I'm today cementing the UK's position as a world leader in the fight against malaria."
This means that the UK government will invest at least £500 million a year for the next five years. We have seen how this support makes a transformational difference towards achieving our goal of a malaria free world. This is a campaign that works, it is aid saving children's lives. Since 2000 we have made phenomenal progress - a 60% reduction in malaria deaths and more than 6 million lives saved, mainly young children.
At the event, I had the pleasure of meeting Liverpool FC defender Kolo Touré. We joined a fascinating tour of the Liverpool School visiting some of the UK's most exciting scientific innovations in the fight against infectious diseases. Kolo shared his own experiences of malaria, all too personal having been struck down a number of times and having seen others die from the disease. He is resilient having caught malaria in 2014, but still managing to make the Ivory Coast's World Cup squad.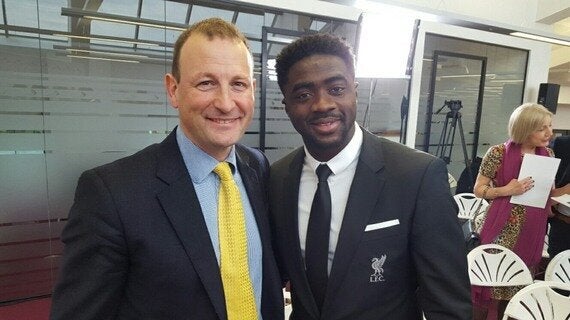 The UK pledge along with Obama's recent commitment to increase US support, sends a powerful message out to other leaders around the world inviting them to up their game and invest in this winning campaign this year.
Ending malaria won't just save millions of lives, but could also unlock trillions of pounds in economic potential. As Justine Greening said: "Our new commitment will save countless more lives and build a safer, healthier and more prosperous world for us all which is firmly in the UK's national interest."
I'm with Mr Osborne and Mr Gates when they said: "We both believe that a malaria-free world has to be one of the highest global priorities." Are you with us too?