You might think that Dementia Awareness Week isn't something you want to take part in. About five years ago, I probably would have thought the same thing. But read these words carefully to take them in: Dementia will affect you.
I haven't written those words to scare you, but to make sure that you know that at current rates of diagnosis, even if you don't end up with a dementia diagnosis yourself - someone you know will.
But as I've learned over the last few years - although dementia is currently incurable, a shift in attitude towards those living with the disease can improve their life - and yours - immeasurably.
As the striking new Alzheimer's Society TV ad says: "Life doesn't end when dementia begins". Again - if we wind back the clock a couple of years, I couldn't have disagreed more with this sentiment. But now - having watched my late father Gerry Anderson ride the wave of diagnosis and disease progression until his passing in December 2012 - I know this positive message to be true.
Dad's name is one that evokes so much positivity from the generations of people he entertained with series like Fireball XL5, Stingray, Captain Scarlet, Space: 1999 and Thunderbirds.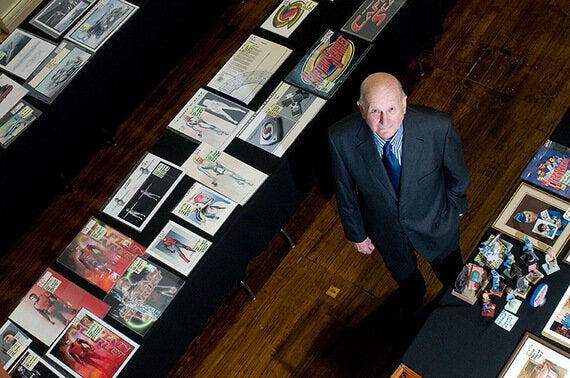 But despite all of those achievements, I am most proud of him for what he achieved while he lived with dementia.
Although he only received his diagnosis in 2011 - mostly due to Mum and I trying to maintain his pride - with hindsight it is clear now that his symptoms started in around 2001. His road positioning started to deteriorate, and being in the car with him (which as a child I had thoroughly enjoyed) became an increasingly uncomfortable experience.
But despite the onset of dementia he kept creating. Not only did he produce 26 episodes of his CGI animation New Captain Scarlet in 2005, with a crew of nearly 300 people, but he carried on creating right up until 2010. He wrote an animated feature, developed a new children's series, and wrote the first third of the book that would become Gemini Force One: Black Horizon - completed by MG Harris and published by Orion in April this year.
Writing books and films, and producing television series probably isn't something you'd expect from someone living with dementia, but I now know from experience that it is possible.
Even after the disease had taken his ability to read and write, some of his best days came when he was doing something different, new or out of the ordinary.
He wanted to explore: so we did. He wanted a new dog: he named it Mickey after his childhood terrier. He wanted to go on holiday: so we went to Bordeaux for a sunny ten days with trips to the beach. And most importantly of all - he wanted to help raise awareness of the condition, and vital funds for Alzheimer's Society. So we did that too.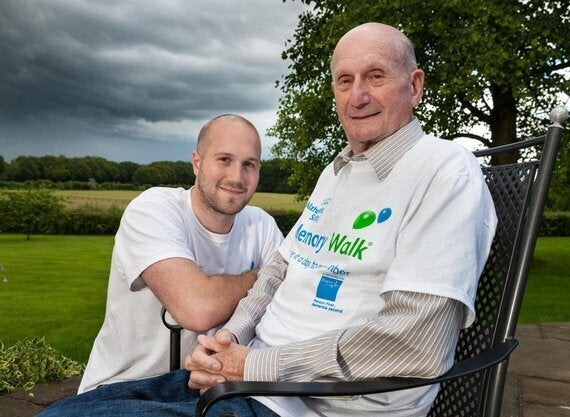 In the last 18 months of his life he helped raise over £1million for Alzheimer's Society, undertook countless interviews for newspapers, radio and television, and attended multiple events - even making a speech at the society's London Memory Walk at Battersea Park. And in every instance - he lit up. Whether it was for a few minutes or a couple of hours, he became more lucid, happier and brighter. I'd say that Dad and I became closer in those last 18 months than during the previous 25 years.
It wasn't always easy. Sometimes he would become very tired and disoriented, but those occasions were not that numerous. They were, however, a good indicator of pushing too far. Being sensitive to the individual's needs and abilities is absolutely crucial. But assuming that he wasn't able to do these things would have made like much less positive for all of us.
It would have been so easy for all of us to just give up and sentence Dad to an ever decreasing sphere of existence, but instead - driven by his desire to do something positive - we helped him to do new things. He kept striving to live life to the full, and as a result he did a fantastic amount of good, despite a diagnosis that so many see as the beginning of the end. It doesn't have to be that way.
So this Dementia Awareness week just think about what you could do to improve the life of someone you know who is living with dementia. Even the smallest act could make a huge difference to their lives, and I have no doubt that it will have a positive impact on yours too.
Related