London's Notting Hill Carnival has its roots firmly in the culture of the West Indian island of Trinidad, but since 2003, Jamaican Twist - the only Jamaican float to take part - has been an integral part, winning a host of awards.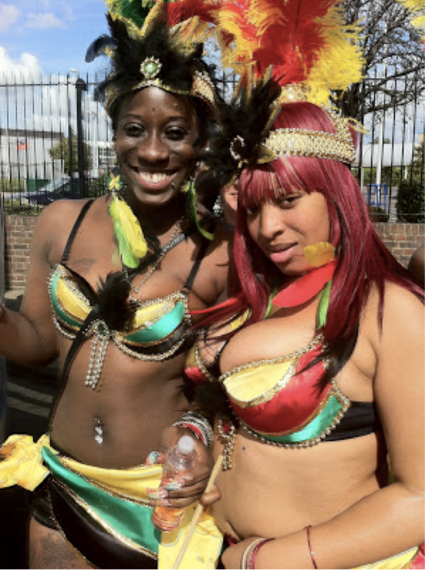 For many of the young, black and mixed race participants it is a unique chance to express themselves and their culture. Feisty, tattooed, 21-year-old Natalie has regularly been carnival queen for Jamaica Twist, which she has been part of since she was just 13. I ask her if it just Jamaicans who can join the float.
'Nah, nah, we are Brazilian, Jamaican, Scottish... we come from all over. And Jamaicans come from all over. It is like we say, 'Out of many, one people.'
This is the fitting national motto and one taken up by the Jamaican Tourist Board, who sponsors the float each year. In true carnival spirit, Jamaican Twist collaborates with other musicians representing other islands and countries, including Trinidad and Tobago, Brazil and the South Pacific islands. Each year is a new theme representing a key part of Jamaican culture. Last year it was it Bob Marley to mark the 30th anniversary of his death.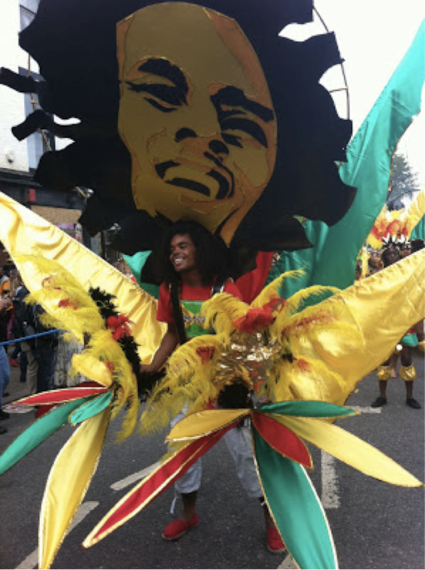 I couldn't imagine a better and stronger expression of community. And it is a particularly powerful statement when you remember that the first Notting Hill carnival was born out of a deeply racist and divided neighbourhood where signs saying: 'No Blacks, No Irish, No dogs' were commonplace.
Alexander D Great, the UK Calypso Monarch explains:
'The original procession demonstrated to the British public how Caribbeans celebrate - with joy, laughter and jumping and dancing. It was probably the first time that the British people saw the Caribbean spirit freely expressed in Britain in the open air.'
Veronica, a charity worker, who volunteers with Jamaican Twist, explains that there are a lot of second and third generation Jamaicans who have never even been to Jamaica. Jamaica Twist, which also puts on events throughout the year, works very hard at engaging youngsters with a sense of pride of their community and of where they come from. 'We have a very good Facebook page and we try to keep them interested in their culture, their music, dance and give them a bit of history.'
Carnival, despite what you might think, is not actually a spectator sport so your best bet is to join in. Participants are not only of a mix of cultural heritage, but of all ages, backgrounds and dancing ability. They are issued with t-shirts, which most of the girls customise to make more revealing, and much needed earplugs. For just £15 pounds (for a t-shirt and to follow the float) anyone can join the carnival. If you want to wear a costume, it is £85, which also includes a meal, drinks and West Indian patties.
The sounds from the three metre high walls of speakers that line the Jamaican Twist truck are deafening. A tiny space in the middle is given over to a fridge, microwave and DJ. Revellers are fortified with traditional jerk chicken with rice and peas and strong measures of rum and coke.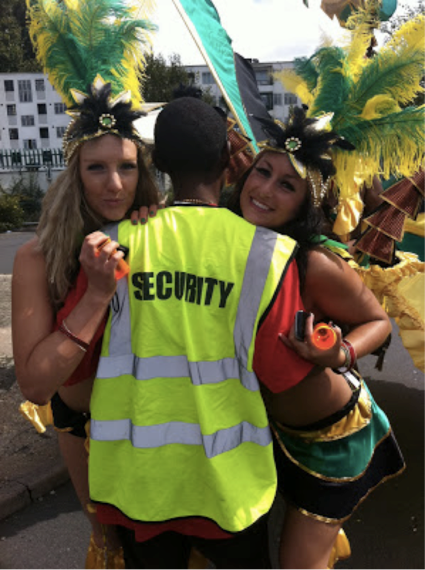 Notting Hill may now be one of London's most desirable areas, but as recently as the 1970s it was described as 'a massive slum, full of multi-occupied houses, crawling with rats and rubbish'. Home to large communities of Afro-Caribbean immigrants, and racial tension inevitably reared its head.
It was in this part of West London that the first race riots occurred in 1958. The Carnival was the joyous and peaceful response, which first took place indoors, but by 1965 had taken to the streets. The multi cultural celebration has grown each year and now sees around two million visitors over the two-day event, which this year takes place on 24th and 25th August.