'Now, this really is a good way to get rid of your husband.'
Llena, our host and yoga teacher at Sunset Mountain in Ibiza is giving us her unique take on traditional poses. 'Make like a lion, roll your eyes back in your head, stick out your tongue and go aaaahh with force', she tells us, smiling widely.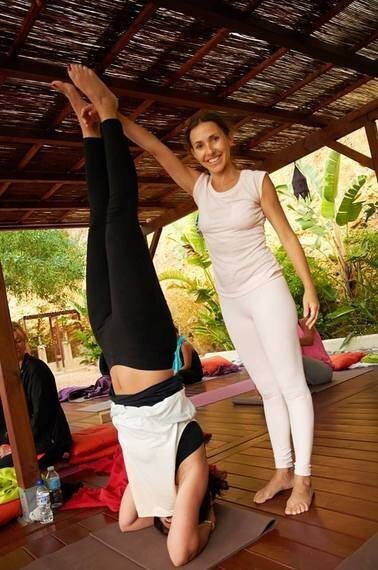 'Every night when your husband comes home from work, do this four times and he will pack his suitcase. Really. I got rid of three husbands this way', she says before breaking into her deep signature laugh.
There is a lot of laughter at Sunset Mountain. Llena is a tiny, wiry Brazilian, with incredible energy and a real gift for communication. 'It is as if her words go inside you,' someone from our group of 20 people says. One minute Llena is breezing through a description of the structure of the universe; the next she is telling us how to raise our sexual energy, entreating us, giggling,
'don't do that here please; please wait until you get home.'
The lion trick is especially appealing to me in the middle of an ugly divorce, but many of us are going through emotional difficulties, including break ups and breakdowns. There is an incredible amount of caring and sharing, along with laughing and playing and we seem a really strong group. I suspect, though, that Llena's fun yet focussed approach always creates a strong sense of unity among her guests.
It may also be because single rooms come at a 50% supplement, so we are nearly all sharing. Some of us are in little cabins in the woods, which look cute but their dolls house proportions and unwanted ants are a challenge to some. Breakfast is basic and help yourself; lunch and dinner are excellent, all meals are vegetarian.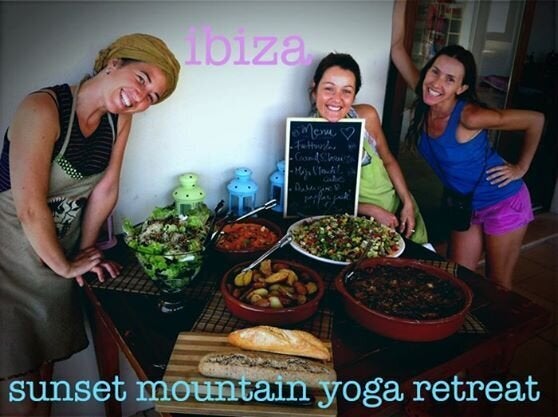 We mostly manage to resist the pull of the party scene in Ibiza, instead lolling around the infinity pool trees or lounging in the Brazillian hammocks. I leave only once - apart from walking down the road to use the internet café - to go to Sunset Ashram. With a sand floor and a spiral lit ceiling, it's a hippy chic early evening spot - and a bar, not an ashram, where I sip a local deep green concoction of herbs and juice, with no alcohol.
When I do try to leave the class early before a meditation, Lena begs me, her eyes pleading, her hands in Namaste, to stay, whispering, 'It's so special.' I can't refuse her and am so grateful afterwards. We chant the most sacred of mantras, with Lena entreating:
'Sing as if you are singing to someone you love'.
It is as if with this she has flicked a switch, and before long half of us are sobbing uncontrollably, with tears of love.
Suddenly, her spirited black kitten darts across the yoga pavillion overlooking the pool. Llena suddenly leaps out of her lotus position and zen-like state and grabs him by the scruff of the neck, telling us through gritted teeth, while grinning:
'I love him but you know what - I also really hate him'.
There are many examples of the generosity of the yoga week at Sunset Mountain. For a start, the yoga week is not even a week but nine days. On the last day, Llena normally arranges a surprise for her well looked after vistors. For us, it is an hour-long gong session that is like being bathed in and massaged by sound. She has time for everyone - whether it is to devise a take home yoga practice for a participant with a problem back, or to offer support for a heart broken youngster.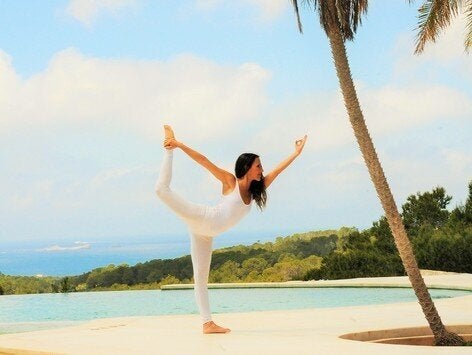 The approach is incredibly comprehensive, taking in pranayama, philosophy, auyveda, chanting, meditation and breath workshops. I was highly recommended Sunset Mountain by a dear friend whose opinion I trust and the vast majority of visitors at Sunset Mountain are repeat guests, which speaks for itself.
Many participants find the positive energy life-changing. During yoga nidra, Llena gets us to set an intention. 'It can be anything, but my favourite is
'I am successful in everything I do. You can use it if you like', she offers, before breaking off into a belly laugh.
Llena has a comic timing that would be the envy of any stand up as well as being a big-hearted host who makes you feel like a house guest in her luxurious villa. On top of this the yoga is outstanding. I have been on many yoga retreats but have never experienced such a deep level of teaching and commitment and I return to London feeling genuinely blissed out.
Related