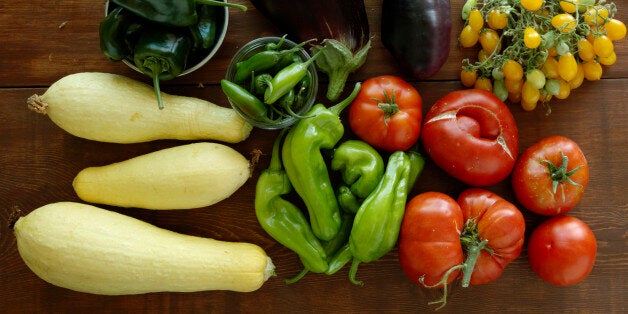 Emmerdale star Roxy Shahidi loves to Kiss Vegan - but what did other vegans make of the main message from our latest campaign: "You don't have to be vegan to love vegan lipstick"? For members and supporters of The Vegan Society, the world's oldest and largest Vegan Society, this is unchartered territory. (Are we really telling people that they don't have to be vegan?) For everyone else, though, it just might be the thing that gets their attention.
We've had an overwhelmingly positive response to our Love Vegan campaign so far; more people are beginning to see how vegan living could be for them. Developed after a long period of research and meaningful dialogue, the campaign shows that we have really been listening to the views of vegetarians and meat eaters. Some people can make the jump to veganism overnight, but we understand that for others, the "Go vegan. Now!" messages are lost. People have become immune to them. I started on my vegan journey when I was 12, after witnessing a truckload of pigs being taken to a slaughterhouse. It was in that moment that I realised the power was in my own hands to stop taking part in this cycle of abuse. What's important for us as an organisation is how we can recreate this trigger through our campaigns, in a positive way.
Love Vegan is all about falling in love with vegan living, whatever your preconceptions about veganism might be. "Be inspired to try new things, and you could surprise yourself," is very much what we're trying to say. It's not just vegans who should have all the fun, be healthier, and live more compassionately and sustainably. It's for everyone.
We need to look to the future and this means that it becomes increasingly important to engage with young people. All charities need to involve the next generation of citizens and decision-makers. Research shows that young people don't want to be talked at or made to feel guilty about issues, instead they want the freedom to choose for themselves, to come to their own conclusions and reach that moment of realisation. The Love Vegan campaign gives them the freedom to do this. We tested the campaign with young people and they loved the whole concept.
When I started in my role of CEO of The Vegan Society in 2011, I had a clear vision of where I wanted The Vegan Society to go. The launch of our Love Vegan campaign, together with the launch of our new website, speaks volumes about our new approach. Mobilising supporters to do self-advocacy, get involved as volunteers, and support our work with manufacturers, media, policy-makers and health professionals is much more effective than giving one-to-one information. Our new visual identity shows that we feel as strongly today about working towards our vision of a vegan world as we did 70 years ago. Our 70th anniversary is fast approaching, and I am more determined than ever to alert more and more people to the benefits of veganism for their health, for the environment, for the economy, and, of course, for the benefit of all animals. We've moved on as a charity but one thing we haven't done is wavered from the original vision of our founders, to help create a world where humans do not exploit other animals.
We're delighted that others have fallen in love with the campaign, too: "brave", "ground-breaking", and "a massive step forward" for The Vegan Society, other vegan groups have commented. History has taught us that being right is not enough for the vegan movement - we have to sell veganism as a lifestyle choice if we are really going to bring veganism into the mainstream. A modern and inclusive approach has attracted interest from all around the world, with people from all walks of life taking us seriously for the first time.
Everyone is now free to embrace veganism, not only those who are already vegan, but those who are thinking about it and want to start bringing more plant-based dishes into their diet, or replace their leather shoes with vegan versions. Vegans can choose from a wide range of different food and products in supermarkets and online. It's never been easier, in fact.
We are not here to tell people what to do or how to live. We are giving people the choice and the chance to join us. We are here to support anyone moving towards a more ethical and sustainable lifestyle. It's not all-or-nothing. It's about starting a conversation, or planting a seed.
A well-planned, balanced vegan diet is a valid, healthy diet that everyone can thrive on; The British Dietetic Association recently stated that, "well-planned plant-based, vegan-friendly diets can be devised to support healthy living at every age and life-stage."[1] Veganism has been a protected belief since 1993, as a human right under Article 9 of the European Convention for the Protection of Human Rights. [2]
The Vegan Society is headed in a new, exciting and vital direction and I'm now looking forward to a the next 70 years, where we will undoubtedly be instrumental in re-shaping UK and global diets to a kinder, more sustainable, healthier, and vegan way of living. This is a new era for veganism.
[1] The British Dietetic Association, 'Memorandum of Understanding between The Vegan Society and the British Dietetic Association', 12th March 2014.
[2] http://conventions.coe.int/Treaty/en/Treaties/Html/005.htm