I've worked with Usher for over two decades at MTV, Channel 4 and more.
From making shows like Making the video and Tour Diary's with him, as well as having him turn up at my birthday party in Kensington, and not demand a VIP experience (cos everyone there from Lennox Lewis to Joe, Damage, Tim Westwood and The Honeyz were there too), to always being the ultimate polite affable professional. He's sold over 50million records and counting and transcends geographical boundaries and age barriers. He is the Michael Jordan of R&B. But don't take my word for it. Check out the facts below.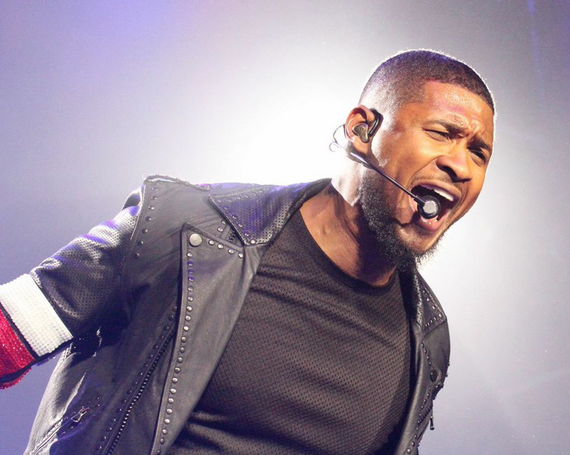 (Pic Copyright-Lexie A. - Troubleshooteur.com)
1- Usher Terry Raymond IV, this quarter performed sell out arena shows of his 'The UR Experience', at 23 cities across Europe including London, Manchester and Birmingham and had millions of fans from teenagers to mature adults singing alongside him for a solid two hour hit fest. He switched up most of his classic old hits and remixed them with a live band keeping us all on our toes! There were loads of fireballs and fireworks too.
2 - For the past two months he's been all over Europe to places like Montpellier, Paris, Oslo, Stockholm, Helsinki, Copenhagen, Hamburg, Zurich, Vienna, Nottingham, Belfast, Manchester, Birmingham and finished off in London, a full tour, no dates missed, no extra desperate tabloid features of bad behaviour to help him sell tickets. He's a straight professional showman. Even after years in the game theres no question about the standard of his vocals- he TORE IT UP. His brand is his bond.
3 - He's a pioneer. Before there was Chris Brown, Trey Songz, Omarion, Mario, Ne Yo, and the rest of the great pretenders, there was Usher. Check his YouTube video view numbers. They're in the 100millions. Yes, that's 100,000,000 and counting. He's been holding the R&B torch since he was a kid. The others merely follow in his footsteps.
4 - Before Kris Jenner became the ultimate momager to Kim, Khloe and the rest, Ushers mum Jonnetta Patton was THE music industry momager, and everyone knows and respects her.
5 - Before Jay Z and Kanye had celebrity girl friends, Usher had one of the biggest ladies in the game with TLC's Chilli- check them out in that hot video for U Got It Bad.
6 - But of course in true celeb style he then cheated on her in real-life, and made the hit song and video Confessions to ''tell it all''. Way before Taylor Swift made it a thing.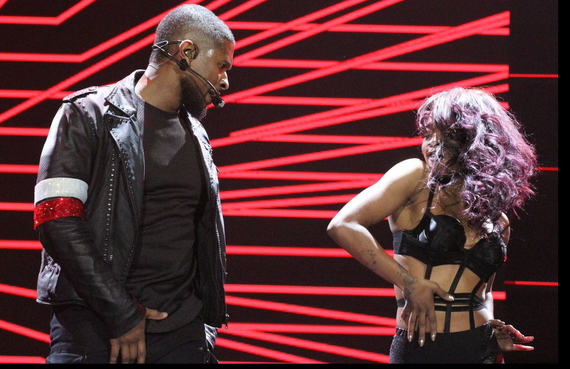 (Pic Copyright-Lexie A. - Troubleshooteur.com)
7 - His introductory debut single, Call Me A Mack, highlights him singing and rapping and was released 22 years ago in 1993 when he was just 14, and the video featured Janet Jackson and Tupac with their Poetic Justice acting cameos!
8 - At an age when most 36 year olds are going through a midlife crisis of not having achieved their goals, a mortgage and more, Usher is a music industry veteran having been mentored early on by both legends Puffy and Jermaine Dupri.
9 - He plays the media game. I work with a lot of really dedicated music acts in my time in this music game, but Usher is absolutely up in my top five of talents that everyone loved to work with as he is always about delivering the absolute best result with real hard graft. In the studio I'd watch him easily write and put down vocals. In the dance studio he would out dance and rehearse his choreography until he and his team were all perfect and happy. My absolute favourite experience of making an MTV Making of video, was making his ''Yeah'' video in L.A where anyone who was anyone in urban music, swung by to hangout and watch as he made a classic.
10 - Usher has had 23 years in the game, but the 36-year-old singer, businessman and dancer has lost none of his passion for the stage. One of his first fans was Jay Z telling him he was a big fan- and we were there to witness that moment!
11 - What I've learnt about working with celeb entourages and teams over the years, is that the most level-headed, good talent, tend to keep their same old, die-hard, loyal team with them. They treat each other right. Usher's always rolled with the same team, always polite, punctual, professional and helpful. No crazy hood rats or wild needs (like Puffy who always demanded a leopard print ironing board and a person just for lip balm) .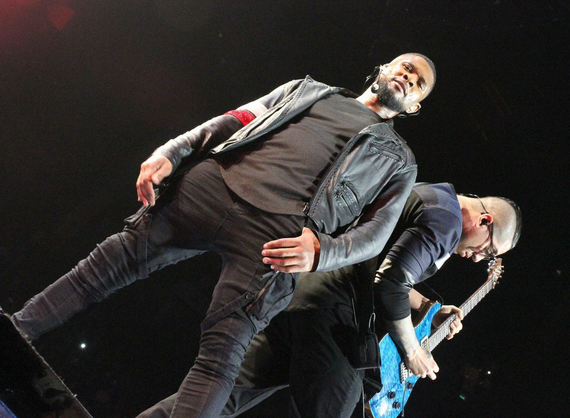 (Pic Copyright-Lexie A. - Troubleshooteur.com)
12 - He's never egotistical and pays homage to acts that inspire him, even those that came after him. Like Eminem gets the nod for encouraging him to be vulnerably honest.
13 - There aren't many music stars with careers spanning over two decades that are only 36. The R Kelly's, Mariah's, Madonna's are at least one if not two decades older.
14 - His show at the o2 featured all his old hits but with new takes on his earlier songs with everyone from kids, teens, young adults and grandparents all singing along.
15 - In an era when high intensity dancers like Beyonce and J Lo often resort to lyp syncing (miming), Usher still sings live and powerfully. He sweated A LOT on stage! (Wearing his favourite racoon hat probably didn't help!). Neither did pirouetting and flinging himself down into splits every so often - he has the stamina of an act half his age.
16 - In recent years Beyonce has been called the ultimate all round performer with her singer/song wrier/dancer/artistic skills. Usher is the Beyonce of the male world. He was also here first.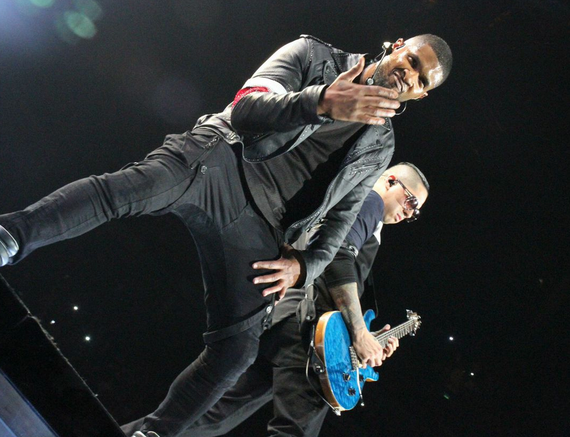 (Pic Copyright-Lexie A. - Troubleshooteur.com)
17 - In a world where Iggy Azalea can sell out arenas on two hit songs and a grubby rep, and we question WTF? Usher easily fills two hours of show with back-to-back Usher classics. The lighting and sets were intense and stylish.
18 - He's a humble man giving thousands of hours to pro-social causes, community events and school talks but never publicises them. Don't believe me? Google it.
19 - A multiple performing arts and business threat, he backs winners. He gave the world Justin Beiber, and gave Justin Beiber that much needed initial credibility that he badly needed. Usher is JB's boss.
20 - He's adored and loved around the world for making dance anthems like U Make Me Wanna, U Turn, Pop Your Collar, Love In This Club, OMG ,U Make Me Wanna ,Nice and Slow ,U Remind Me. We sang along to all these hits and more this week. Many men in the audience were tweeting their fear as their girl friends were screaming as Usher asked who was single!
21 - His o2 show took us on an urban music journey that included R&B, funk, ballads, high impact sets, and crunk. Fans in the audience included boy band members from JLS, top Radio1 DJ'S and countless celebrities. He came; we saw and he encouraged us to be slightly ratchet and made me want his matching gold rope chain, gold blinging trainers and gold mic. (He also changed his trainers onstage, three times. ..*shrug shoulders*..I dunno!)
22 - A brass section and a troupe of highly talented dancers helped him give the performance of a lifetime. He had us doing karaoke a lil more than I usually like, but with a solid two-hour show with no breaks, he proved he's still got it. Looking at twitter afterwards it was clear, Usher made his fans wanna scream yeah and climax all night long!
Related