Everywhere I turn there are headlines and social media viral videos about race. Seminars and panels about race. Outrage about race. Debate about race. Riots and protests about race.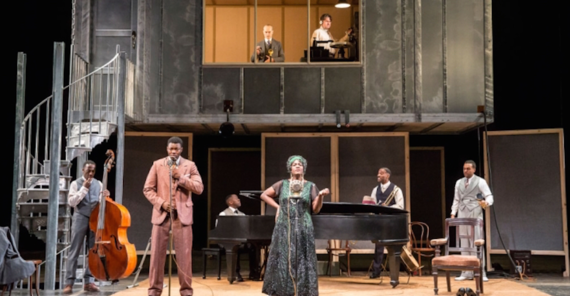 Ma Rainey's Black Bottom, onstage. Photo by Johan Persson courtesy of the National Theatre.
Whether its; #oscarssowhite trending, viral videos on social media showing community journalists filming race attacks on public transport, universities up in arms about ethnic minority number applicants, Star Wars fans up trolling cos a lead role went to an actor called John Boyega, Idris Elbas speech in Westminster to throw more light on the lack of diversity in UK TV, or Beyonces superbowl #blacklivesmatter ode to the black panthers anniversary. We are a planet currently obsessed by race issues. In fact #blacktwitter is an actual thing.
We've mostly all been agreeing that many industries are not diverse enough, but there are some areas where diversity seems to be thriving this year.
Away from the screens, theatre in the UK has quietly been leading on a progressive, positive change, and one area really looking quite healthy right now is the British stage-land and drama. Not only are actors from BAME backgrounds seen to be playing parts that were originally written for white characters, but ethnic stories are now viewed not just by ethnic audiences but bring a whole diverse audience to the theatre. We are a capital that is very mixed race so this shouldn't be a huge surprise.
This past few years there was much excitement and buzz when we saw actor Adrian Lester playing Henry V. Adrian is an actor. He is also black, but he is not a ''black actor'' in the same way that Daniel Craig is not described as a ''white actor''.
Also, in the past couple of years, south London actress Gugu Mbartha-Raw has played a sexy Rihanna-esque music star in a youth dance film Beyond The Lights, Belle in a period drama movie and Nell Gwynn at Shakespeare's Globe and even actor David Oyelowo has played both Martin Luther King as well as Henry VI.
A few times annually, I go to plays on the South Bank and National Theatre that are written, produced, directed and performed by diverse casts and crews. Whereas once upon a time a black cast or show would mainly have been marketed to a BAME audience and see only ethnic audience turnout in small numbers, now theatre feels like a reality reflecting the UK where the cast, story, audience and laughter are mixed up and no one is labelling arts and culture with BAME taglines.
This week my friend - MOBO CEO Kanya King - took me to see Ma Rainey's Black Bottom - a 1982 play -that chronicles the twentieth century African American experience. The play is set in Chicago in the 1920s and deals with issues of race, art, religion and the historic exploitation of black recording artists by white producers. The play's title refers to a song of the same title by Ma Rainey referring to the Black Bottom dance.
Ma Rainey is played by actress Sharon D Clarke whom we're used to seeing on screen in Holby City. Sharon acts the hell out of a feisty, take-no-prisoners Ma Rainey, and cutting down the oppressive white record label boss intermittently and the audience love it all.
Yet the majority of the play is dominated by not Ma, but her band that are warming up in a dressing room awaiting the main stars impending arrival. The narrative is full of banter, jokes, philosophy and arguments about singers; record labels, middlemen, diva behaviour, star and groupie relationships, ego clashes, loyalties and the usual music crews on tour, backstage shenanigans. The banter is akin to that of black barbershops around the world, and the N-WORD is riskily, affectionately and provocatively thrown around the narrative. It made me flinch every time but I accepted it was of the time and let it go.
Watching the storyline unfold, you realise there are so many parallels between yesteryear society and today. The same conversations and debates. Lines like ''they don't care about me; all they want is my voice. If you're coloured and make them money, you're alright with them''.
What 'Ma Rainey's Black Bottom' and all the draining, race-related debates that have been happening today all show, is that over decades and history one thing that doesn't change is that; white-run commercial brands are happy to make money from black talent, but when it comes to acknowledgment - you can forget about it.
The audience were on the edge of their seats till the final tragic moments and this is why I think a change in diversity conversations is taking place. It's not just the same old pro-black faces calling for a change. Everyone is seeing things via social media and the arts, that's making the whole of society question our status quo regards equality in various areas.
After this plays premiere The Guardian reviewer Michael Billington wrote ''But perhaps the most moving aspect of the evening was seeing a genuinely mixed audience rising to this landmark play''. So you see, the people, they're getting it.
So to this Londoner, it seems that theatre is very inclusive right now and TV is watching, making notes and taking action! Plays by,, and including, ethnic storylines and casts are being picked up by the small screen. Playwright Suhayla El-Bushara's contemporary version of the suicide - featuring three young Muslim women in the cast- played at The Gate theatre in Notting Hill and now may be picked up by E4 and is just one of many.
I'm sure lots of actual real-theatre-peeps will be screaming at me reading this and disagreeing, but I'm simply saying what I see. As a born and bred active Londoner I circle this city of many arts and culture events, and honestly, theatre seems to be not just talking about trying to get diversity right, but acting upon it. After all, Variety is the spice of life.
Related