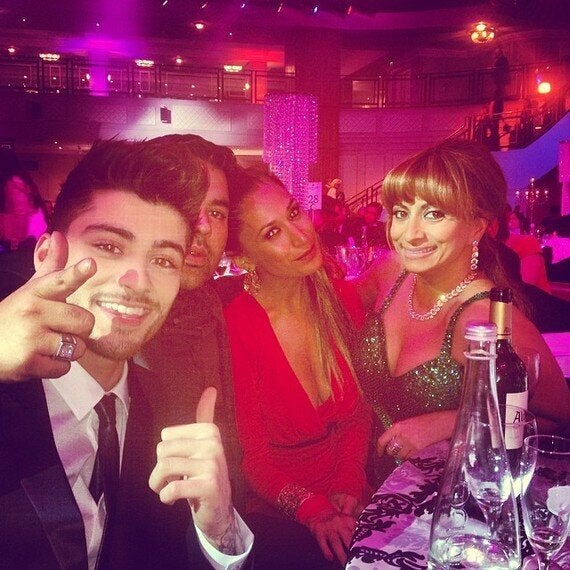 One Direction band member Zayn Malik, super music producer Naughty Boy, actress/singer Preeya Kalidas, broadcaster Jasmine Dotiwala at The Asian Awards.
Photo courtesy Preeya Kalidas.
Over the years I've been used to attending a myriad of fabulous functions, crammed full to the brim with celebrities, at various global music, movie and style awards. Mostly the attendees are famous faces that you'd recognize immediately that are big ballers in their respective fields. The London based Asian awards are all that, but on steroids.
The grand ballroom at the Grosvenor House Hotel was heaving this past week, with royalty, leaders of countries, politicians, music stars, screen icons and of course, the odd reality star bod that arrived feeling and looking totally out of place.
The 4th annual Asian Awards red carpet had a giant wall of paparazzi awaiting the likes of ...(DEEP BREATH)..actor Idris Elba, culture secretary Jeremy hunt MP, independent newspaper editor Amol Rajan and his wife, fashion designer Karen Millen, MD of Simon Cowells SYCO music head Sonny Takhar and his wife, chart star Laura Mvula in a stunning green sari, singer Beverley Knight, fashion designer Elizabeth Emmanual, The Wanted band member Max George, super music producer to the stars and artist in his own right- Naughty Boy, TV presenter Gok Wan, One Direction band member Zayn Malik, Radio 1 broadcaster Nihal, actor Adil Ray, singer/broadcaster Cerys Matthews, actress Nina Wadia, film director Gurinder Chadha, Secretary General of the human rights organization Amnesty International Salil Shetty, Simon Hughes MP, broadcaster Tommy Sandhu, former English cricketer Mark Ramprakash, businessman Tim Campbell, broadcast journalist Maryam Nemazee, political commentator Yasmin Alibhai Brown, weather presenter Nazaneen Ghaffar, MOBO CEO Kanya King, actress/ singer Preeya Kalidas, Prince's manager Kiran Sharma, music producer Rishi Rich who has just been signed to legendary producer Teddy Riley in Atlanta, news reader and business woman Tasmin Lucia Khan and many many more.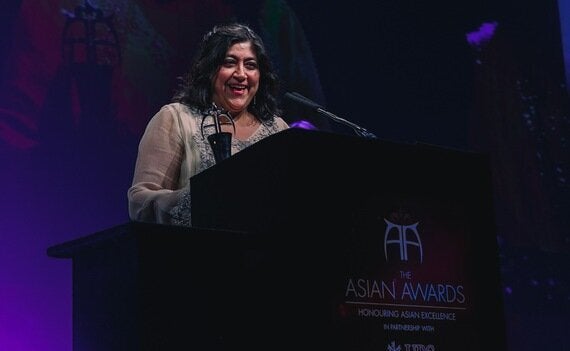 Film director Gurinder Chadha at The Asian Awards.
Pic courtesy Asian Awards LTD.
Hilariously of course, there are always the latest 15 minutes of fame candidates from a variety of TV reality shows. (There were quite a few of these. Mandatory at any event.) This night they arrived wearing bindis on their foreheads- much to my amusement. Many of them also chose to arrive fake tanned, in short, half naked, mini dresses and then looked most out of place surrounded by really articulate beautiful women in gorgeous jewel coloured long classy gowns.
The Asian Awards were born out of a simple vision; to create an event, which would honour only the very highest levels of achievement from within the worldwide Asian community; to create one of the most important events of its kind ever to be staged.
A pioneering, unique and prestigious event, The Asian Awards is the only event that pays tribute to Asian success across all walks of life; emphasising inspiring achievements and highlighting inspirational role models in the fields of business, sport, entertainment, philanthropy and popular arts and culture.
Although in the first 2 years, the awards primary geographical focus was South Asia, it was always the intention to define the term "Asian" as one, which encompasses all Asian countries, i.e. both South Asia and Far Eastern Asia. As a result at the 3rd Asian Awards in 2013, excellence from ALL Asian countries was honoured and this continued this year.
The VIP reception on the balconies over looking the ballroom saw fancy Indian savory canapés and champagne cocktails flowing freely. The networking going on was loud and buzzy and it was tough to get guests seated for dinner, they were having so much fun getting to know each other.
I could sense that there were plenty of big ballers present and was reassured
''there's more than $45bn of wealth in this room''.
This was highlighted further when later in the evening Hong Kong's second richest man with an estimated worth of US$22 billion, Lui Che Woo picked up the Entrepreneur of the Year award.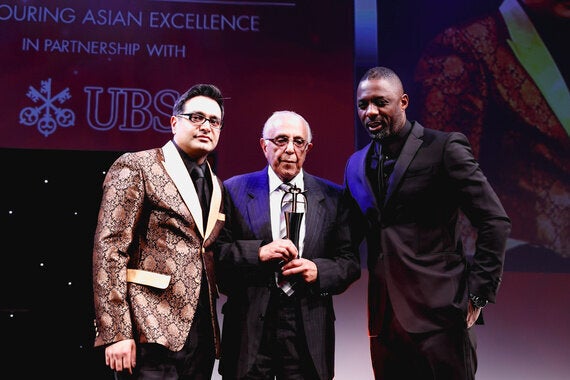 Asian Awards founder Paul Sagoo, Ahmed Kathrada and Idris Elba.
PIC courtesy ASIAN Awards LTD.
The ceremony was opened by The Asian Awards founder, Paul Sagoo, who welcomed us all and noted that he had asked the regular caterer to up the ante this year instead of the usual curry based dinner. Oh how disappointing. We were all really looking forwards to a good tasty curry (curry is the national dish of the UK don't you know Paul!). Instead we were served a rack of meat that was impossible to eat comfortably at a black tie function without ruiing the whole elegant princess façade, so untouched carcasses were sat lonely on most plates (except on that of a manager of a huge chart star - who will remain nameless, who had four main courses!).
The Awards started with singer and actress Preeya Kalidas, who performed for the room full of A-list guests.
One of the first awards was the presentation of the prestigious Founders Award by Golden Globe winner Idris Elba who honoured South African politician, former political prisoner and anti-apartheid activist Ahmed Kathrada. In an emotional historic acceptance speech, to a standing ovation, Mr Ahmed dedicated the award to his brothers and sisters who did not live to see the freedom they fought for. We all stood and cheered hard for this living legend.
The Outstanding Achievement in Television award went to Gok Wan who was overwhelmed at receiving the prestigious award. Gok dedicated the award to his father who he said, "Has taught me that being Asian is cool." it was pretty refreshing to see Asians from all across the Asian diaspora unite to celebrate each others success.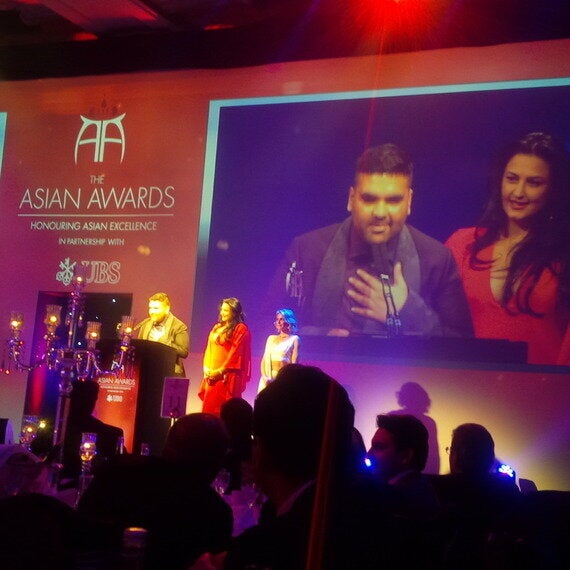 Naughty Boy onstage with Kiran Sharma presenting the Music Award.
PIC copyright Jasmine Dotiwala.
With a number of current pop music stars with Asian background heritages like Nicole Sherzinger, Nicki Minaj, One Directions Zayn Malik and more, the music category was always going to be a fiercely contested category and this year was won by Norah Jones who was awarded with the Outstanding Achievement in Music prize for her immense achievements in global music.
I was particularly chuffed at my fellow Zoroastrian, Parsi, Cyrus Poonawalla winning The Business Leader of the Year award. Vaccine billionaire, Cyrus Poonawalla owner of Serum Institute of India, the world's largest producer of vaccines, and make more than one billion doses annually. As of March 2014, Forbes estimates Poonawalla's net worth at $4.9 billion.
The coveted Fellowship Award went to action man actor, director and martial artist Jackie Chan, who has been in the entertainment industry for 55 years and made an expected humble speech about his roots.
Legendary Indian actor, Irrfan Khan was awarded Outstanding Achievement in Cinema. Irrfan has famously crossed over into western cinema, becoming the first Bollywood actor to star in two films that won the Academy Award for Best Director Slumdog Millionaire (2008) and Life of Pi (2012).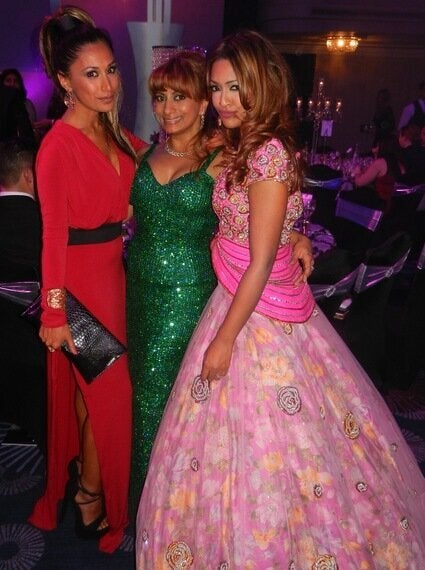 Actress/ singer Preeya Kalidas, Jasmine Dotiwala and Tasmin Lucia-Khan.
PIC copyright Jasmine Dotiwala.
Noble prize winning Sir Venkataraman Ramakrishnan was awarded Outstanding Achievement in Science; while the Outstanding Achievement in Sport award went to Indian cricket captain Mahendra Singh Dhoni.
Finally, Prime Minister David Cameron addressed the audience acknowledging the awards had grown from strength to strength, recognising the Asian Awards are the only Pan Sector Pan-Asian award ceremony in the world and stating how proud he was that they were held in London. In conclusion he paid tribute to the Founders Award recipient Ahmed Kathrada.
The awards partnered with charity Oxfam this year and no doubt and raised a significant sum for the foundation. (Asians are very charitably minded and raise money for causes the way I consume hot pepper sauce- with zeal!)
Paul Sagoo, looked pleased with the evening and at the after party told me ''my vision for these awards was simple- to create an event which would recognise exceptional achievers from those within the global Asian community, on a scale which had never been seen or done before. The awards are bout extraordinary people- about those who stand up for what they believe in and those who step forward to make a difference. Through these awards, people from every community around the world can learn, understand and be inspired by the lives and actions of these amazing people''.
"This year The Asian Awards has truly lived up to its name, celebrating global Asian achievement in what is a triumphant night. We are honoured with the support of our guests and winners, including the amazing Ahmed Kathrada, Jackie Chan, and MP's like Jeremy Hunt who join us for this magnificent gathering of some of the world's most inspirational and powerful people''.
Related