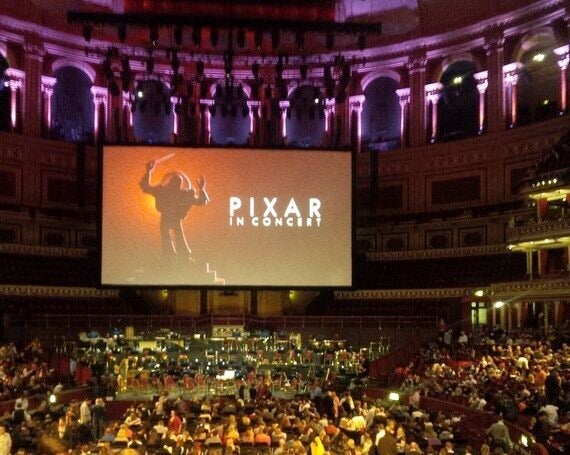 Copyright Jasmine Dotiwala
Arts and culture mystros have always liked to juxtapose various arts to create new moments.
The art of ballet brings together classical music, dance and staged sets. Gymnastic acrobats and outdoor architecture formed the free running art of parkour. Last month I attended a recital of poetry from young, inner city youth amongst the Turner painting at Tate Britain called Poetry Luv. This month BLAZE at Londons Peacock Theatre shows hip-hop dance alongside graphic set designs. This past week I attended the UK premiere of Pixar in Concert at the Royal Albert Hall which brings together ground-breaking animated films beloved by children and adults alike, with the music that is in these animated movies-but performed live.
From Toy Story to Brave, animation powerhouse Pixar has redefined the cinematic landscape over the past 19 years, creating gob-smacking movies, but amidst the visual wizardry, one aspect of the movies that sometimes get overlooked is the music that punctuates all the animated action.
No longer. The UK premiere of Pixar in Concert at the Royal Albert Hall brought an audience from all walks of life and those timeless scores to magical life, with a show combining stunning footage from all 13 Pixar films (which have all been written by just four composers!). With live accompaniment from not just any band, but the nearly 100 strong members of the (RPO) Royal Philharmonic Concert Orchestra!
The acoustics at the Royal Albert Hall are incredible, and if you're a music fan you must experience a live orchestra here. Just watching the world famous conductor Helmet Imig in action was mesmerizing.
If I told you we were going to watch movies and a live orchestra simultaneously, you'd probably think that a little strange, but the way the show was set up was absolutely perfect and the audience were able to experience both, to form a brand new genre of animated music.
Celebrating the music from films like Toy Story, Cars, Finding Nemo, Wall-E and Up, the soundtracks always began with the orchestra for a few seconds before the visuals appeared on the giant central screen above them. The difference of course is that there are no character voices or dialogue from the films, so we were viewing simple pictures and breathtaking sound.
Our host, presenter Will Chitty, occasionally popped up to introduce the next piece to wet our appetites with helpful information. For example, when he described the first five minutes of Up as being all about relationships being full of promise and a total tear jerker as it unites every emotion and journey through a lifes relationship.
And yes, by the time the RPO had completed that piece, including the wondrous tinkling of piano keys as hundreds of balloons lift up the old mans house after he bade goodbye to his lifes love, we all had a lump in our throats. The power of music to evoke emotion in action.
John Lasseter, the chief creative officer of Walt Disney and Pixar Animation Studios explained
''one of the most important elements of all Pixar films is emotion and it's the music that gives our films their underlying emotion''.
We all know that when someone begins a sob story we all bring out the imaginary violin and play it on our shoulder, or when you have a eureka moment or great idea the imaginary triangle goes ''ding!'' in your mind.
Animation and the music that go alongside them have a deep-rooted love in our memories of early childhood. But when watching the orchestra alongside the animation live, you truly realize the art that goes into making a film lover feel emotions such as suspense, humour, exhilaration, fear, doom and relief as the characters we love play out their story.
As a TV maker, It made me want to go behind the scenes and understand how great composers like Randy Newman, Thomas Newman, Michael Giacchino and Patrick Doyle write music to match film narratives. It made me wonder at the incredible technique and mastery of music and story telling a composer must have to write and fit audio to soundless images.
'' one of my favourite parts of the film making process has always been the scoring sessions where the music for the film is recorded with a full orchestras. I can't tell you how many times I wished we could share it with more people. Now with Pixar in Concert we can. This show is a wish come true for me!''
The moments we see hundreds of fish gliding through cartoon water escorted along by harps and string quartets, and the musical instruments that composers match to their journey is fascinating. Similarly when legions of mice in Ratatouille scurry along guided by marching drums and percussion, or characters in Up fly soar high accompanied by lone flute and clarinet solos.
Other moments such as driving through a long dark tunnel to exit into the daylight, to the unexpected delightful view of a dramatic waterfall and the euphoric dramatic score that brings that moment to life. We might not acknowledge it whilst watching a movie but watching the RPO perform live was a whole new recognition of the way music breathes life into animation.
One of the opening sets kicked off with a Finding Nemo tranquil underwater track, combining flutes and guitars. It was so beautiful I had my own eureka moment as I decided there and then that if I ever had the option of choosing a piece of music to die to, this was the piece I'd want to hear on my final journey.
The classic animated films are embraced by young and old alike and collectively the music from these 13 films has won three Academy Awards and ten Grammy Awards. I've always had a healthy appreciation for the art form, but never been a huge animation film fan.
However, just sitting there experiencing this incredible event was enough for me to now go back and watch all these works of art properly in the next few weeks. At the end of the night, when each section of the orchestra rose to take their bows, I clapped hard with a whole new found respect for these people that are involved in making these amazing works of art.
As well as a Dublin date, Pixar in concert is happening globally all throughout 2014. If there's any way you can make this a date I guarantee you wont regret it.
It's a moment in life you'll remember forever.