The ageing voice, swallow light guitar melody and harmonica playing are wedded as only can be when a man has found that thing he has been born to do. He speaks rapidly, words tripping over each other to get out, but when Alex Lipinski sings it's with the poise of someone naturally immersed in the songwriting medium.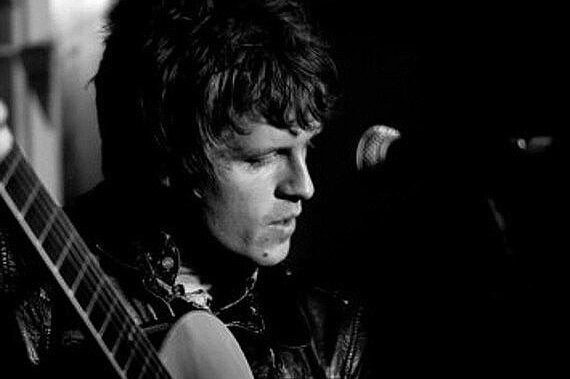 St Pancras Old Church is full of devotees of a different kind this Sunday evening, drifting out of a black night and into a half light to see the 26-year-old Lipinski support Pete Molinari, himself a musician only too aware of the passion required to sustain a career in the music business.
Lipinski has left his band and his electric guitar back in Weston-Super-Mare, but like his hero Bob Dylan, he cuts an effective lonesome figure, commanding the small space while sending his voice high into the upturned ship's hull of the church ceiling.
Like so many before him, Lipinski grew up listening to The Beatles, Elvis, The Kinks and Buddy Holly. "I began playing in pubs when I was 15." he says. "The Britpop years saw me get into Oasis and The Charlatans, but later on I discovered Bruce Springsteen, Dylan and Neil Young. I realised then what I wanted to do."
Lipinski is the genuine article, but he faces two hurdles: first, there's the need for him to fully acknowledge he is the real deal; and second, he must maintain his faith in an industry that is beginning to rot at the edges for lack of financial investment. All he can do, therefore, is write and gig.
He says that most of the time the melody and the chords come before the writing of a lyric. "I compose on the guitar or the piano, and the melody I can get pretty soon, but lyric writing is a slower process. It's rare for me to craft one complete song in one sitting."
He doesn't think about what he does, and says that performing has always come naturally. "I've a great love of British music from the 1960s, but the American influences are there too, so it's a challenge for me to stamp my own authority on what I write."
The circus of bands currently getting signed doesn't excite him. "I've been in tough environments. I've played to two men and a dog. So it's natural for me to be on stage. As a musician, I want to be on a good bill, at a good venue with as many people as possible hearing my music. You can't ask for more than that, but you haven't got anything if you haven't got the songs."
This year he has supported the Parlour Flames (founding member of Oasis Paul "Bonehead" Arthurs' new band) on tour and also joined the band on stage at Glastonbury for a version of the Rolling Stones' You Can't Always Get What You Want.
It's a collaboration already bearing fruit with work on an EP about to begin. With two songs by Lipinski and two co-written with Bonehead, the record is likely to be released in 2014 on Cherry Red Records.
Plans are also in the works to record with Anton Newcombe of The Brian Jonestown Massacre, all of this coming on the tail of Lipinski's debut album Lonesome Train (2010).
A danger lies in buying into the mainstream music world's timetable of sudden success, he says. After a stint living in London, he moved back to Weston-Super-Mare and discovered that the relocation helped his productivity. "My mind has grown clearer since I moved back, and with nothing else to sidetrack me, I've written without disturbance."
With talk of a management company looking to organise his affairs, Lipinski has his head screwed on the right way. "The plan is to get the right label to release my songs. I've got 30 songs ready to record. I'm happy with where I am at the moment, but I'm always looking to get better because there are so many talented people out there."
So the competition is hotting up, a fact hopelessly lost on the major labels, who, were they truly savvy, would find little need to continue their dogged remuneration of the pop world's puppets and fakers.
For more information, click here
Photograph by Andrew Thompson Photography