It has claimed the lives of Count Basie, Dizzy Gillespie, Jon Lord, Bill Hicks, Hal Ashby, Luciano Pavarotti, Steve Jobs and others too numerous to mention. It will gather unto its black heart more still, those yet to learn of its random, obliterative touch. Perhaps it will be you or I. It shows no favouritism and cares nothing for artistic achievement, for love, for good nor for evil.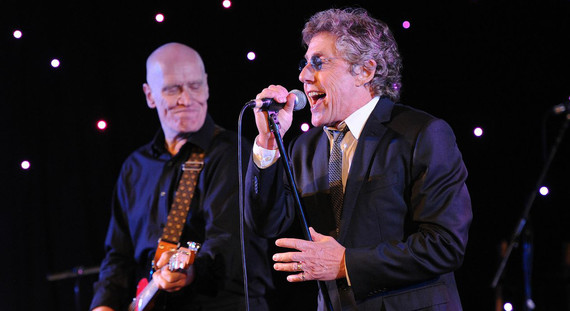 It is pancreatic cancer and Wilko Johnson has it. As a man who occupies a special place in the music world, it was his attitude and musicianship in the band Dr Feelgood that linked the rhythm and blues bands of the 1960s to punk and the New Wave of the 1970s, directly influencing the likes of John Lydon and Paul Weller. Film director Julien Temple, director of Oil City Confidential, has called him "one of the great English eccentrics".
He sits back stage at the Porchester Hall in west London. He and Roger Daltrey and the band have just finished their sound check for the evening's gig in the service of the charity Pancreatic Cancer UK.
The charity's patron, Suggs, joins Wilko and myself at the table. "Pancreatic Cancer UK is gaining a higher profile because it's one of the more pernicious cancers that requires greater specialised treatment," says Suggs.
Wilko takes a sip of his drink and leans forward. "I was diagnosed with pancreatic cancer at the beginning of 2013. Coincidentally, it was at the same time I was about to have a twang with Madness at the O2. I'd been diagnosed that day, and everyone was going 'Hi Wilko, how's it going?' and I said 'Well, as it happens...' "
UK figures show that people with the disease die within six months of diagnosis, with only 16% alive at the one year mark. It's a difficult disease to identify because its symptoms can mimic other illnesses.
"I started 2013 thinking I'd be dead in October and thought that I had to make the best of the time I had left," he says, "but now I'm in a sort of limbo, not knowing how long I've got.
"The first thing I did in my extra time was this album, Going Back Home, with Roger and it's worked out rather well. When Roger suggested it, I thought this'll be the last thing I'll ever do, so to do it with Roger Daltrey is pretty good," he laughs.
Roger Daltrey waves over at us and Wilko flashes a wolfish grin at him. There's no sadness in Wilko, no trace of bitterness. If anything, he looks a little tired, weighed down by the knowledge of his fate.
He's a music maker and, therefore, is a man who speaks the universal language. "I never made many records, to tell you the truth, and the ones I have have sold in their dozens," he jokes.
Blues and rock musicians like this are a dying breed. The Wilko Johnson Band with Roger Daltrey on lead vocals is the sound of icons in their element, their musical flame still burning bright.
"That night at the O2," says Suggs, "I said to Wilko 'What do you want to drink?' and he replied 'Any fucking thing, I've got pancreatic cancer!' "
The two friends crack up laughing. "We made a film about Wilko last year, and since then the film's director has died, one of my pals had died, and Wilko's still here."
Wilko wipes tears of mirth from his face. "It's getting slightly embarrassing now," he says. "I went to Japan three or four times last year and said so many emotional goodbyes to people that I don't bother doing it anymore.
"The past year has been wonderful. I've been in very good spirits and have carried on playing and gigging. Physically I feel OK. When it's going to kick in, I don't know, but I'm told that when it does it kills you quick, which I'm hoping for. 
"But I do get those 3 o'clock-in-the-morning moments when I'm lying there and thinking that I'm going to die, and I ask god to help me. But the best thing to be is out and about with people and playing music."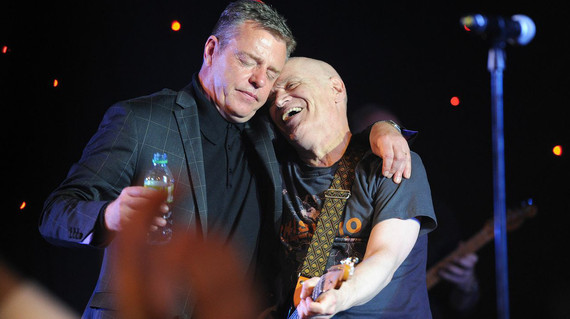 Wilko is 66 and plays one of the meanest blues guitars in the most unique of styles in the business. "I've had a good innings and I've got nothing to complain about. The thing is, they don't know anything about pancreatic cancer. Not really. I knew nothing about it until a fan of mine told me he'd been diagnosed and was fatally ill, and I remember embracing him and saying 'I'm with you, man'. As it turns out, I really was with him.
"The mortality rate is about 97% and the aims of the charity is to reduce it. After my diagnosis, I decided against any chemotherapy because, really, I felt fine. I still feel fine, except for this bump that is growing in me." 
A bulge swells the front of Wilko's T-shirt. It's the tumour eating him from within. "I haven't suffered any illness, as such, yet. And I'm now into my fifth month of extra time."
Cancer is uppermost in everyone's mind tonight, but neither Wilko, nor Suggs by association, are victims of it. Instead, both men laugh in its face. This is a very old-fashioned and wonderful English bravery directed towards the Grim Reaper and his emissary the Big C who wait in the shadows with a cold, infinite patience. 
Death is the equaliser, the great leveller, that mechanism of permanent disappearance the foretelling of which permits us to realise that all that matters in this life is love. Suggs rests his hand on Wilko's shoulder and squeezes it. Wilko looks at me and smiles. His eyes are cobalt flames. "We're here to have a good time tonight," he says. "And cancer? It's a giggle."
Photography by Pete Mariner
Follow Wilko & Suggs at @wilkojohnson & @suggsgmcpherson
For more information on Pancreatic Cancer UK, click here