Have you ever wanted to make a change, one that's literally life altering? There are very few issues that need nothing more than an alteration of perception, but this is exactly what's needed with 'GrassRoots: The Cannabis Revolution', a feature documentary that's in the final stages of crowdfunding. Director, Dale Beaumont-Brown, has ploughed all his resources into the telling of a much overlooked subject matter. Motivation for Dale was as easy as it was inexorable.
"Ed Burns, co-creator of The Wire and former Baltimore Detective poignantly says in The Culture High that you 'get it' when it's you or one of the members of your family."
Dale continues,
"When I saw that quote from Ed Burns it all came back to me why I got involved in the first place. GrassRoots is a film about the UK cannabis activism community and their struggle to get safe and legal access to cannabis. This is not just a film that dissects the cannabis issue in the UK, but it also looks at why people do it, what causes them to go to such great lengths, and in most cases, incriminate themselves. It is a study into the underdog trying to hurdle injustice. For a documentary filmmaker, these reasons are the stuff you dream of covering for your whole career."
Three years of production have been spent on the film - Dale has documented a long journey, but he's also embarked on an indelible one himself.
"I've learned that cannabis activists are stubborn and steadfast! The majority of the people in GrassRoots are medical cannabis consumers, which means they consume cannabis for a wide variety of conditions. Cancer patients, M.S., M.E., Crohns disease, depression, anxiety, chronic fatigue syndrome are all represented here. Not only are these activists carrying the burden of a disability over their shoulder but they're trying to overcome societal and political stigma too. Yet, this does not detract them or steer them from their course.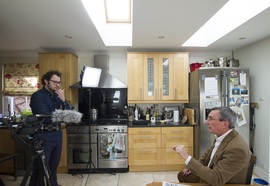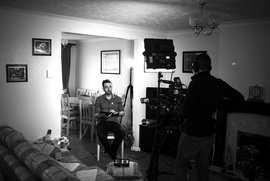 Ed Burns' quote still resonates and it's quite apparent that family is a driving force in Dale's inspiration.
"My cousin, Clark French, has multiple sclerosis, he uses cannabis to ease his symptoms, and when he is physically able, he's an outspoken and powerful force within the cannabis activism community. I met with Clark, he told me of his condition and his medication choice - so many questions were raised from our discussion. The fact that cannabis is illegal and a controversial topic allured and frightened me at first. This film has documented many people and their day-to-day struggle with illness and the fight to get access to the medication that suits them - this then brands them as criminals in the eyes of the law."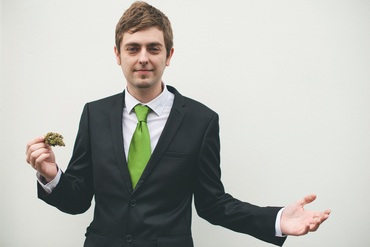 M.S. sufferer, Clark French
"Having filmed for nearly 3 years, there was one day which got the better of me. At the end of a particularly tough and emotional interview on Brighton beach with Clark, the mixture of my emotions of running a Kickstarter campaign and knowing that I've nearly finished capturing Clark's story... I broke; I embraced Clark at the end of that interview. It wasn't just for Clark, it was for me. I needed that moment."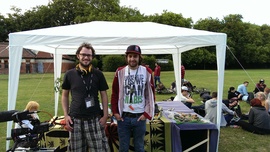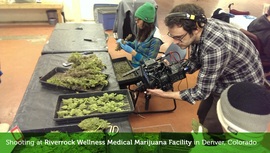 With only days left until the Kickstarter campaign ends, and with a more of the project still left to be funded, Dale is now looking to accrue the final funds to give those with serious medical conditions the stage that they require to present their often neglected plight.
"GrassRoots has been a struggle to finish from day one. Surprisingly enough, something that would/could potentially burden any documentary filmmakers' intentions of making a film about the cannabis issue didn't really affect me. I attended a lot of rallies and protests and people were more than willing to share their stories with me. In an investigative capacity I didn't really deserve their trust because they didn't know me and technically I was the media. But because of the power of Twitter and Facebook, people soon began to know me as 'the GrassRoots guy', I felt a moral obligation to these people to not squander their trust and make the most impartial, truth-based film possible.
"The thing with capturing the story about a movement seeded in politics and societal change is you cannot capture the story in a month. People are trying to enact social and political revolution. I do not regret anything about the methodology though - over the course of three years I've had the opportunity to capture people growing, changing, and reacting."
A retrospective view is already in mind; the GrassRoots film looks to present the issue of medicinal cannabis in new terms, and in a palatable manner.
"GrassRoots documents a moment in our life that we may look back on in a few years' time and say, "Do you remember when cannabis was illegal?"
"This is a social document that captures this brief moment of history where change is happening - and it's there for you to watch. The cannabis issue has drawn a line in the sand and divided people worldwide for decades. At its core it is a story of struggle, passion and dedication. Documentaries capture imagination, inspiration and the want for change in 100 minutes; they make you ask questions of yourself... morally and ethically."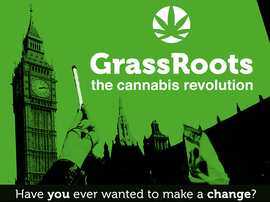 To support 'GrassRoots' and help see the film come to fruition, please see the film's Kickstarter page.